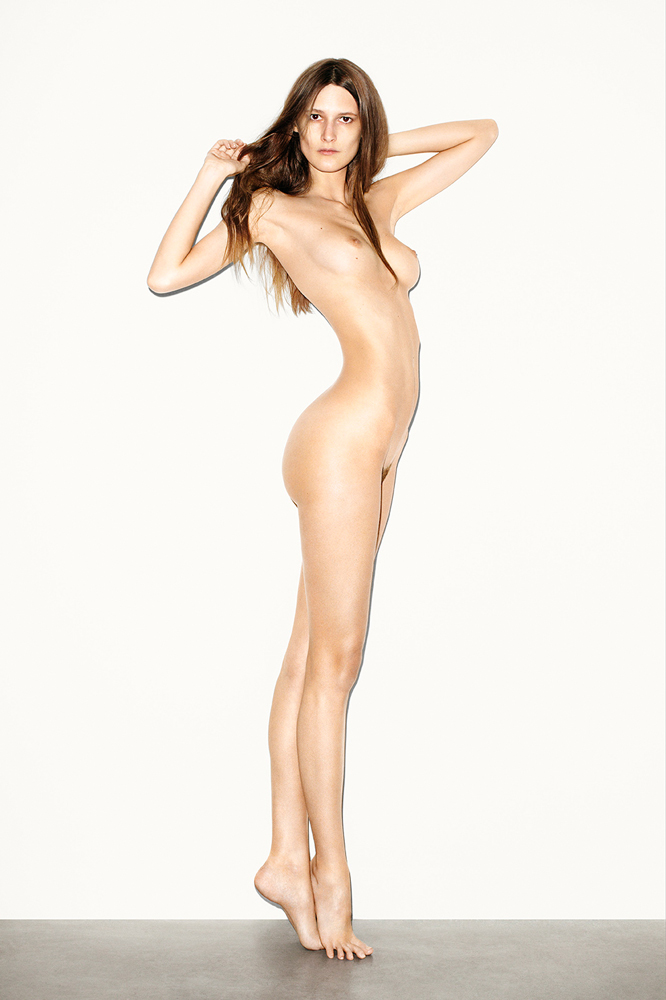 Marie Piovesan by Maciek Kobielski 
As one of the rising stars of photography, Maciek Kobielski is known for creating striking pictures that push fashion imagery into the realm of art. His newest project, a solo exhibition of new work entitled White Nudes, is set to debut at Gallery 131 ½, is an erotic series of nude portraits set against a white backdrop. Meant as an exploration of the "construction of the classic nude" Kobielski's pictures featuring Anais Pouliot, Hanne Gaby Odiele, Kel Markey, Marie Piovesan and Ros Georgiou are raw, elegant and intimate. MDC caught up with the engaging Mr. Kobielski on the eve of his exhibition to discuss what inspired his latest work and what makes it so powerful.
What inspired you to do this series?
MK: Spending time with women. It was an experiment in direct documentation, to see what would happen with someone being absolutely open in her nudity.
These women don't look vulnerable or fragile. They look strong and free.
MK: Exactly. I try to approach them with great care and as a result, the images are empowered.
Your pictures are known for being sexy. What's sexy for you?
MK: I'm aware that many other people do not perceive these photographs as "sexy," but to me they are extremely sexy. Being natural is sexy. These women are so refined that it is stunning.
Why did you shoot the nudes on a plain white background?
MK: I wanted people to see the drawing of the female figure. This background is for me like a fresh canvas.
As a painter as well as a photographer, do you think the White Nudes are really White Paintings?
MK: They feel to me like drawings. I don't know how to draw, so for me the best way is to take the picture.
Is painting a higher art form than photography?
MK: I think so.
What defines your work?

MK: Color. I don't use black and white at all. This way, it stays very contemporary. I try to see reality as close as possible. The people on the pictures are how I really see them.
What is the difference between showing your work in a gallery or as an editorial?
MK: It's a different preparation. On this series, I worked for a period of time whereas an editorial is 1-2 days maximum. For the nudes, I worked with just with one person in a very stark reality, not a team creating an exterior artifice. For a magazine, you work with clothes, fashion, elements that are given. Taking away these elements makes the images pure so in this series there are no artifacts surrounding the portraits, the photos are stripped bare. It is the person and nothing else. Just the girl.
Are these images of woman or ideals?
MK: All of it. What's really beautiful about these women is their purity.
After this show are you planning on doing a book?
MK: That's the idea.
What other projecst are you interested in?
MK: There are so many interesting things coming in. Every project that I've recently brought to realization has been organic. All things that happen without planning have been fun.
WHITE NUDES is On view during New York
Fashion Week from February 7–17th 2013
At Gallery 131 1/2
131 1/2 Chrystie Street, New York NY 10002