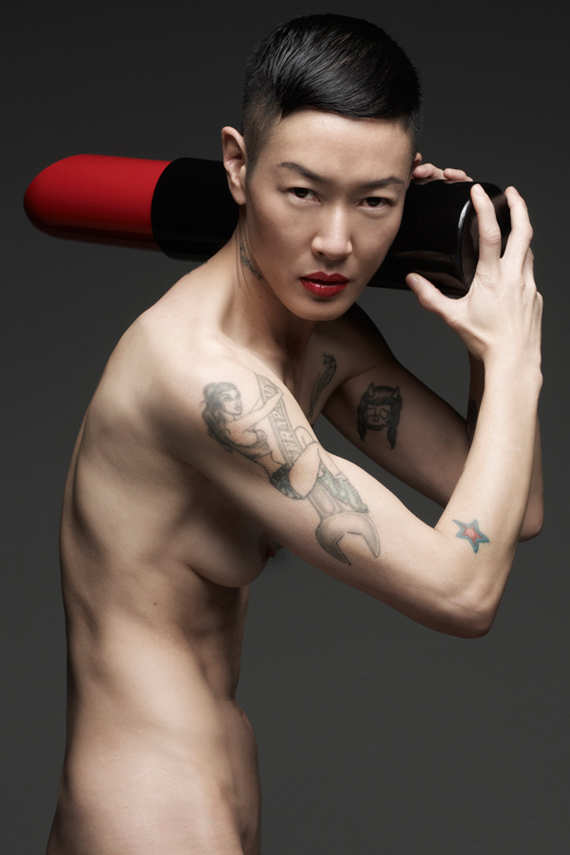 When creativity and charity come together the result is always beautiful: House of Exposure's first lipstick launch, Helmut Red is inspired by the sultry power of Helmut Newton's daring visuals and proceeds from each sale help benefit children in high HIV prevalence countries. This socially conscious spin on beauty is the brainchild of three of the industry's most fearless females, lipstick queen Poppy King, author/activist Periel Aschenbrand and modeling icon Jenny Shimizu. MDC caught up with Jenny to find out more about what makes this project special and how creating the lipstick, helped to change her own views on beauty.
MDC: How did you get involved with House of Exposure?
JENNY: I met Periel Aschenbrand sometime in the early 2000'in Los Angeles. We have different conflicting stories of how we met and I'd trust her version, rather than mine. At the time she was writing her 1st book (The Only Bush I Trust Is My Own) and was a newly transported "girl from Queens" living in LA. We became friends based on our shared ideals of politics, feminism and art. We both (at different times) eventually moved back to NY, got back in touch and realized we could now take our ideas/politics/ art and create something. I've always respected Periel for taking action and making her "dreams" realities.
MDC: What was the experience of creating Helmut Red like?
JENNY: Honestly, I was just the "lip" of HELMUT RED in the beginning; the science was all Poppy and Periel. I became more involved, the more I met with them. The ideas would just come organically from the energy we created and we realized we needed to think bigger. We ended up finding a great charity (we donate part of the proceeds of HELMUT RED to The Bantwana Initiative) and teaming up with them to help provide education in countries, where it is needed the most. It has been so much more than making a lipstick, it has affected the way I look at beauty. It has taught me about developing and producing a good product and the love we are receiving from everyone, like Models.com has been overwhelming.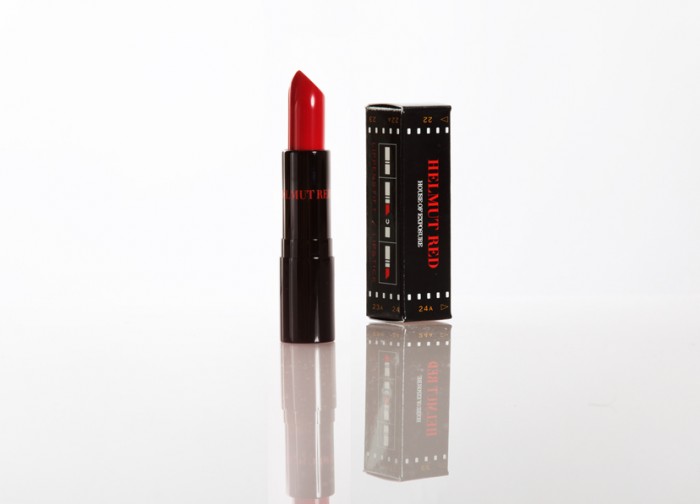 The glossy Helmut Red, inspired by a Newton photo of the legendary Jerry Hall
MDC: Tell us a little about that incredible ad!
JENNY: We realized that most beauty ads were marketed in a way that we didn't want to follow. We wanted the ad to represent our initial ideals of politics, feminism and art and still look good. Mark Seliger (Paris: Management + Artists, New York: Management + Artists) donated his time and talent to take the picture and Louie at Elite let me leave early from work (I'm a booker at Elite New York) and we ended up just shooting for an hour. My friends Chi Chi Saito and Emiliano Cori both came in from other jobs and did the makeup and hair and Poppy and Periel were there for support and ideas. It was a team effort and all who were involved kind of did the project for free and the fact that they believed in the product and what it meant. The ad speaks for itself and was created by the generosity of others. I am very grateful to everyone who has had a hand in this.
MDC: We hear this is the first in a line of lipsticks, can we get any hints about when we'll see the next one?
JENNY: We plan to add a new color every time the Bantwana Initiative changes the location (country) of where the education funds go to. They provide funding to many countries and we liked this idea of "spreading the love and power." The next one should be here December (2012) or January (2013). Everytime we launch a new shade, we will also pay homage to a certain artist or theory that we believe has empowered us. Who have taken beauty and made it something we already have, that have shown us beauty is in all and that beauty is strength.
Helmut Red is available on House of Exposure's website or at the one day only pop up shop – July 18th at 201 Mulberry St.