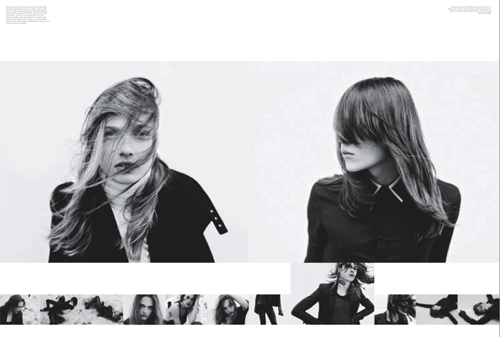 Karmen/Next. Ph: Martin Lidell for The Last Magazine. Premier issue out today. Stylist: Keegan Singh (New York: Streeters New York, Los Angeles: Streeters Los Angeles)
With a clientele list that reads like a who's who of essential magazines and designers, stylist Keegan Singh, is a fashion force to be reckoned with. In a few short years Singh has moved from assisting the greats of styling to becoming a coveted commodity himself. The upcoming fall season means full slate of projects- from a gallery showing to the latest Rock and Republic ads and with such a busy schedule Keegan is one of the top talents to watch. MDC sits down with the hardworking stylist to talk inspirations, rock and roll and what the future holds.
Fashion is your life now but were you always into fashion growing up?
KS: I had always loved fashion so much even when I was really young. We used to run out to the grocery store and buy Vogue because that's all we had in the middle of nowhere northern Cali (fornia). I used to post the old Versace ads all over my wall – I was obsessed with luxury. I was like "Mom what are we doing out here in the country – why don't we move to the city?"
How did you get your start in the industry?
KS: When I moved here I started working in fashion PR at KCD. I didn't even know really what a stylist did – I never went to school for fashion or anything like that. I came in clueless and just started working right away in the business – I think that's the best way to learn. There is no training for being a stylist, you can't go to school for it. I started out assisting Tabitha Simmons and Katie Grand and I've been on my own for three years but it's been really amazing. I've been so lucky and grateful that I've been able to do what I've been able to do and work with the people I work with.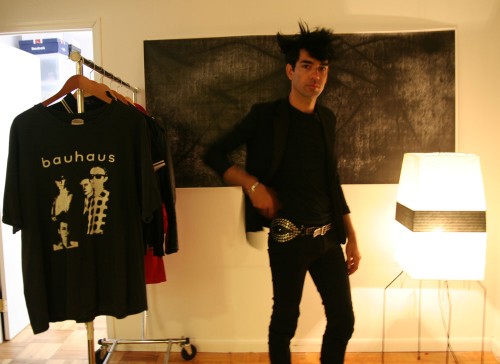 What influences your style, either personally or for shoots?
KS: I draw a lot from music – I'm really into punk rock, rock n'roll, David Bowie, the Rolling Stones in the 70s. I've been really into art lately. I'm actually in an art show coming up. That's really inspiring me as well. Movies are another big influence, I did a My Own Private Idaho story recently. There are things that I just keep in the bank for the future and I feel like I use that a lot especially for guys. River Phoenix in general is just an icon.

What does your process entail when preparing for a shoot?
KS: Usually I have a general idea – if I'm shooting for American Vogue there is a formula and I know it really well. If I'm shooting for V it's different – there is another formula used for that. Then when I'm doing other editorials where I can do whatever I want it's just my vision – usually a music reference. I remember my first shoots for Wonderland, they were just music references – Nirvana, Echo and the Bunnymen, The Clash.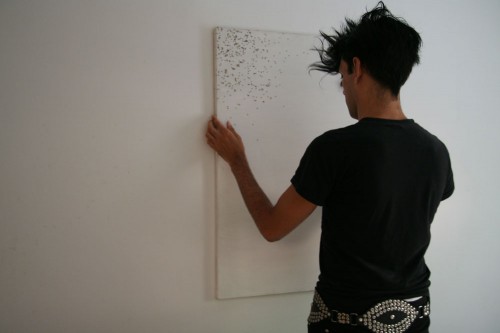 Keegan with one of his paintings.
There are a lot of amazing people doing styling right now – which other stylists do you admire?
KS: I think Jane Howe is amazing- super talented. She is really a clever stylist- there is a lot of thought behind everything that she does. Katie Grand, really has a vision for Pop and she makes that magazine amazing. It proves itself time after time. Joe McKenna is a legend- he's been in the industry forever and he's still so fresh. I hope my career is like that.

How do models influence the styling process – are there any you really enjoy working with?
KS: It's so amazing when you get to work with a really great model like Coco, Malgosia or Amber Valetta, they're like pros. There are all these young new girls but some girls really have it and others just don't. You realize why the top girls are so successful – it's part of their personality, they work as hard as everyone else.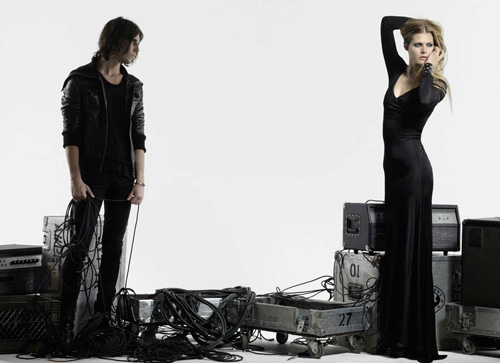 Rock and Republic F/W 08 Ph. Mark Segal. Stylist. Keegan Singh. Models: Vladimir and Malgosia.

Any new projects we should keep an eye open for?
KS: I just did the Rock and Republic campaign with Malgosia. They let me bring in my team of people so I got to pick the photographer and the art director- I chose people who are like my family. That was really inspiring and it looks pretty fab. Julia Restoin worked on it and Mark Segal shot it. I also worked on The Last Magazine with Magnus Berger. I did two big stories in there and I'm really excited – it's a very talented group of people working on that project.