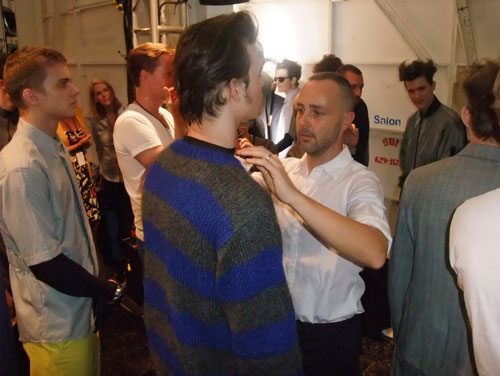 Steven Cox makes a final adjustment on Nico's look for S/S09
With one of the most impressive and intelligent menswear shows on the fashion calendar Daniel Silver and Steven Cox of Duckie Brown are designers at the forefront of New York fashion. Their sleek and urbane Spring/Summer collection featured not only the best in clothing but the best in up and coming male models. The engaging design duo took time out from their busy schedules to talk to OTM about NYC, design and of course models.
MDC: You guys could show your clothing anywhere in the world – what makes New York City and NYFW so special?
Daniel Silver: We live here – New York inspires the collection every season and I can't imagine not being here.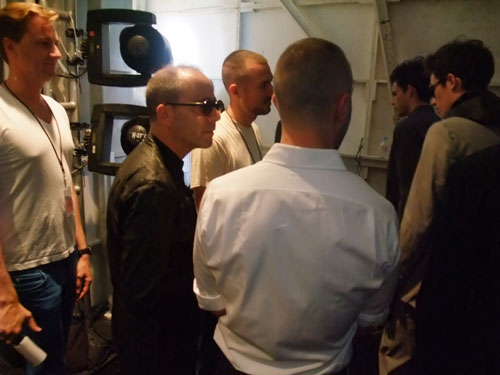 Daniel Silver (in glasses) checks the monitor during the show.
Stephen Cox : New York has got a bad rap in fashion. When I was a student in England it always seemed like it was about Milan, Paris or London. I think in the last five or six years New York has really stood up and become a fashion capital. Enough so that last year they did an exhibition at the Victoria and Albert about New York fashion now. Also menswear in New York is very strong- there are designers that are trying to make that difference and we're one of them. I'm a New Yorker now and I think New York fashion is incredible.
MDC: Your show always has an impeccable cast – which models stand out to you?
Steven Cox : The boys this year were amazing. This season for some reason there was a new influx of boys and we had an incredible group to choose from. We liked every one of them. Especially Borys, he's opening the show and Matvey who is a real star but again we liked all the boys this season. They were all wonderful.
MDC: What direction are you two taking things for spring? Tell us about the collection.
Daniel Brown:Â  It's tailored and it's athletic.
Steven Cox: Were going a bit more athletic this time – black grey, electric blue and yellow – a hard, sharp, severe collection.
And Daniel Silver on MODELS.com:Â  "We love MODELS.com – why shouldn't models have a showcase too?"
For complete S/S 09 runway collection: Men.style.com
For Duckie Brown website: Click here
For backstage at Duckie Brown S/S 09. Click here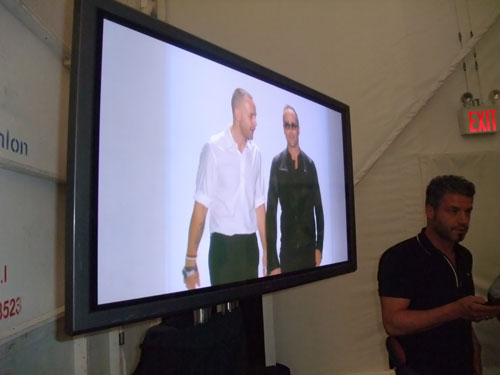 The duo takes a bow at the end of the show.