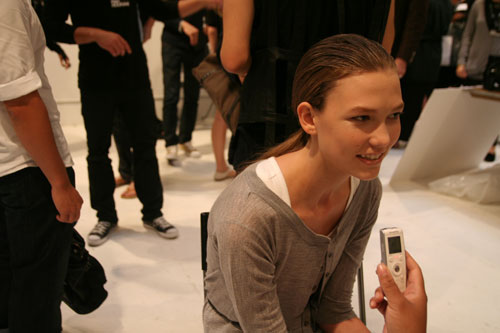 Karlie Kloss/Next. Backstage at Rad Hourani. Ph: Betty Sze for models.com
Karlie Kloss is the supermodel next door. With her stunning natural beauty and sparkling sense of humor Kloss charms everyone she meets. The easygoing 16 year old catwalker is only on her third season but she has already made a name for herself with a slew of choice editorials and campaigns. After a busy NYFW that included struts down every runway from Calvin Klein to Marc Jacobs, Kloss sits down with Models.com to talk Manolos, hot chocolate and what's next on her schedule.
This season has been a whirlwind so far but how has it been for you personally?
KK: Honestly I think I don't even know how many shows I've done but it's been a lot less crazy some reason for last season. Probably because it was so new last season but now I feel like I know the ropes. It's been a lot more calm and a lot more selective as well – kind of easier in a way.
So much work! Have you gotten a chance to do anything for yourself?
KK: I have done lots of shopping – plus I've picked up a lot of goodies along the way. I just got my first pair of Manolos and I'm very excited.
What's next for you in terms of shows?
KK: I'm going to do Milan and Paris but first 'm going to go home and get some sleep really. 12 hours straight hopefully! Everything goes by so fast I can't believe it – the week is already over.
You got to wear a lot of great outfits this week was there anything that stood out to you as being a favorite?
KK: The Rad show is beautiful, it was very cool, strong and confident. There is something about the cut of all the different clothes that is very graphic. My favorite show to do this week was probably Carolina Herrera. I love that show, it's always so beautiful and just so elegant and sophisticated and classic. She has always been one of my favorites.
Show week brings you back in touch with a lot of your friends from last season – anyone you're particularly happy to see?
KK: During show week I feel like it's like a reunion of all my friends. You really get to see everybody which is nice. Obviously Ali (Stephens) is my good friend but I also love seeing Toni Garrn, Taryn Davidson, Abbey Lee and just basically all girls that started around the same time. It's really good to catch up with everyone.
Anything you're looking forward to in Europe – besides the shows of course.
KK: I have a favorite hot chocolate place in Paris called Angelina's – literally it's melted chocolate bars and whole milk. It's so bad for you but it's so delicious! Also good authentic Italian tiramisu.
You've done so many amazing editorials recently – what is coming out soon that we should look for?
KK: I have a bunch of stuff but you'll just have to stay tuned!