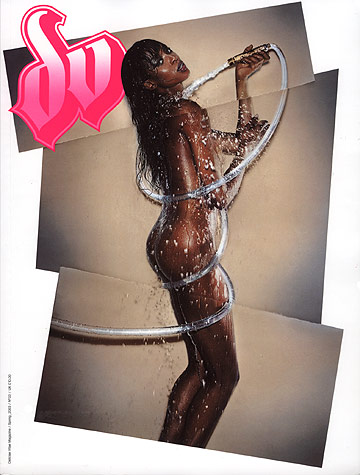 Naomi Campbell /Women. DV Spring 03 cover
NC Connect is clearly not a vanity production with Naomi Campbell using her star amperage to pull in a VIP list of models for the Rosa Cha including former MDC covergirls Louise Pederson and Julia Stegner. Even more interesting is the roster of editors and celebrities slated to show up including Bazaar's Glenda Bailey, Vogue's Andre Leon Talley, ID's Edward Enninful, and music stars Lenny Kravitz, Pharell, Jay Z and Beyonce. Looks like the girl's working hard for the money (we heard her in the background at the NC Connect offices hammering out a few negotiation points)…In other news…retoucher to fashion's superstars, Pascal Dangin is rumoured to be buying an entire building in the Meat Packing District to house his next venture …and all model roads lead to Pop Burger tonight for that now scandalous Fashion Week bash. Expect detailed pictures next week!

A swimsuit show w. 80 looks on 36 models walking a mirrored runway with a giant crystal centerpiece straight out of Logan's Run. That's fun no? As a bonus to all the proud Brazilians out there, here is the rundown of the Rosa Cha cabine.
Leticia Birkheuer/NY Models (opened show)
Raquel Zimmerman/DNA
Adam/Request
Carmen Kass/Women
Caroline Winberg/Women
Michele Alves/IMG
Bruno Santos/Request
Alyssa Sutherland/Next
Julia Stegner/Supreme
Tiuu/Major
Matt
Ana Hickman/Women
Ana Claudia/Women
Michele Buswell/Marilyn
Marcelo
Louise Pederson/Women
Ai/Marilyn
Eva Riccobono/Women
Tiago/IMG
Jamie/1 Mgmt
Nicholas/Wilhelmina
Liliane/Ford
Yasmin/Next
Adam W
Ilona/Supreme
Renata/DNA
Jeisa/IMG
Sara Ziff/Next
Andre/Q
Daniela/1 Mgmt
Caleb
Alessandra/Elite
Ana Beatriz/Women
Deanna/Next
Yasmin Brunet/Women
Naomi Campbell/Women (closed show)