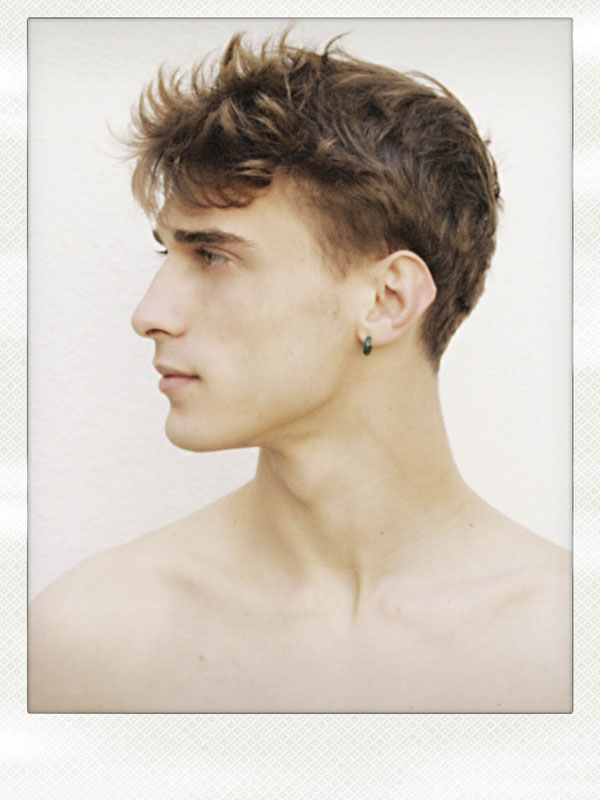 Clement Chabernaud. Polaroids courtesy of Success Models
If one boy dominated the runways this season it was Clement Chabernaud. With his impressive streak of shows and his face gracing the Meisel-helmed campaign for Roberto Cavalli, Clement was the boy to beat in Paris and Milan. Clement's austere good looks and refinement have made him a coveted commodity, but what does a boy in demand do on his days off? MDC checks in with the man himself to shed some light on his mysterious persona.
MDC: Where are you from originally?
CC: Parisian/ Cantalian (from Cantal, France) with some Italian roots
MDC: How did you get your start in modeling?
CC: Some people stopped me in the street and then I came to Success kids, at 16 I moved up to the men's board.
MDC: What do you do during your off time? (any hobbies, sports, activities etc?)
CC: I like to study, listen to music and go to concert. Also sports like skying, biking, badminton and rugby. I also like doing nothing sometimes.
MDC: What do you think of the men's shows this season?
CC: The look was very specific – colorful, nice shapes and innovative materials. Very nice!
MDC: Which show has been your favorite to walk in thus far?
CC: I can't answer that question, most of them.
MDC: What was it like working with Steven Meisel for your new Cavalli ads?
CC: A lot of emotion, a little bit of pressure. Well orchestrated.
MDC: What would you consider some high points of your career thus far?
CC: Meeting Raf Simons and the Jil Sander crew, Maida, Rami, the shows and of course the Cavalli campaign.
MDC: What do you wear when you are relaxing?
CC: Casual clothes  though not necessarily designer.
MDC: When you need to dress up?
CC: I wear the clothes I get from the jobs I've done mainly.
MDC: Where do you live when you're not working and why do you choose that city?
CC: Paris, because my parents and my beautiful girlfriend are here in Paris
MDC: A big trip you want to take and why?
CC: That is a hard questions, I have many ideas because I want to travel a lot.
MDC: If you weren't a model you would be a………..
CC: I would be definitely doing manual labor, and giving something back to society.
MDC: Favorite book or books?
CC: Les fourmis de Werber, The Perfume of Patrick Suskind , French literature, 93 Victor Hugo. Paulo Cuelho the Alchemist, Portobello's Witch , Message des Hommes, Marlow Morgan, everything that I've read so far and the ones I've forgotten already.