Posted by Stephan Moskovic | January 18th, 2010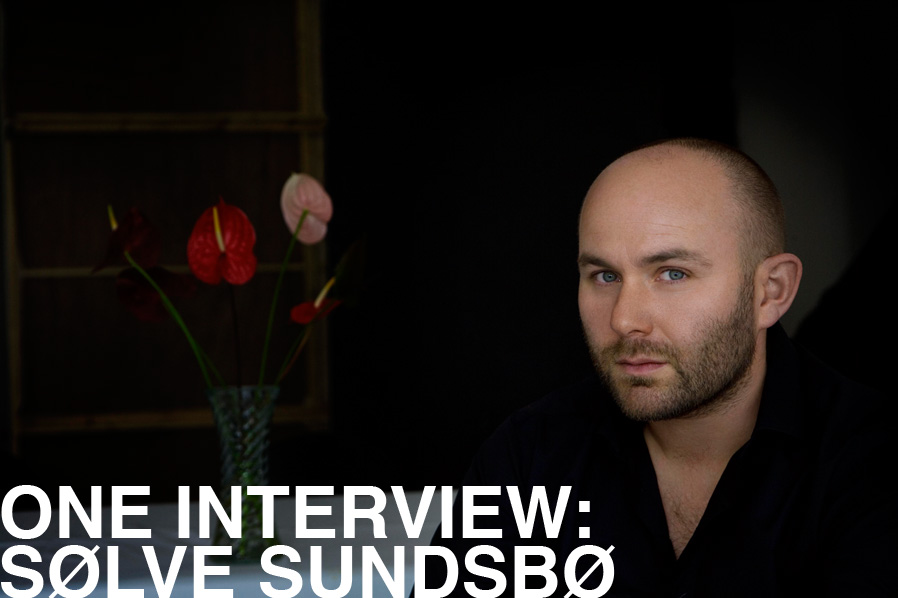 Sølve Sundsbø is one of fashion's most esteemed photographers and his innovative work never fails to garner attention; whether it is his now classic YSL fragrance campaign or a newly notorious editorial in V, the images Solve creates are unforgettable.

Continuing our exclusive series of interview collaboration with One Mgmt, One's Christopher Michael sits down with the man himself for a look into the mind behind the amazing imagery.

All photos: courtesy of Sølve Sundsbø
Christopher Michael: "If I've got a style, it's that I have no style," the sum of your style in your own words…it couldn't have been said better. If you've yet to be limited by any particular branding, what then do you think is the constant in your work that brings forth the Advertising clients and magazines alike knocking at your door?
Sølve Sundsbø: I hope it's a level of sophistication and quality. It's hard to analyze your own work, but I think the constant for me is that the work shows my curiosity and respect for the people I photograph.
CM: You've referenced the incredible amount of dedication that is exchanged during a working relationship between the 'teacher' and his assistant when talking about your time with Nick Knight…Have you run into a similar relationship with one of your own assistants which feels comparable to that?
SS: I have been very lucky to have had incredibly dedicated assistants, and I couldn't pick one specifically. There is no guarantee, unfortunately, that if you are a good assistant you will make a good photographer. Nick has been a persistently good teacher for his assistants over the years, and I hope that I can bring those lessons to my assistants as well.
CM: I'm sure you will…You've brought up an incredible observation: that we are raised to believe that women's bodies sell products but when you apply that same notion to a male, you're met with some controversy… do you think that still applies? Or have you also noticed the increasingly ever present male nudity in today's editorial pages?
SS: Well there is an increased level of nudity in the world in general, it seems to have become the norm. However, it is interesting how male nudity outside of gay porn still causes a controversy. After the male nude for YSL M7, we did a shoot with GQ Style with Tom Ford and every penis had to be censored. Even though it is not unusual to show full frontal female nude in fashion magazines, male nudes are still considered a taboo.
With regards to male nudity in advertising the six pack and the broad shoulders are the norm, and I guess that this is as unfortunate as the big boobs and flat tummied girls being used for nude shots and the skinny girls being used for fashion. Some people argue that these are healthy ideals, but it's about stereotypes we have become accustomed to. And I think it's great every time this mold can be broken. Diversity is beautiful.
Samuel de Cubber / Yves Saint Laurent M7
CM: It is actually, and I'm quite curious to see just how this new look into the male anatomy in the industry's eye fully unfolds.. Not all photographers are able to boast equal success in both editorial as well as advertising, you seem to do quite well with both…what's the secret?
SS: It's in the approach; I think they have an equal importance. One doesn't work without the other. Maybe I have also been lucky in being given advertising work that has an editorial quality and a certain freedom. It's hard to keep the balance sometimes, last year was filled with too much advertising, and I want to do more editorial this year.
CM: Too much advertising in this economy? You lucky lucky man…When working on campaigns with legendary lines, you've been able to bring your own art direction to the table..I'm quite curious as to how much resistance you were met with when suggesting the full frontal male nudity for the YSL Fragrance..
SS: The male nudity was not controversial with the client, as the client was YSL when Tom Ford was in charge. Thomas Lenthal, who was the art director for YSL Beauty at the time, and I discussed it at length and worked out several proposals but we both believed strongly in a full frontal male nude. This married nicely to Tom's idea of a hairy chested man in a world of shaved torsos.

From the V Magazine Size issue
Vogue Russia Jan 2010: Natasha Poly / Vogue Russia Dec 2009: Claudia Schiffer
CM: Tom's vision of masculinity is by no means today's common idea in fashion, it's nice to see.. Despite the 'no style/style' in your work I find that there is a Futuristic Spirituality element that often appears in your photos, it leaves me wondering about what the realm existing within the borders of your mind would be like if one were to be so lucky as to have a peek inside….any hints?
SS: I think the futuristic aspect comes from a wish to see new things. And obviously it's easier to find new things in the future than in the past. I guess there is also a hope that things will be better in the future. With the spirituality aspect of it, I guess it's because I am a hopeless romantic.
CM: Although I greatly enjoy them and find them intriguing in their own right, I've always wondered how the unrecognizable images come about when you do them… Do you go in with the intention of shooting it that way or is it simply a question of your favorite images when going through the final edit?
SS: Sometimes I focus on details and sometimes the story is not really about a person. I always try to tell a story and I always have a character in mind, and sometimes that story and character becomes stronger when you do not see the face.
CM: Makes sense..In an era where both fashion's followers and it's creators alike have once again called upon the super selling power of the Supermodels, you yourself have partaken in the luxury of their major return in the recent times as well…what for you is the major difference in working with a Supermodel vs. the modern day 'girl of the minute'?
SS: The reason why they are supermodels is often forgotten. They are not necessarily Super just because of their looks, but because they are incredible performers in front of the camera. Being a photographer is easy when you work with a Supermodel. They do so much of the work for you. When you work with new models you have the luxury of a blank page. You can impose much more of your ideas into the picture without it having previous connotations. Sometimes you are lucky and find a brand new model with the ability to interpret what you want to do, and more often than not they become the new Supermodels.
Helena Christensen / Man About Town
Related Posts: