Posted by Stephan Moskovic | December 4th, 2009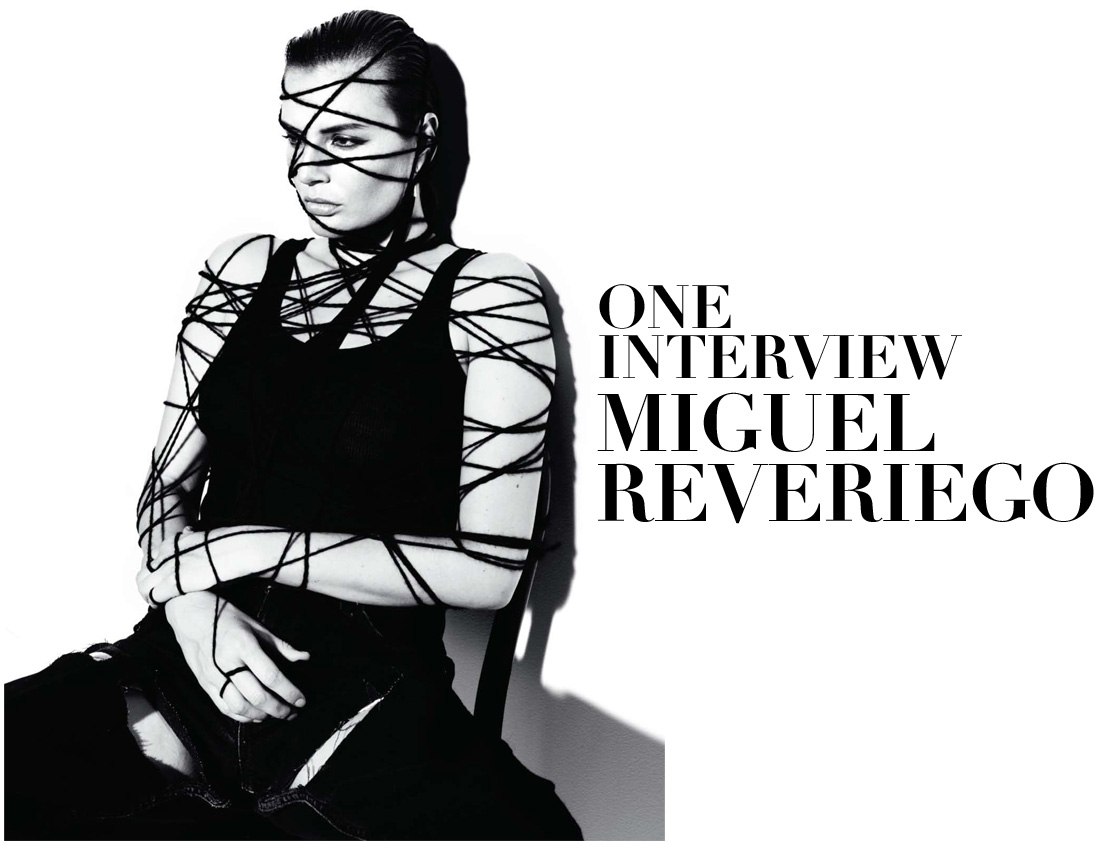 M
iguel Reveriego
's name is on everyone's lips. The Spanish photographer's sleek photographs, create a world of unparalleled glamour and his work can be seen in some of fashion's most innovative publications. Reveriego's distinctive style speaks for itself, but the story behind the scenes is just as interesting as the pictures themselves. One Management's Christopher Michael, catches up with Miguel for an insightful discussion on creativity, collaboration and what it is like to enter the big leagues.
"in Spain you turn 8 and they dress you kind of like a priest. I was kind of obsessed since I was very young with pictures and models. I still remember those Revlon ads with all the big girls, the supermodels."
Christopher Michael: Your first camera was bought for you at age 8, my initial thought was what signs could you have possibly shown at such a young age for your parents to have bought you a camera but something tells me that it was more likely you who came out and asked for one, am I right? What sort of mental process occurred in your mind as a young boy that brought you to wanting a camera?
Miguel Reveriego: I did ask. It was my first communion, in Spain you turn 8 and they dress you like a priest. Since I was very young I have been obsessed with pictures and models. I still remember those Revlon ads with all the big girls, the supermodels. I was very into the movies as well – so I didn't really know if I was asking for the right camera or just more something to look through. I wanted to look through my own new world, my own movie. I was quite shy when I was little and I had to find my own way of surviving that moment and that's what happened. It was pure infatuation to be honest, with pictures of models… I'm not sure if I was so conscious at that age of what I wanted to be or if I was just trying to be those personalities, just having a camera for me was that instrument 'they had' that I wanted to have, because I wanted to be like the movie directors or the photographers more than being self conscious at 8 of what I wanted to do. It was more of a fascination with the whole spectrum of personalities and energy they created.
CM: Well said… Amidst the surge of relevant new names in fashion today, your name comes along with a noticeable brand… 9 times out of 10 I'll recognize your work before reading the credits, whereas I think that some of your contemporaries although very talented, may be a tad more 'in the process' of developing their trademarks still… How did yours come to be developed? Or is it more so the way you've always made your images from the beginning?
MR: I think at the very beginning I didn't really know where I wanted to go. I thought that the only way to do something personal was to be true to myself and follow my gut instincts…. I always take the photograph that I like, it is the woman that I like, the hair that I like, the type of energy that I like, just because it's what I like. I explored that world, rather than trying to do different things or having a brand… its actually letting myself go. My agent Camilla told me in the very beginning, just do what you do, follow your roots, follow your passion and follow what you've been surrounded by your whole life and it made sense because it was really easy for me to just do what I was… Kind of natural, not contrived.
CM: It's said to be the secret of success, only by being different are we able to be indispensable. Camilla gives good advice! During a period that can only be explained as 'cross generational' both photographers and editors are having a chance to work with their heroes so to speak and the now iconic generations seem to be enjoying the dabbling into of the new community kids… Is there any particular editor or stylist that you would love to work with and have not just yet?
MR: There are a few of them, if I had to say just one, I would love to be on set with Grace Coddington. You know what I appreciate, I've worked with very few but very particular editors in my career. I chose to do it that way because I thought that it was very important rather than just doing fashion pictures, doing something that was more of a collaboration and working with people whose point of view I really respected, rather than just working with anyone. When you look at her work, you always see it goes beyond the dress, beyond the lip, it goes beyond everything, it is a "whole". Like the editors I'm working with now, they go beyond the outfit, they are actually interested in creating an image and they spend their days thinking about and working on it and they follow the process from beginning to end. Even when you finish on set they keep going with you and I think that is really great when you collaborate with people. I have not had the pleasure of meeting Grace yet but when you view her work it seems that this is the way she works as well, and it's amazing..
CM: Indeed, she's a personal favorite of mine as well… London, the eternal magnet for creative minds also nabbed you early on in your development… how was it that you started working with Mert & Marcus at that time?
MR: That was the reason I went to London. I was in Madrid, already assisting fashion photographers. I followed the magazine The Face a little bit but it wasn't really my time…but then POP magazine came out, I still remember not as much of the first cover they did but the second cover with Solve and Lucas, this Argentinean guy, I still remember exactly the black background and yellow logo. Then M&M became the stars in POP, it sounds really silly but I used to literally take the magazine and "lick" every one of M&M's pictures because they were so amazing. They used to shoot in Metro Studios so I said to myself "I'm going to go there and ask for a job, I would love to work with them". It was very difficult because I obviously didn't speak fluent English but after trying several times, going there over and over again, I got the job. I met their first assistant at the moment and through her, I got an interview with them. At that time they have just bought their house in Ibiza and they were looking for someone who could speak Spanish and it happened. It was amazing, an incredible experience… the whole thing. If I were to attribute anything to that period, it would be how clear the concept of the woman was, I really discovered that it was about a woman, it wasn't about a shoe.. it was about a shoe on a woman, it was a dress on a woman, it was hair on a woman, and it was a particular woman that was wearing those clothes.. and I think that inspired that whole brand that you mentioned before.. because they used to always shoot the same style of woman, it didn't matter if she was in couture or a pair of sneakers…it was always like that, every shoot with them was so inspiring that there were moments where you were holding the light and you couldn't even react to what they were asking because you were in this kind of trance and couldn't believe that that was happening..
CM: Recently you've been added to the growing list of new additions to the Bazaar US roster, the magazine has an incredible history of collaborations from the Warhol illustrated days, to Avedon & Lindbergh etc… Do you think that there is definitely a new wave going on at the house of American Harper's as well or do you see it as a natural turn over / update that perhaps has occurred since the magazine's conception?
MR: I would like to think that is the organic way, it has to be normal at some point. There are absolutely amazing photographers out there who have been doing amazing images for 30 years and it¹s great that they are still there and have longevity in inspiring the world with their work. But at the same time I think that there are a lot of new talent that have a lot to say, that also have a lot of ideas to express in a very complicated moment in the industry. I am finding it very refreshing as Harper's is one of the biggest magazines in the world with a super talented team, from Glenda to Zoe and all the Photo Team, they all really want to do something… they fight for what they believe in. It is more challenging to shoot for a magazine with a bigger audience than if you were pitching a creative idea to a more independent magazine like a Dazed or an i-D.
"If I were to attribute anything to that period, it would be how clear the concept of the woman was, I really discovered that it was about a woman, it wasn't about a shoe.. it was about a shoe on a woman, it was a dress on a woman, it was hair on a woman, and it was a particular woman that was wearing those clothes"
Numéro #106 September 2009 / Editor: Capucine Safyurtlu / Model: Eva Herzigova
"There have been cases where I see a girl's photos and don't like them at all and then see them in a show and go like oh my God she's unbelievable the way she handles herself, the way she walks, the little cheeky face, it's kind of amazing"
CM: You are not the first person to mention the Photo Dept over there, they often get referred to in the way you just have which is a rare occurrence, I find in general at publications they are usually very behind the scenes..this team must be quite incredible… In the days where Fashion is under constant scrutiny for its negative effects on the self image of people both young and old, its positive influences are something that clearly need to be acknowledged as well, and I think that magazines are doing a great job with it and bringing more attention to the Models who are involved in various charities and such… Is there any particular world cause that has your attention right now?
MR: This is a personal subject. I do appreciate these girls doing it and talking about it because they are very much a group of public figures, and it is so important that they do bring awareness to these issues. Most of these girls, of the names you've mentioned, are some of the most inspiring women I've met in my life, Eva.. or Bridget.. For instance when I met Bridget Hall, I was scared I was going to meet the myth and be demystified by what they are in person, but it ended up being a very special moment and someone really inspiring. These girls are so strong and have been around so many things and so many situations that for them to go up there and be like 'look we also can do this, and we are also interested in helping people' and it's not all about the shoe and the clothes… it shows they are humanitarian.
CM: You've been on your own and done with assisting for about 4 years now and you are in quite a pretty place in the scheme of things… Do you think it's all happened quite quickly or does it feel like it's been years that you've been at it by now?
MR: It felt natural, I did everything when I was ready to do it, I learned from my mistakes. Sometimes life can spin too fast especially in our industry and I think it gets to a point where you have to be honest with yourself for the process to be natural. I love my work and it is a great part of my life. I am enjoying my journey.
CM: Some photographers go to the shows, others just stock them on style.com.. Some pay little to no attention… How interested do you find yourself in the runway action during the chaos of fashion week?
MR: I normally do as many shows as I can and go to Paris during fashion week for the shows and also to see a lot of friends and people from all over the world. I love going to shows for many reasons, you see what will happen the following season, new girls, old girls, how everyone is doing and what shape they are in. I also think a fashion photographer has to be involved and aware of what's going on in fashion. I chose to work in fashion so I enjoy the energy of the shows, the new collections, it is a kind of theatre… You can send me a link of a girl and the shows she did, but it's when I see her performing that I realise her potential, the way she carries herself, the way she walks, the little cheeky face, it's kind of amazing. As long as I can I will keep doing it, it's super inspiring to see the girls in action… they are all buzzing and you can see the buzz also behind the scenes and backstage. That intensity, every single person of the industry is so alive and the adrenaline is pumping…


All photos by Miguel Reveriego
Related Posts:
21 Comments to "Miguel Reveriego"
PREVIOUS POST
«
Richard Burbridge
NEXT POST
Rie Rasmussen vs. Patrick Demarchelier
»