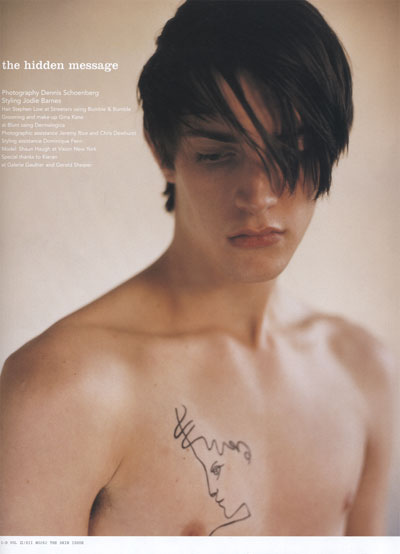 New Jil Sander face: Sean Haugh/Vision Men. Ph Dennis Schoenberg for ID Dec 05
During MDC's client survey for its 2006 Top Ten's Men's update, some of the most exacting players in the business buzzed with maximum excitement about a formidable newcomer on the men's scene called Vision Men.
From their early days at the agency called Citizen, to the evolution into Vision Men, Dave Fothergill and George Brown, scored high points in our survey for the ability to deliver to the market, exactly what the blue chip clients are looking for, right that second. After such an emphatic endorsement, OTM had to catch up with these driven newcomers just in time for the upcoming men's calvcade in Milan and Paris.
On the night we met up, Mr Fothergill and Mr. Brown literally shut down a magazine store in the West Village at 1 am, engrossed in every last page of every last men's magazine. Now that's what you call passion.
[ Tune into the details here… ] (MDC's exclusive interview with Vision's Dave Fothergill and George Brown)