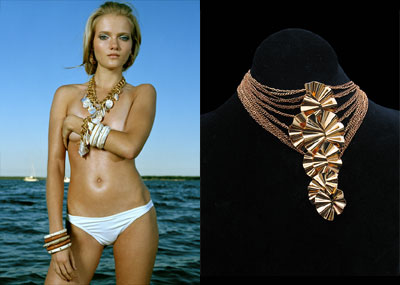 Though Christmas is over and I promised to give my credit cards a break, I can't seem to stop shopping for myself!
Well, it's hard to resist the stunning jewelry designs of the talented Rebecca Lau. Her dangling gold fan earrings and choker necklace are absolute showstoppers; all eyes will be on you when you wear them.
Her textured gold hoop earrings look richly elegant and the white and terracotta thin wood bangles set with 14K gold filled studs will make you want to keep stacking one on top of another! The fresh water pearl collection combines semi precious beads and Swarovski Crystals to the mix for added glamour. The entire collection also mesmerizes with its affordable price tag: all gold filled items range from $60 to $180. Start the New Year off with one more gift for yourself; you'll love yourself for it.
Available at Girlshop, 819 Washington Street, between Little W. 12th & Gansevoort, (212) 255-4985 or www.girlshop.com