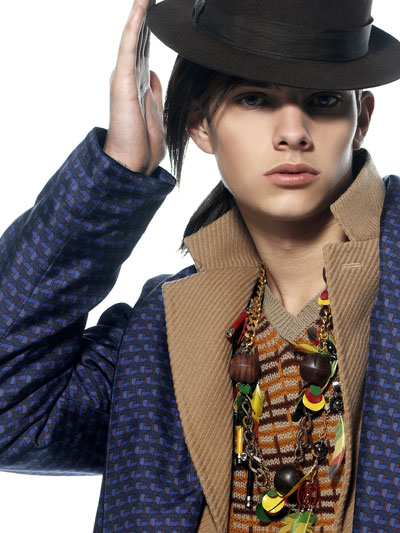 JR/Vision Men image courtesy of Vision Men
MDC: On the hot Vision faces to look for in 2006
Dave Fothergill and George Brown: Alexis, Stan Jouk, Christopher, Jonathan, JR, Nelson,David Morris, Logan F, Joey K, Orlando, Jason Mattason, S/S 06 Jil Sander face Sean Haugh, S/S 06 Just Cavalli model Reid.
MDC: On the Vision Men back story
DF : Our story is unconventional. We both had no prior experience in the industry. Basically, we both set out to launch a fitness site as I had done some fitness modeling and was constantly being asked about what I do to stay in shape. I was also teaching at the time and was somewhat dissatisfied with teaching.. Our first set of models were basically "urban�, fitness type models. There was one who had done a Tommy Hilfiger underwear campaign but was not pursuing modeling due to a music interest. He had a connection at Tommy who gave us the contact at the company. Tommy Hilfiger happened to be casting for their annual Hamptons fashion show and ended up booking two of our guys. It was the casting director who advised us to keep certain models and move away from others in order to cater to a larger cross section of the clients. To make a long story short…we took his advice and here we are now.
GB: We can recall some very funny stories regarding how we handled some of our first bookings….giving first options were really easy…we gave them to every client who asked…even on the same model. The idea was very simple to us. The first confirmation…got the booking!! (lol) But as we learned the business and as we grew better and our client list expanded. We were amazed at the response our newly scouted models were receiving.
MDC: On the evolution from Citizen to Vision
DF: After changing our agency name from DBM Models to CITIZEN (which we felt had a more global appeal)…we had models such as David Morris, Stan and Reid who were making a mark in the industry. We also had a few girls at the time…one in particular, Valentina, who was also getting a great deal of attention…it was a pity that she wasn't more available. All of these guys were scouted by myself and George and developed right here in NY without any other outside agency help from the European markets or other markets here in the US. We both have a great love for scouting and developing new talent and quickly started acquiring new faces that began to get the attention of the fashion elite. Our scouting tactics were also unconventional…as we both have never been to a model convention. We would stop prospective models on the train, bus or on the streets of NY right under the noses of scouts from the established agencies. We always had the aspirations of becoming one of the top agencies with a board to rival the best in the business. Our meeting with Christina from Vision came at an interesting time… needless to say, the merger/acquisition is a welcome venture and is a dream come true in our quest to become the best in the business.
GB: We knew the kids were great but we had our doubts…if they were really that great surely they would have been scooped up by the industry giants before we got to them. The thing about Citizen Models is it represented to us the power of NYC and had a global feel to it. Now our recent merger with Vision Models is the new chapter in our quest to be the best at what we do.
MDC: On what clients demand, right this minute in male models
GB : I think our clients respond best to guys with a modern edgy beauty, a great range in expressions and of course a charismatic personality. Guys can't be too self aware but should be confident and real.
MDC: On how the edgy tradition of Vision Women meshes with Vision Men
GB: I truly think the aesthetic of both our women's board and men's board sync perfectly. Vision Women represents for example, a sister of one of our male models. The Vision girls and Vision guys option and book typically with the same pedigree of clients and photographers.
MDC: On the recent explosion of Men's magazines on the market from V Man to Vogue Man?
GB: I think men's wear designers are now evolving into full-on celebrities because of the increased marketing and distribution of men's cosmetics and skincare lines. It all points to a welcome up surge in men's fashion. I think the new quality men's fashion and lifestyle magazines will all work in our favor. It's a very good time to be in the men's game
DF:I love it…and think it's long overdue. With the heightened awareness of men's fragrance and fashion, I think we are moving back to the days of the male super-model. We haven't gotten there yet…but we're on our way.
MDC: Is Vision Men a strictly high editorial enterprise?
DF: Not strictly…but definitely, we are a force to be reckoned with editorially. However, editorials don't pay the bills. From a business perspective, you have to be smart and cognizant of your models. It's great to grace the pages of the hot editorials, but at the end of the day…if you don't have much to show for it, it's pointless. With the addition of John Babin formerly of Boss models, we've added a high end catalog and commercial board to the men's division. The women already have VM…â€?the softer side of Vision.â€?
GB: I think John Babin (The former Boss Models super agent) has added a quality dimension with the Vision II men's board. The board is more mainstream and mature. It now allows us to service those quality catalog and high end chain and retail establishments that are so critical to staying in this business.
MDC: The end game for Vision is…?
GB: Our ultimate vision for Vision if you'll "pardon the punâ€? is to quickly establish the agency as the premier agency in New York and the world for all those clients looking for the most exceptional new and established faces coming onto the market…for both in men's and women's.
DF: My ultimate vision for VISION is to successfully integrate both the editorial boards and the more commercial, high end catalog boards without compromising or losing our image. It's a tough concept because from a business perspective, all we want to see is $$$ at the end of the day. We need to take more risks in this industry….after all, we're in the most creative industry with the most eclectic people in the world. We need to take advantage of that and stick to our principles of what's going to make us UNIQUE.
MDC: The key to getting a newcomer on the map is …?
DF:I'm a firm believer in polaroids. I value our clients and try to give them an unadulterated, honest view of the talent we have. Clean, simple polaroids are "the truth� and the clients love them.
GB: Well….without giving away too much…it's to run to the top of the fashion mountain and scream like hell about the new amazing face you have. Get him or her to see every casting agent and fashion photographer you deem to be appropriate for that new face. The rest could be history.