To celebrate the 10th anniversary of MO&Co. the brand looks to a lineup of influential Chinese beauties who are raising the style stakes with their one of a kind looks and boundless fashion enthusiasm. Showing off their #StyleSelfies and speaking on the elements that make the line a mainstay within their wardrobes this impressive roster of model, actress, buyer and stylist showcases the youthful & exciting energy behind MO & Co's success.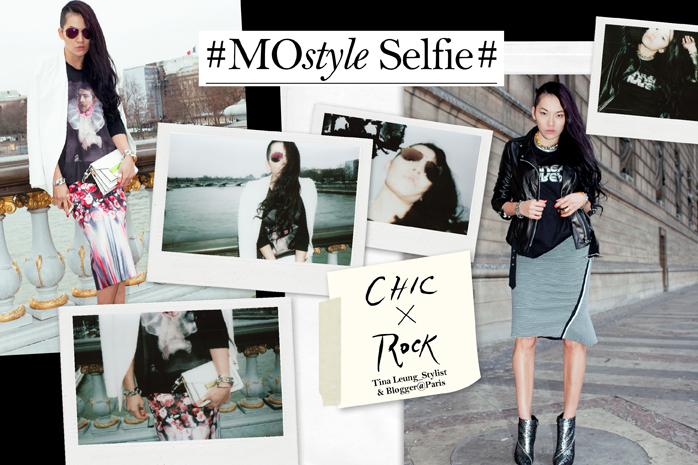 TINA LEUNG, Paris based stylist and blogger: 

As winner of the "Stylist of the Year – The Best of Asia Pacific Luxury Providers" award in 2011 and frequent contributor to a slew of international magazines, Tina Leung is a bonafide trendsetter. With her edgy style and rocker vibe she brings tough chic to the forefront with every ensemble.
M: How do you feel about androgynous style and how do you balance the masculine and feminine within your look?
Obviously men & women have different body shapes, but as I say with fashion in general, I don't believe there are rules. You wear what you want. I can't say there won't be fashion disasters, but as long as you're happy, comfortable and not hurting anyone why not? I always combine things without really even noticing. I'm always adding masculine and feminine elements into my outfits, I think it adds a nice twist that finishes off the look.
M: Nowadays street style plays such an important role in the fashion scene- why do you think it became so popular?

With magazines becoming so homogenous in their looks and editorials, it's refreshing to see how different people interpret the same pieces, everybody takes part. It's real and also inspiring!
M: Do you have a "Rock" side? How do you express your "Rock" side through your look?

I guess I do since I shaved my head!! I like to experiment with different looks and don't have a set look each day, but I do like to have that element of edginess or rock in any outfit I wear.
M: Can you tell us your key items of Rock×Chic style?
This MO&Co leather jacket could be my all time must-have. It represents everything I enjoy stylewise and adds a rocker vibe to every look. I like the contrast of it with a skirt or a more feminine accessory like high heels.
---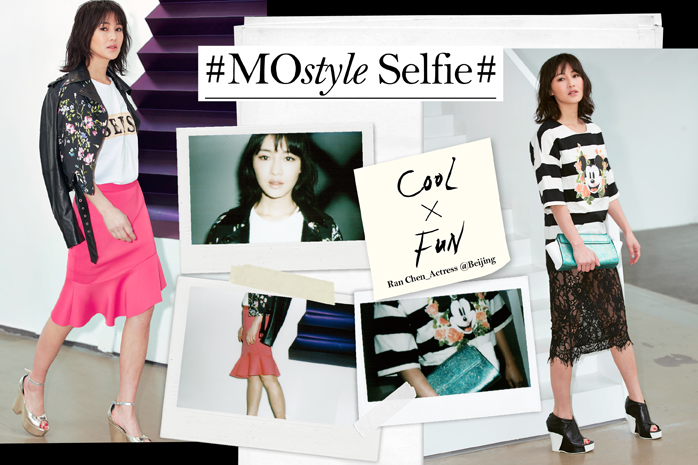 CHEN RAN, actress
As an it-girl and actress, Chen Ran is among the leading style stars of her generation. Rather than play it safe she lets her love of print and pattern show mixing up an exciting look that has won her accolades. When it comes to fashion this unique beauty isn't afraid to stand out from the pack and her personal fashion icon is sure to bring a smile to your face.
M: How is your experience at fashion month?
It's a very precious and fun experience for me, to see a collection up close and have that first impression. Going to the shows inspires how I create my own style. I also get excited seeing all those runway looks worn on the streets too.
M: Does fashion inspire you as an actress.
Fashion can help you as an actress – it's wonderful for building your character. You have to know what style fits that person and you have to find a way to create that reality onscreen. With fashion there are no boundaries and it's great to try different things.
M: Who's your favorite icon of the season?
Mickey Mouse! I want to have the full collection of  Mickey Mouse memorabilia in my house so we can have a party.
M: What's your favorite thing about the MO &Co. spring collection?

The whole collection caught my attention, from the fun slogans and cool prints to the modern and chic silhouettes. I think the pieces strike that perfect balance between classic and quirky. I love that rosy tulip skirt I got to wear, it twisted that classic shape into something edgier.
M: How do you add fun into your wardrobe?

Do what I love, and wear what I feel like! Enjoying yourself is the first step in fashion and in life.
M: What's your favorite MO style of the moment?
I love their playful take on chic. It's fresh and cool – when I wear something from MO & Co. it brightens up my style and cheers me up. The details and vibrant colors are so beautiful yet they work well together and it's easy to match the pieces together.

---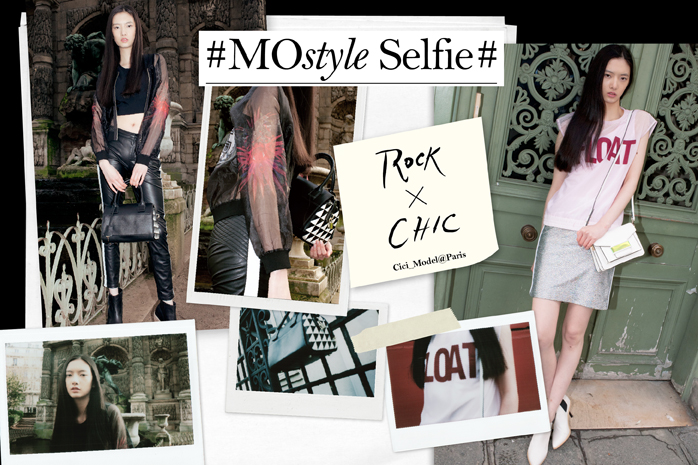 CICI, Model
Another fresh Chinese face from the runways, new girl Cici has a demure yet powerful take on chic. As a model she's privy to all of fashion's outlandish designer wares but her personal style ethos is all about simplicity and understated elegance.
M: How do you like to dress when off duty? Does it reflect your personality?
I prefer simple and clean style, comfortable but with a rock edge. I like wearing all black and white except for a few metallic touches. I think my style does reflect who I am – I pursue purity in my life and I think the best looks come together when you don't put too much effort into them.
M: What is "chic" for you?

Chic is something that catches your eyes in a quiet way. When you see a woman who is chic everything on her looks simple, but on closer inspection you begin to notice all the stunning details.
M: What's your MO style of the moment?
I'm all about clean and simple with those standout details. I love the delicate white bag I was wearing. It's small and practical, but with that flourish of neon green on the buckle that makes it very spring. I'm also into the cropped tees – they're fresh and dynamic, definitely on my must have list.
---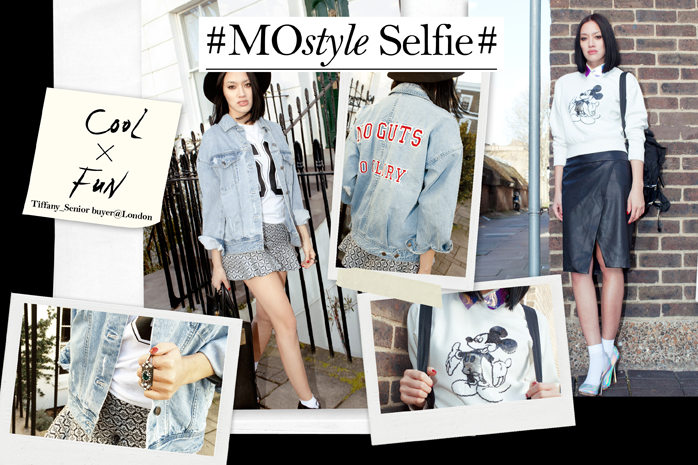 TIFFANY HSU, Senior Fashion Buyer
Tiffany Hsu has the guts to transform bold concepts into real looks. The frequently photographed woman about town is on the radar of photographers and fashionistas alike, all of whom appreciate her daring take on style. Her position as a senior fashion buyer means she's clued into all the latest trends, but what really excites her are the eclectic looks straight off the streets.
M: What is your idea of "style" ?
An indication of your personality and mood. It should should also be a reflection of who you are and what fashion means to you.
M: Big slogan, sporty numbers have jumped on clothes. Do you like this concept? How do you mix them?
I like the slogan and varsity elements in fashion right now – the oversized denim jacket I wore had a lot of that. I will always love the idea of mixing high and low to create a fresh look and I have a particular interest in youth subculture so that always influences my style. I will wear slogans and logos, but I'll probably combine them with something edgier like leather.
M: At the 10th anniversary of MO&Co, what's "MO style" in your eyes?
MO & Co. is fun, vibrant and diverse, I think there are always contrasts within the collections and that is what makes the brand cool for me. Every look has a sharp attitude but the clothes keep a low profile – that is MO style in my eyes, it gives you the freedom to dare to wear what you want and express your attitude.