Philippe de Montebello (director, Metropolitan Museum of Art), Anna Wintour (editor in chief, American Vogue), Giorgio Armani, Andrew Bolton (from the Met and curator of the Superheroes exhibit) for the 2008 Costume Institute Gala (press preview). Photo: MODELS.com
The Metropolitan Museum of Art's Costume Ball is ready for a flood of stars tonight from the fashion and entertainment world. We chatted with IMG and their roster of top models, Carolyn Murphy, Jacquetta Wheeler, Gisele Bündchen, Guinevere Van Seenus, Kate Moss, Lily Donaldson, Sasha Pivavarova, Jessica Stam, Stephanie Seymour, along with Mischa Barton and Margherita Missoni are scheduled to show up and look absolutely fabulous. Talk about a supermodel moment for the superhero event! MDC went to the press preview to catch the fascinating exhibit, which is a must see! Check out our interview with Harold Koda, curator in charge from the Met; hear Giorgio Armani speak, walk through the exhibits and get exclusive preview pics of some of our favorite costumes/outfits. See below (if videos stop, wait while they continue loading). Exhibition runs through September 1, 2008.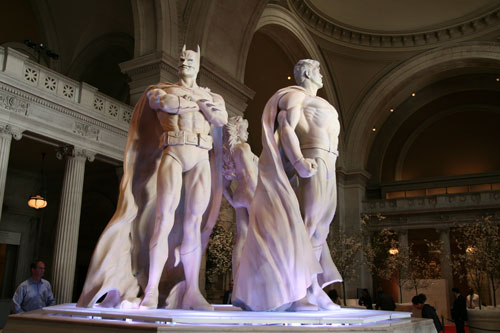 In the foyer of the Met, visitors come face to face with an 11 foot tall Superman, Batman and Wonder Woman.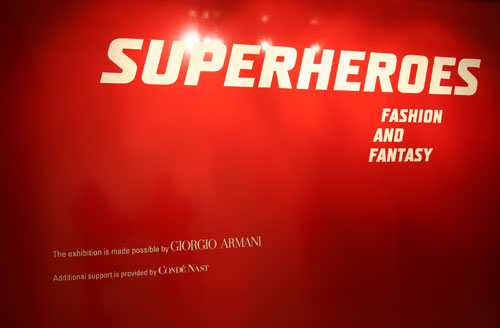 The entrance of the exhibit sponsored by Armani and Conde Nast.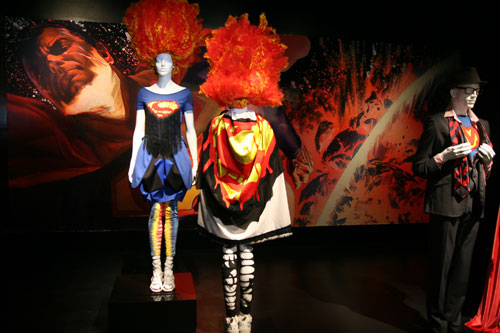 The Superman themed first exhibit.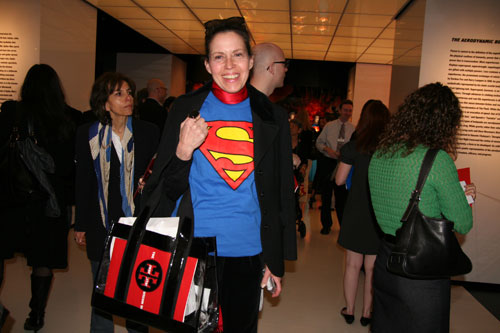 A super fashion fan.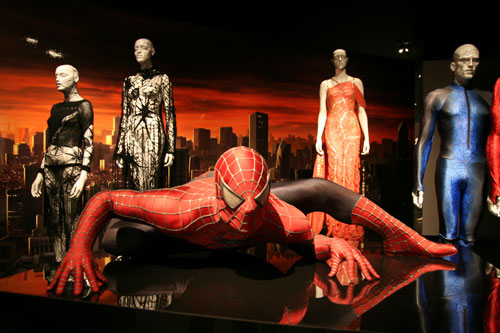 Spiderman and his clothing spawn.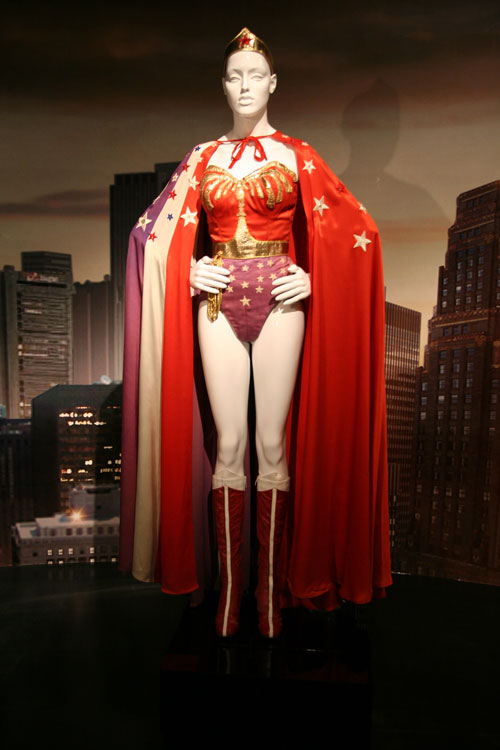 The original Wonder Woman costume worn by Linda Carter in the 1970's.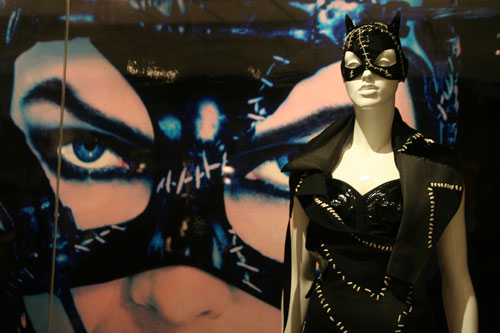 Michelle Pfeiffer's Catwoman looks over Galliano's ensemble for Dior Spring/Summer 2001.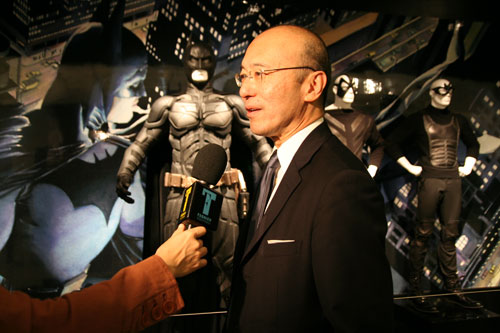 Curator in Charge at the Met, Harold Koda in front of his favorite piece, Christian Bale's Batman suit in the upcoming Dark Night movie, designed by Lindy Hemming.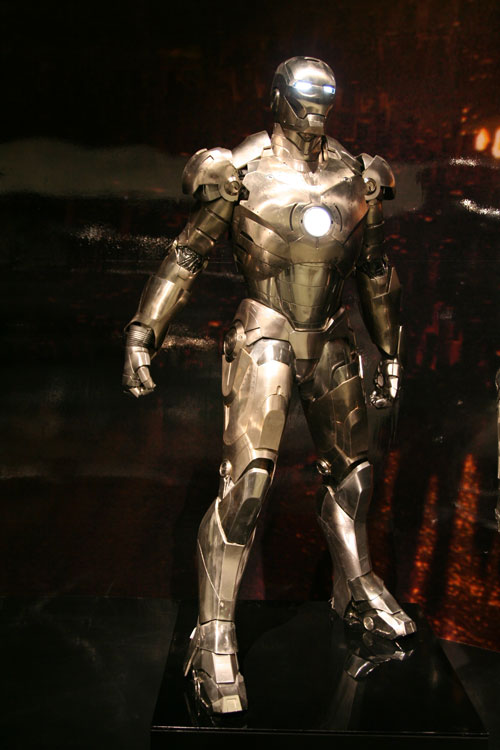 Off the screen and right into the exhibit is the new Ironman suit; it and the movie debuted this past weekend.
OTM's favorite non superhero piece, Thierry Mugler Spring/Summer 1997; leather, silk and feathers.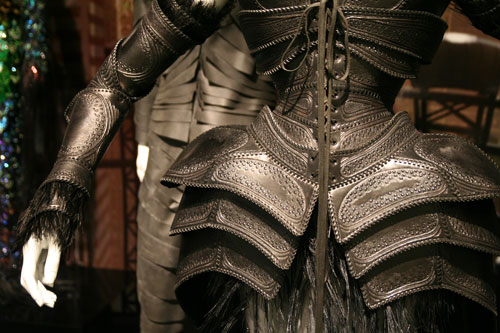 Detail of the Mugler dress.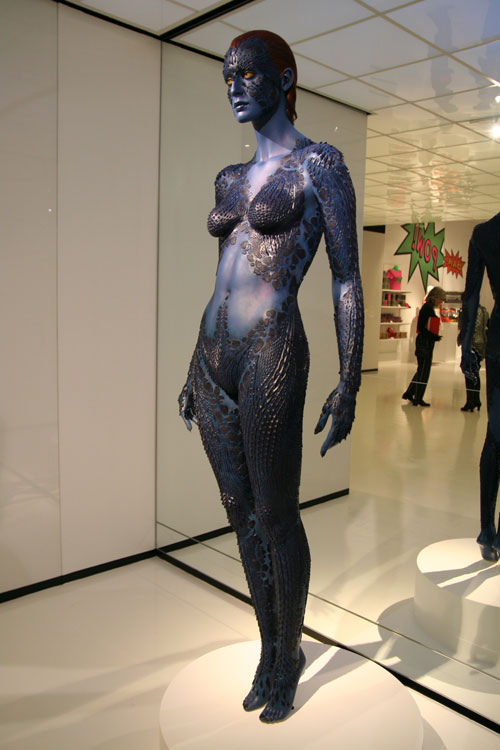 XMen's Mystique makes an appearance.. perhaps Galliano's new muse?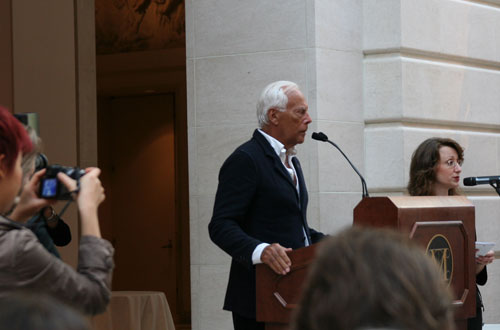 Mr Armani speaks beautifully.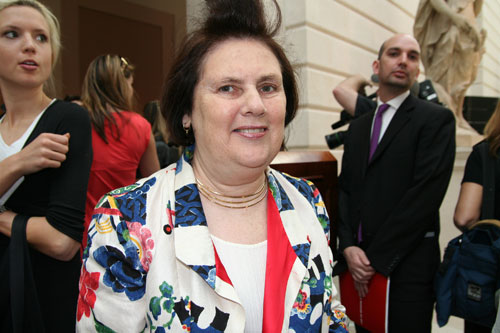 International Herald Tribune's Suzy Menkes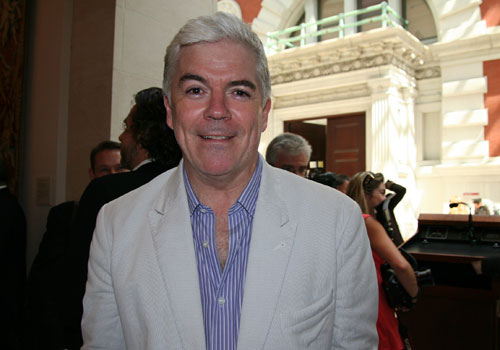 Tim Blanks from Style.com smiles for MDC.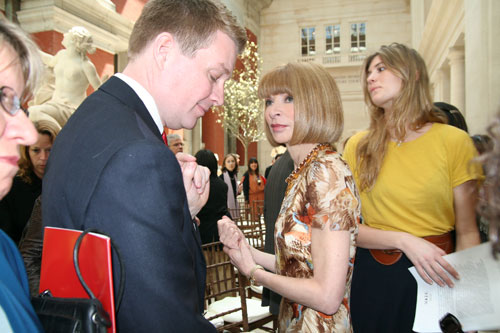 The legendary Anna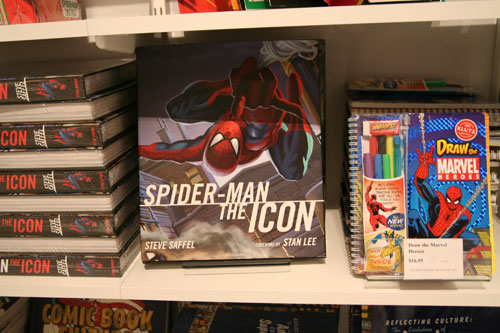 Spiderman as Icon, now fashion icon!