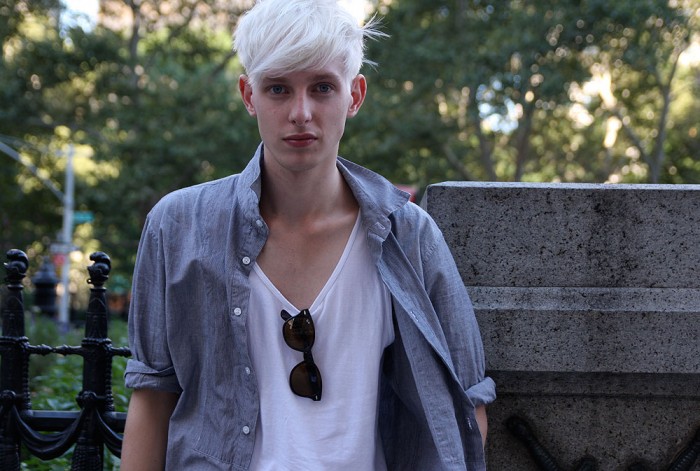 Thomas Penfound. Interview by Jonathan Shia; photos: Betty for models.com
Fall 2010 is turning out to be Thomas Penfound's breakout season. With two top-shelf campaigns under his belt, Burberry by Mario Testino and Lanvin by Inez and Vinoodh, the 21 year old from Manchester, England, is getting ready to take New York. In the year since he signed with d1 Model Management, Thomas has landed in Love, AnOther Man, and Dazed & Confused—and on numerous runways in Europe— all while learning everything he can about the industry and rollerblading (not skateboarding, as he makes clear) around East London. Now, Thomas talks to models.com about his summer in the city and his plans for the future, and in a special OTM video, gives us some behind-the-scenes details from THAT shoot for Britain's iconic brand.
[flashvideo image=https://i.models.com/oftheminute/images/2010/09/Thomas.png filename=https://v.models.com/oftheminute/images/2010/09/ThomasPenfound.mov width=600 height=450 controlbar=over bufferlength=20 /]
MDC: How did you get discovered?

T: It was in Manchester. My friend Elliot, who's also with D1, said the agency was doing a test shoot for all their guys from up North and he just told me to come down.
MDC: What do you like to do in your free time?
T: I just bought a new camera, so I'm getting quite interested in photography. I've been messing around with that quite a lot. Also the camera that I got has an HD-video function on it. Some of my mates produce short films and that's quite inspiring, so I've been looking more into that area. Other than that, I skate and draw. Anything to keep myself busy. Usually my friends have got something pretty cool that they're up to, so I'll either be helping them out on whatever project they've got to do, whether it be a film, or some of them are designers, so I just help them out with that. I just like being around creative people and producing things.
MDC: What have you been getting up to in the city this summer?
T: When I first came, I went to quite a lot of gigs (Editor note: music shows). It's been nice to have them because you have quite a lot of outdoor ones. That's kind of a novelty, being from Manchester, because you never get that because it's always raining. It was nice to be outside in beautiful woods, or just in the big parks, so I saw a few bands. I think we went to two in Prospect Park. We saw Beach House and they were supporting the National. And then we saw Jack White and Alison Mosshart's band, the Dead Weather, which actually I preferred a lot more live than I did on CD. We saw a London band, the xx, at Summer Stage. It's crazy, they've gotten massive over the last year. That was really fun as well. I also went to the beach the other day, Fort Tilden. It's got all the old army bases and stuff, so I was messing around with my camera, taking pictures.
MDC: Which is your favorite editorial that you've done so far?
T: It might not have been my favorite at the time, but one of the ones that looks best now, looking back, was the one I did for AnOther Man with Ben Toms. That was one of my first big editorials. We shot it in Dartmoor, which is a really rural part of England. We were shooting spring/summer in winter, so the weather was pretty crazy. We had to battle with rain and wind on the hills. But looking back, the pictures look really cool. I also liked the shoot I did with Hedi Slimane as well. It was meant to be a Gareth Pugh shoot, it's kind of nice because it ended up being quite a lot of the clothes I turned up in, so looking back on the pictures it feels more real, rather than fantastical. It's not as detached.
MDC: What's your favorite thing about modeling?
T: I think meeting people is probably the best overall experience that you can take from it. Doing shows is nice, it gives you a bit of adrenaline at the time, but as far as lasting experiences, I definitely think it's probably the people I've met and also what I've learned from being in on fittings, etc. Just listening to what designers and others have to say, I find that interesting, from the idea of the collection to the actual technical cutting and sewing of it. I think that's probably the most beneficial experience from it. Doing shows with your friends is good as well. It's a fun experience, you can have a laugh.
MDC: Is this your first time doing New York Fashion Week?
T: I did only one show last time. I just flew over for Marc by Marc Jacobs and flew straight back. So this is my first proper time.