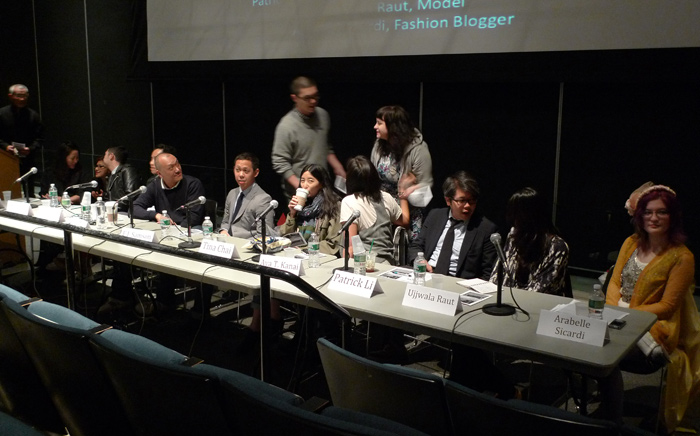 "When I started in this business, this panel wouldn't exist."
-Joe Zee, Elle Creative Director
These words by Joe Zee perhaps best sum up the significance of the Asians in the Fashion Industry panel discussion that took place at Columbia University this past weekend. Despite the strong presence of those with Asian backgrounds in the field today, Joe Zee's statement brings to mind how different circumstances were barely two decades ago. But on Sunday, he was able to sit alongside many fellow industry notables, like designer Phillip Lim and model Ujjwala Raut, to discuss this very evolution of fashion and society with the next generation.
With moderator SuChin Pak at the helm, the diverse group of panelists shared everything from personal stories to specific advice to a packed auditorium. For most, the journey towards fashion was a courageous and serendipitous one – whether it was deviating from accounting degrees or stepping away from a path towards law school, difficult decisions and sacrifices had to be made in their respective pursuits of a seemingly impossible dream. The cultural and social pressures that often accompany the Asian-American youth were common threads amongst all the stories told, but the panel provided consistent encouragement for everyone present to at least give their ambitions in fashion a try – that is, without completely defying the expectations of loved ones.
For Ujjwala Raut, her connection to her Indian heritage remains strong after many years of traveling around the world as an in-demand model. However, the hardships in communicating a career in fashion to those back home is still a great conflict. At the same time, Ujjwala agreed that the dialogue of fashion has been able to successfully overcome cultural boundaries. "In India, they used to look at designing as the works of a tailor, and they look at modeling as a hobby. But now, we have Vogue India, Indian Elle, etc. to help communicate fashion to a bigger Indian audience, and now everyone finally starts to understand; Oh, so this is what you do."
From the sheer number of avid attendees, it was indeed evident that fashion has become a concept that speaks to those of all backgrounds and experiences. The future of the industry has this final consensus amongst the panelists: while no one can predict what rests ahead, it is always a positive step to open doors and to welcome diversity in the field, especially as fashion itself embodies such a vast range of ideas as well as opportunities.
Participants: SuChin Pak, TV Host and panel moderator;Â Carol Lim and Humberto Leon, from Opening Ceremony; designer Phillip Lim; Elle's Joe Zee; Stylists Tina Chai and Aya T. Kanai; E.J. Samson, Online Editor of Teen Vogue; Patrick Li, Creative Director & Principal of Li, Inc; model Ujjwala Raut; Arabelle Sicardi, fashion blogger. The following are some of our favorite questions/answers of the event.
SuChin: Panelists, what were you doing at 18? (Almost all the guests mentioned at some point or another about how their parents wished for them to do the "Asian" thing and go into medicine, accounting, engineering, or law.)
Carol Lim: When I was at college, I studied economics – I had no idea about anything in fashion…Fashion doesn't have to be something you study. It's something you love.
Humberto Leon: [Fashion] is something I have never stopped loving. I started out as a psychology major at UC Berkeley, but a business partnership with Carol eventually brought me to where we are today.
Phillip Lim: At 18, I was trying to figure out a way to get out of accounting class. I grew up in a very Asian-American, traditional family. My mother was a seamstress, but it was just a way to put food on the table. In a strange way, fashion found me, but only because I had the guts to pursue what I loved.
Joe Zee: I was an overachieving student in Toronto. But in between classes I would sit there at the lockers with all the major fashion magazines, studying them literally from cover-to-cover…ads, clothes, even the masthead. I even had a game where I would try and guess which photographer shot what. That was who I am! My appetite for it was so plentiful that I was never satisfied…I eventually came to New York with no Plan B other than to work in fashion.
E.J. Samson: I would steal my sister's Seventeen magazine and read it from cover-to-cover. Things are different nowadays, though – learning the difference between print journalism and online journalism…and how the two go hand-in-hand, is most important.
Tina Chai: I always thought I was going to go to law school, but eventually I found out I wasn't meant to work at a law firm. So I sent my resume to Conde Nast and somehow ended up at Glamour. I was so schooled in the idea that you're supposed to study the thing you end up doing…but I've broken out of that shell.
Aya Kanai: Fashion has always been a part of my life. My mother worked for Issey Miyake, and my dad was a graphic designer. It has been interesting to see the evolution of American fashion…the interest level has spiked in the last five years, and that changes what we do and the way that we work.
Patrick Li: I was working at the radiology department at Stanford Hospital, but instead I was falling in love with the aesthetics of the X-rays. Soon I switched my major to architecture…Nowadays I just feel privileged to work at a place where I don't really feel like it's "work."
Ujjwala Raut: My story is not exactly like anyone else's here. I never saw any fashion magazines growing up in India. My father was a cop, and my mother a housewife. I had four siblings. When I was discovered, I don't think anyone knew what exactly was going on. I just knew I had to represent India. I landed in Paris, didn't speak a word of French – I had never even traveled outside of India. It was a big, long journey, but it has been beautiful and wonderful. I am glad I could open doors for other girls from my country, and that makes me really proud.
Arabelle Sicardi: I got into fashion through the internet, and I never left. I was introduced to street style magazines by a friend, and I was just amazed by them. My real-life friends were more into things like World of Warcraft, so when I couldn't stop talking about fashion, they told me to shut up and just start my own blog. Until I did, it was like I had a game no one else wanted to play.


Some of the industry's biggest names; Ujjwala, Phillip Lim, Joe Zee and Patrick Li
SuChin then opened up the questions to the audience. Here are some of the most interesting questions/responses:
Cambodian-American student: What do you think the role of fashion could be in nurturing and healing a developing country, or just one that's in an economic crisis?
Phillip Lim: It's going to be an ongoing question. Recently I've been reading about Cambodian child trafficking and the story of Somaly Mam, who was recognized as a CNN Hero. She rescued children from brothels and brings them back to teach them a craft – mostly doing something with their hands. It's a very simple gesture that's also very pure – and then maybe it becomes a chain of people who embody that change, eventually forming a bracelet, then a necklace, and so on. Hopefully fashion can help in little ways like that.
Humberto Leon: We recently included a brand called SUNO that brought back the sewing culture in Kenya. It's little steps like this that can help. But we must find a balance and not simply forget that even on our own soil there are people who are struggling. In NYC there are also initiatives like supporting the garment district.
Parsons student: How do you find the creative balance between fashion as a business vs. fashion as a fine art?
Phillip Lim: Are you an independent person? ("Yes.") Then we are similar! I always hated when people told me what to do. The great thing about fashion is that there is always such a range. Even though I have creative freedom, all my experiences were merely about how to survive in this world.  You cannot deny capitalism. So my plan is to work backwards, following my motto of "business affords creativity." I don't view commercialism or wearability as a sacrifice for creativity. For me, fashion is about communication, it's a dialogue – and for me personally, if I create something that only communicates to 1% of people, that's not satisfying to me.
Patrick Li: You need to go back to understand what the basics are in order to move away from them. I remember working with Paul Cavaco a long time ago on a project for Self-Service magazine, and there was this long discussion about how easy it was to shoot pieces by avant garde designers, because the clothes speak for themselves. But on the other hand, commercial pieces appeal to a wider range of people.
Columbia law school graduate: General family reactions to working in fashion?
Ujjwala Raut: "My father actually still doesn't know that I've done Victoria's Secret," she noted. "I always say that it's not me in the photos!" My mom doesn't speak much English, and she is still somewhat lost in translation in terms of my career…she always asks why I keep moving around the world for different jobs. I want my four-year-old daughter to be happy, and so I will give her more options than I had as to what she can do in the future. But it's interesting because there are future generations looking up to all of us here at the panel, and that is what inspires me to keep going.
Columbia Student: How do you think the high fashion world view bloggers and the influence of the Internet?
Arabella Sicardi: I feel like people still don't really know what to do with us and how to categorize us. There is a wide range of bloggers out there – some do it for pure enjoyment, and others to help pursue goals like becoming an editor of some sort. But in the end we're still treated in a sort of "lump" together. And what's starting to happen now is that people don't know whether we're being paid to say this or that…the scary thing is when you can't always tell whether a blog is for enjoyment or for business.
E.J. Samson: At this point the Internet's influence on fashion is so vast – it's best for everyone to work together.
Phillip Lim: I think it's still important to take blogging as a discipline. It is a business that can easily help or hurt, especially since it's so viral.
Last words/tips/advice:
Joe Zee: When I started in this business, this panel wouldn't exist. I couldn't name any other Asians in the business. But now you can easily even have a panel that's twice this size! We must continue to support each other and the Asian American community in general.
E.J.: Something to always remember – and something that's part of our culture – is to be respectful, no matter what lowly job you are doing.
Aya Kanai: Make sure to immerse yourself in other interests – be able to talk about other topics you're interested in. If you want to work in fashion, you'll be around people 24/7 who know their "fashion," but it's when you are able to start talking about other topics, like music or art, that you stand out from the rest.
Ujjwala Raut: Life is too short! Go out and experience the world, enjoy it to the fullest.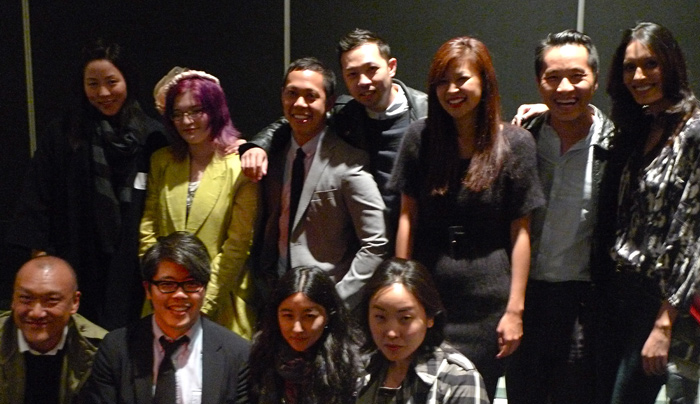 Special thanks go out to the students of Columbia University/Hoot for helping to organize the event. All photos and story by Vicky for models.com.