Posted by Stephan Moskovic | November 6th, 2009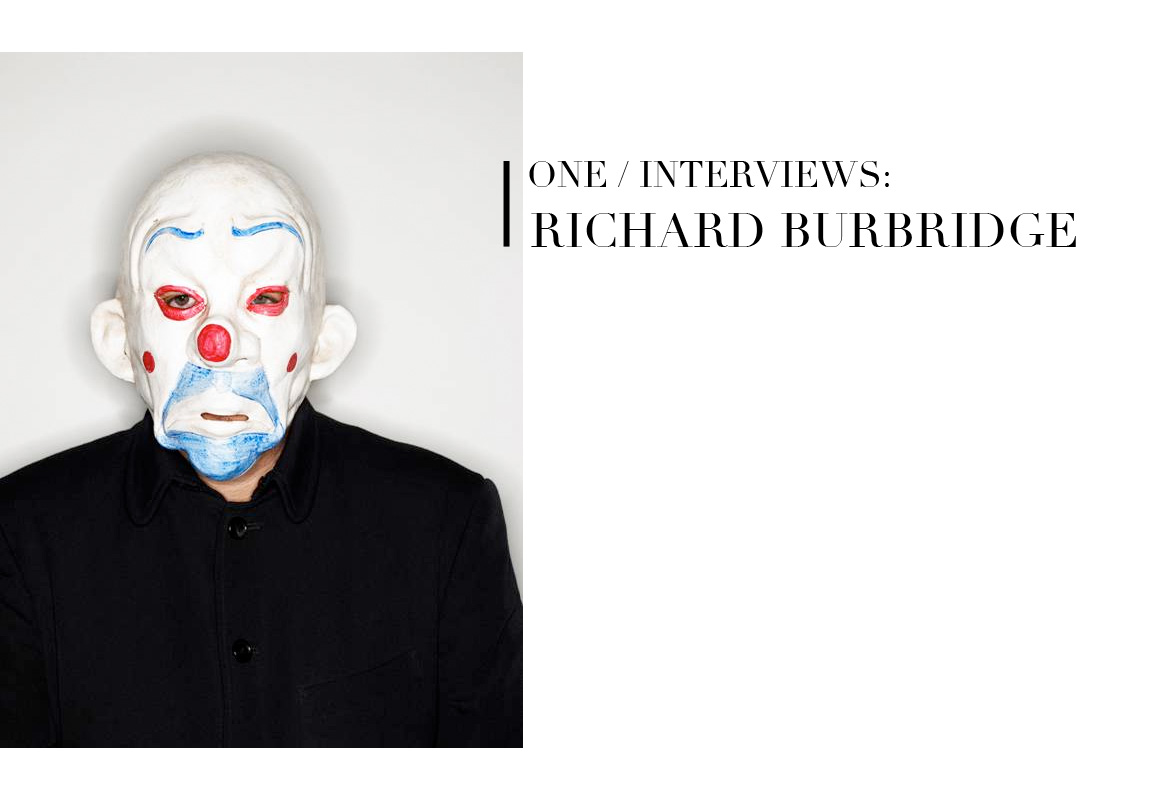 Y
ou can always tell a Richard Burbridge picture. There is something about his unique point of view and inimitable style that makes his arresting images stand out from the pack. While he may be known for the jaw dropping editorials he produces for Vogue Italia and Dazed it is his exacting demeanor behind the scenes and innate creativity that makes each picture extraordinary.

Continuing our exclusive series of interview collaboration with One Mgmt, One's Christopher Michael catches up with Richard to find out more about the man behind the magic.

All photos: courtesy of Richard Burbridge

Christopher Michael: One of my favorite things about you is your blunt way of speaking laced with the English accent, and yet you've claimed to be shy… how does that work?
Richard Burbridge: I think it is important to say what you feel. I have never been good at small talk. When I shoot portraits I can talk Non-Stop as I feel a different person behind the camera. I also like to listen to people who speak their mind and express themselves freely.
CM: I've seen a few Still life photographers whose work is incredibly beautiful, but it is not the most common for such Photographers to turn around and shoot a model with as much precision and beauty as they do an object. You however seem to be capable of executing a consistent amount of beauty regardless of what your subject is..Aside from what we would assume as the obvious differences, how do you approach a photo differently in these two scenarios?
RB: For me working with a model usually involves collaborating with a team. I like experimenting with hair and make up to change the face. To this day it still amazes me to see the transformation that is possible with still life, it becomes about looking at what you have in front of you. I look at trying to find the essence of the object. Unlike beauty, still life stays much closer to what it is and photographing still life can often become rather mechanical. You choose to light it by experience or even by what you have at your disposal. Recently I have tried to not make it look like it was lit in a studio. Still life photographers seem to use the same light and take fewer creative decisions.
CM: You've said before that when you do portraits you go in having your own opinion of the person and manipulate the shot into the way you see them, a favorite was your regal and dignified portrait of the Grand Madamme Vivienne Westwood…what is a personal favorite of such portraits for you?
RB: This is much harder a question than it sounds. These days I rarely shoot portraits and I find it impossible to take a picture without an opinion and without extensive research. I like a picture that I did of Matthew Barney. I wanted to manipulate his appearance in some way like he does in his own work. Too shy to ask directly I chose to skirt around the issue. Anyway, he turned up with this plastic of sorts and his intention was to place his hand in the plastic. I let that go for a minute and then told him to push his face into it. I like this photo a lot and the experience holds great memories.
CM: The October Vogue Italia beauty story by you and Nicoletta Santoro left us with a beauty Cover that I could picture hanging on my Wall as an incredible Painting, what type of Art may we find hanging around on your walls?
RB: I have 2 pieces by Adam Fuss, but they are leaning up against the wall. I also have a beautiful picture taped to a wall of Tilda Swinton that I ripped out of a magazine.
CM: There is something really great about torn out magazine pictures taped to a wall, brings you back to the high school days and collages all over the bedroom walls or something…. Lately there have been a lot of articles and heated discussions on the subject of re touching, so much so that France has even considered including a 'credits' section on the page stating what alterations had been made to the photo. As someone who considers re touching nearly as important as photography and comparable to hair and make up, where do you stand on this new wave of Re touching Ridicule?
RB: Why do people find this controversial? I don't see photography as real or truthful in the first place. It's all manipulation and a huge Lie. I have gone too far in some cases looking for something pushed to the limit. It's like plastic surgery, too much is hideous. It is a Valuable tool, the trick is how to use it.
CM: Well Said. As an artist, there is always a driving force at the base of one's work….Anxiety, frustration, passion, ambition, curiosity….what would be the word to sum up the root of your cause?
RB: OBSESSION
CM: A tidbit of info that many may not know and quite a claim to fame in it's own right is the fact that it was none other than Alexander Mcqueen who designed the wedding outfits at your Marriage…how is it that one gets Mcqueen to Custom design their Wedding outfits?
RB: PASS
CM: Your beauty photography is renown and unlike the typical aesthetic in most beauty photographers casting, your girls tend to be special and different and of a more 'edgy' or 'quirky' nature…what quality draws you most to a model when making decisions on casting?
RB: I look at their books to see how much of a chameleon they are.
Related Posts: