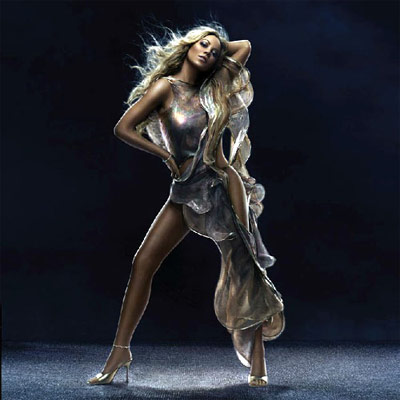 Mariah Carey / Emancipation of Mimi album promo
OTM's desk got the best campaign rumour of the Spring/Summer 06 season thus far. In five words, Mariah Carey for Versace (Eyeware), If that transpires, we can't wait to see an "editorialized" Mariah. But in a season of the alleged $30 million dollar pay-out to Angelina Jolie for St John's and Drew Barrymore scooping Missoni from the mannequins, LA powerbrokers seem intent on expanding the territory forged by Uma Thurman for Vuitton and Nicole Kidman for Chanel .
Compounding the puzzling Spring/Summer 2006 season is the large numbers of models being harnessed by labels like Balenciga (12 at last count) and Dolce Y Gabbana (head count: 15).
Which brings us back to the almost fully restored Kate Moss. In an interview with London's Evening Standard, Christopher Bailey, Burberry's creative director stated "There has been so much nonsense in the press about Burberry dropping Kate — it really is all nonsense," He then went on to deny that Sienna Miller has been contracted for the Spring campaign while answering the rhetorical question of the moment as follows, "Is Kate still part of our family? Absolutely."