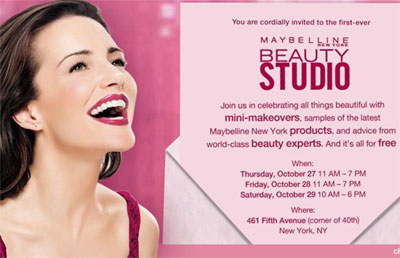 Feeling a little drab today? With the cold weather already having swooped in and laying it's claim to fall, you need an instant quick pick-me-up to shoo away the changing season doldrums.
Well, look no further! Maybelline has just set up their very first Beauty Studio in the heart of midtown Manhattan where for the next three days, you can pop by for mini-makeovers with Maybelline's top makeup artist, Troy Surratt and leave with a ton of product samples!
Vogue is participating as well so they'll have an editor on hand to talk about the key fashion and beauty trends of the season, along with handing out free mascara to the first 1,000 people! So stop by and beautify yourself with a midday makeover and then you too can live the phrase, "Maybe she's born it with. Maybe it's Maybelline."
Maybelline New York Beauty Studio
461 Fifth Avenue, corner of 40th Street
Thursday, October 27, 11am-7pm;
Friday, October 28, 11am-7pm;
Saturday, October 29, 10am-6pm.
For more information, go to www.maybelline.com