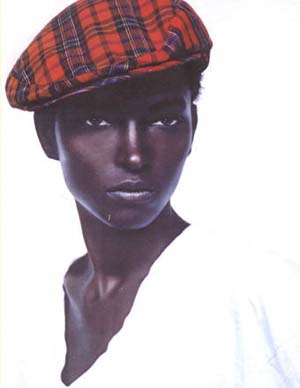 Nadine/Supreme. Ph. Laurie Kirk
It's looking like a moment for the Supreme board, as the new faces division of Women is pulling in a lion's share of bookings.
The much buzzed about Girl 1 at this season's YSL, Julia Stegner has indeed snagged the Yves St Laurent campaign (alongside Adina/Next), in addition to booking the Strenesse and Sportsmax campaigns.
And of course Julia has leapt out of the pack as one of the must-have new editorial faces, booking Harper's Bazaar w. Solve Sunsbo as well as Italian Vogue with Steven Meisel.
Joining Julia in editorial VIP circle is agency mate Caroline Winberg, booking W with Mert N Marcus and Ellen von Unwerth after logging 29 shows in Europe this season.
And then there is MDC beloved Illona who flies off to London tonight to shoot V magazine alongside Top 50 face, Telma.
Also quite intriguing right this minute is Supreme's sensational new signing, Nadine. The Jamaican beauty is sweeping the scene, booking French Vogue with Mario Testino, The Face with Norbi, and V with Inez and Vinooth (along side Julia and Louise Adkins). She's looking like a keeper!