Narciso Rodriguez, Thakoon, Maria Cornejo, Tyra Banks, Lynn Hirschberg, and New York Times Magazine editor Gerald Marzorati
The NYTimes' Times Talks series played host to an eclectic mix of fashion movers and shakers this weekend. Supermodel Tyra Banks talked about her rise from fresh faced teen on the Paris runways to media mogul. Afterward, designers Narciso Rodriguez, Thakoon & Maria Cornejo spoke about first lady Michelle Obama and her continued influence on the world of style.
While Tyra is now known more for her energetic TV persona than her modeling it was interesting to hear her speak of a time before the fame. From her start as a 16 year old self proclaimed 'catalog queen' to booking 25 shows in Paris her first season the highs were high. There were also lows including the news that the majority of the designers who initially embraced her as a lithe teen were no longer interested in working with her once she developed. From this point on Banks deliberately set about altering her image to suit her strengths and transition into the more commercial market. Her story is a tale of ambition of which modeling is only a small part and little tidbits like these serve to add depth to an image that has until recently been fairly one-dimensional.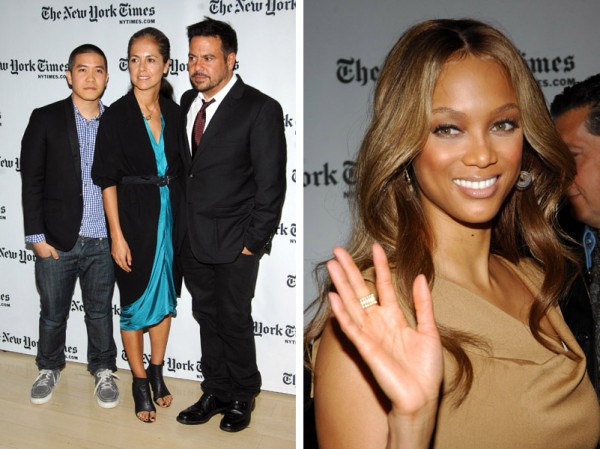 Tyra's Q&A gave insight into her life and times. The MObama centric-panel provided an engaging peek into the personalities of several of today's most relevant designers. Cathy Horyn led a lively discussion on the politics of dressing the first lady. Some of the most memorable moments were the off the cuff responses of the designers themselves. From Narciso's pointed diss at the old-school attitudes expressed by Oscar de la Renta to Thakoon's talk about his use of brocade in his designs or Cornejo sharing anecdotes about her daughter's style – the responses were fascinating and real. Even though the subject at hand was the much talked about style of Mrs. Obama, each designer brought something new to the oft repeated discussion.