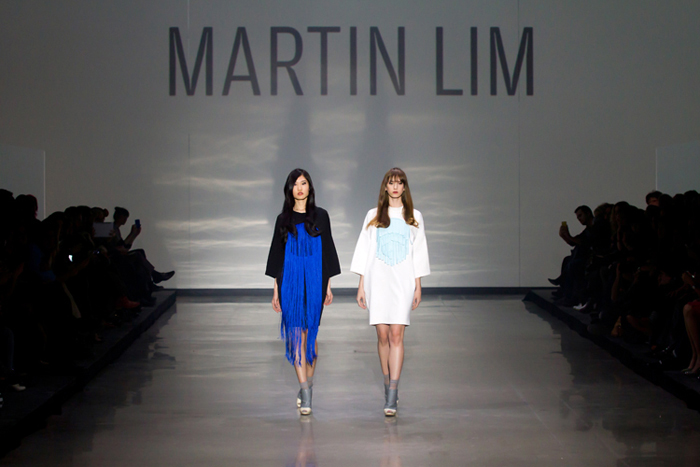 MARTIN LIM
French text by Zola Lim
English text by Janelle Okwodu
Photos by Peter Jensen
Dans leur collection Automne-Hiver 2013, le duo de designers MARTIN LIM explore le concept du temps pour le ralentir et mieux l'apprécier, d'où l'évolution vers les rondeurs et l'organique, sans toutefois laisser de côté les influences sportives propres à la griffe.
De ce fait, on remarque l'utilisation du cercle et des franges exprimant respectivement la continuité et le rythme du temps calculé par l'être humain. Dans leur mouvement arrondi, les franges en bleu cobalt forment un contraste frappant avec le noir, surtout sur une rouquine dont la couleur des cheveux coiffés par Vidal Sassoon harmonise le tout. L'ambiance générale semble tantôt très légère, tantôt plus obscure comme quoi derrière chaque femme forte se cache un côté plus sombre et mystérieux. La fraîcheur et le chic décontracté enveloppent les capes à franges courtes de soie ou de plastique alors que la prestance des tressages couronne les encolures de certaines robes. Les réels morceaux clés qui ont été accueillis d'exclamations et d'émerveillement dans la salle demeurent toutefois les trois bulles en organza qui closent avec force le défilé de façon vaporeuse.
—
For Fall / Winter Danielle Martin and Pao Lim, the husband and wife team behind MARTIN LIM had an especially esoteric inspiration point. Focusing on the passage of time and our understanding of its changes. The world moves fast these days, but something can be said for slowing down and learning to appreciate each moment. The do brought this concept to life via garments that stand the test of time, while remaining exciting and current.
Transparency, movement and color were the hallmarks of the Martin Lim collection for fall. Working in multi-colored and textured fringe into pieces that hinted at futurism whilst being firmly entrenched in the sportswear realities of now the duo created an elegant look that feels relevant. We could happily watch those vibrant organza numbers all day long.
---