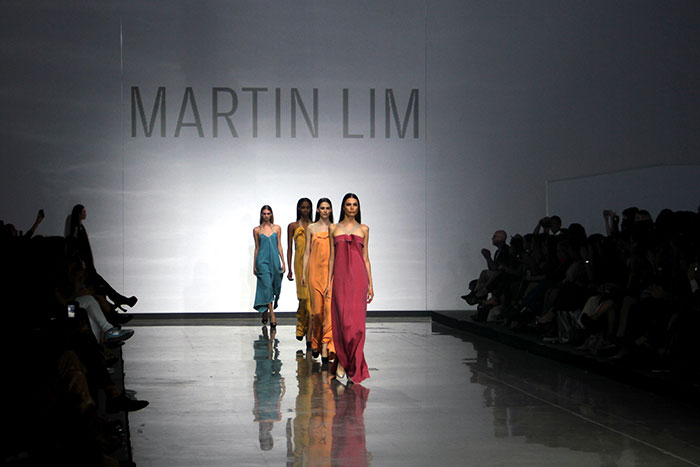 The name Martin Lim might not be familiar to you yet, but trust us this is one up and coming label you'll want to get to know. While the moniker "Martin Lim" might sound like the work of one man, there are actually two talented designers behind the line. Husband and wife design team Danielle Martin and Pao Lim honed their skills at design houses like Christian Lacroix and Roland Mouret and winning a scholarship at Central Saint Martins before launching their own brand. The ensembles are a striking fusion of streamlined silhouettes and rich fabrics and the label has been quietly garnering buzz on the Montreal fashion scene. With the designers set to make their NYFW debut next season, it only seems fitting to introduce their stylish wares to a broader audience.
Spring's Martin Lim showing, Martin & Lim looked to the innovative spirit of the roaring twenties and its dazzling art, but mixed in a contemporary flair by also incorporating in modern touches. The collection moved from the abstract – candy colored dresses with surrealist touches, to the classic – floral print shifts that seemed ready for an evening out. This diverse and fresh take on spring's feminine focus offered a welcome change from the usual fashion suspects.
—
Présentée à la Semaine de mode de Montréal, la collection du duo de créateurs MARTIN LIM fut un croisement entre la grâce de la fleur bercée par le vent et le côté graphique des vêtements de sport. L'opposition joua le rôle de mot clé cette saison, représentée tantôt par des silhouettes amples et légères en soie, tantôt par d'autres plus massives aux insertions de jacquard et de cuir. Pour Danielle MARTIN et Pao LIM, tous deux gradués de la maîtrise au Central Saint Martins, la simplicité ingénue prime comme à l'habitude, que ce soit dans le drapé fluide de la robe de soirée ou dans les coupes géométriques des pièces. Faisant écho aux oeuvres de l'artiste minimaliste Ellsworth Kelly, quelques pièces accrocheuses aux appliqués d'immenses pétales de fleurs ajoutèrent une touche raffinée et d'audace. La collection se distingua particulièrement par sa palette de couleurs vive rappelant les pigments fruités et estivaux de la saison – tangerine, papaya, tea rose, aqua. Bien que les agencements inusités d'imprimés – quasi fluos sans toutefois être tape-à-l'oeil – furent un des points forts les plus marquants, les biker jackets revisités et portés en version «oversize» furent un coup de coeur pour leur allure massive, mais très propre. Des ensembles structurés surgirent quelques traînes semi-transparentes qui flottèrent derrière les mannequins, question d'alléger le tout. MARTIN LIM est une paire prometteuse, ayant développé une identité forte côté modernisme et explorant le mystérieux tout en gardant la joie de vivre contagieuse que procure leurs créations.
French text by Zola Lim
English text by Janelle Okwodu
Photos by Kelly Stock