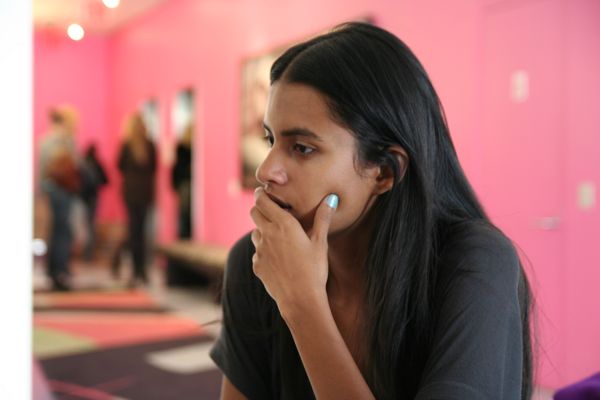 Lakshmi Menon / Ford Models
Kerala born modeling phenomenon, Lakshmi Menon, represents the best of what the industry has to offer. With her striking good looks and captivating stare, she has enlivened campaigns for Hermes and Givenchy, in addition to being a regular presence in editorials and on covers. Her bookings may be impressive, but it's her personality that sets her apart from the pack. The moment one meets Lakshmi, they are struck by her intelligence and confidence: walking into the Ford offices at 9:45 on the Tuesday before fashion week, we couldn't help but notice her enviable air of calm and engaging demeanor.
Perhaps it is her unique background that makes her so different from the modeling conventions: in a business full of teenage beauties, fresh from grade school, Lakshmi is a twenty-something, college-educated woman. Life experience colors her every move. With a degree in sociology (she eventually plans to continue onto her masters), a love of literature (she's currently reading The Great Gatsby) and an enduring curiosity, Menon is among the most intellectual girls working right now. This season Models.com had the pleasure of following her for a day, as she traveled to and from castings and fittings, in preparation for what is sure to be an incredibly busy season.
What do you think are some misconceptions about modeling?
It's a harsh business – you have to be emotionally, mentally and physically strong to survive it. It all looks very glamorous, but on the inside it's not. You go from one casting to another – the glamour lasts exactly two minutes, which is when you're on a runway. I feel I'm strong enough to handle it though. I understand that you can be the girl of the season one moment and then it's all over. It's a very fickle business.
How did you make the choice to start modeling after college?
I was 17 when I was first scouted. There were agencies offering to take me to Paris and I had just finished school and was about to start university. I was quite excited about the prospect of going to Paris, at 17 that all seems very glamorous. My mother said 'this is a choice that you have to make, I'm not going to make this decision for you – if you decide to go to Paris and be a model, you may not ever go back to school. This is something that is going to take a long time – will you be prepared to go back to school after that?' I thought about it and she was absolutely right.
I had the luxury of time as well, so I decided to go ahead and finish my university. I knew that at 21, I'd still be young enough to do it. You don't have to be 15 or 13 to model and my mother never would have allowed for that anyway. Besides, you have to enjoy your childhood, take time to hang out with friends and play sports, be free from the stresses of work.
Developmental sociology is an interesting major choice, what made you choose that area of study?
I started out just studying sociology but then chose focus on just this one aspect. I come from a third world economy, so to speak and I was always interested in the developmental aspect of sociology, as in why aren't things working the way they should be working. I studied that for three years and I wanted to pursue my masters, but I figure that I can still take time off later.
You're a big reader – which authors are your favorites?
I enjoy reading essays – Bertrand Russell is a favorite. Right now I'm going back to some authors whose work I'd missed, I'm currently reading The Great Gatsby, which I'd always wanted to read yet somehow never got the chance to.
[flashvideo filename=https://v.models.com/oftheminute/videos/4997/lak.mov image=https://i.models.com/oftheminute/videos/4997/otm-video-vid1.jpg width=600 height=450 /]
[flashvideo filename=https://v.models.com/oftheminute/videos/4997/lak2.mov image=https://i.models.com/oftheminute/videos/4997/otm-video-vid2.jpg width=600 height=450 /]