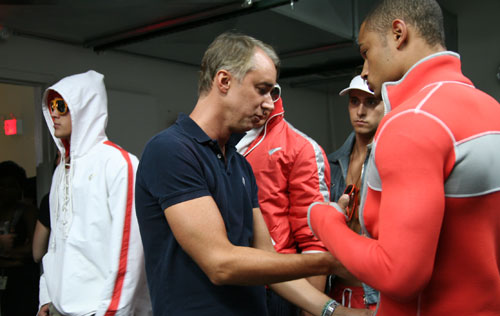 Michael adjusting a look at his recent S/S09 show. Photos: Betty for MDC
As one of the up and coming talents on New York's menswear scene, Michael Bastian is definitely a menswear designer to watch. With an inventive outlook and a keen eye towards what men want Bastian has in six short seasons made his company a favorite amongst fashion editors and fashionable men. With his dynamic surf inspired spring/summer collection Bastian dives into fresh new territory while keeping the well honed identity of his brand intact. MODELS.com catches up with the affable designer on the eve of his new collection to discuss menswear, models and what the future holds.

MDC: How did you get the idea to do a combination presentation/runway show like this?
MB: Kevin Krier, who is producing the show really came up with that idea, I have to give him all the credit. We really wanted to do something that wasn't a regular old presentation but we didn't want a runway show. I was at Bergdorf Goodman for five years and I went to a million runway shows and a million presentations that when you have models standing around no one really wants to go up and look at the clothes because they're dealing with a real person. I always felt like a real runway show wasn't really the best way to show menswear – particularly my kind of menswear which is more like real clothes. Having it like this where the guests are on the same level as the runway and you can also go through all the racks of clothes, the show is going to repeat itself five times. There is all that pressure of getting to the next show – we wanted to make it as easy on everyone as possible.
MDC: You were the Men's Fashion Director at Bergdorf Goodman for five years, how does your retail background influence what you design?
MB: Bergdorf's is kind of like the last of the Mohicans in some respects- there is only one store like it. The good thing about my time at Bergdorf's was that all of our offices were in the store so I would see the customers every day. I would see how they're reacting, how they look in the clothes. It really is a good education- you kind of know what guys are looking at, what they're comfortable with. Sometimes retailers play it a little safe but we found that the more you push it, the more the customer will meet you.
MDC: You're a very stylish guy, do you base any of what you design on your own personal style?
MB: I think a collection can't be everything to everybody so what I'm looking for myself is a good place to start.
MDC: What can we expect this season?
MB: The theme of the collection is lifeguards so it's all about lifeguards, everything is lifeguards. So it's how a lifeguard looks at the beach, how he looks after the beach, how he looks in a tux – just really easy American summer. We're on season 6 and the more we do this, the more it's grown. This show is probably our sexiest one, our most body conscious one. It's a nice place for us to go – each season we push the boundary a little more.
MDC: Which of the models this season stood out to you?
MB: Chris from Request, he was my big favorite discovery of the season. John Esposito is really the face of my brand, he's been with us since the very beginning and is really a part of our family. Then there is Thierry who is doing the shower scene and he's possibly the most beautiful guy I've ever seen. Those three are the ones that I'm closest to.
MDC: Your menswear collection has still been so well received, do you have any plans to branch out into womenswear?
MB: I'm dying to do women's but it's one of those things that has to wait until it's perfect. Women's is a whole different ball game, whole different skill set – I never came from women's wear so that would require a whole team that also is familiar with it. I know how I want my girl to look and it's very different from my boy. I think the mistake a lot of designers make when branching into women's wear is translating what they've done for men into women's – I don't want to see a girl in a chino. If you look around New York at attractive couples you'll see that it's always a real fashion girl and a classic Wall Street guy. That's my guy- steady, traditional. The girl he would be attracted to would be more of a fashion girl and that's my girl. I can't wait to do women's though because everyone is going to be surprised.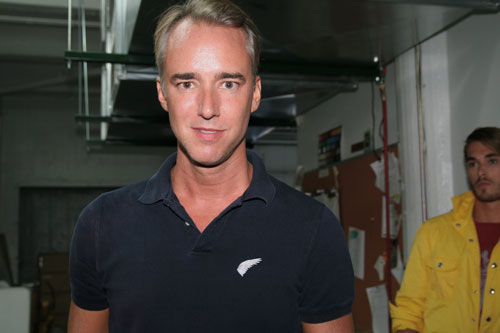 Michael stops for MDC in the midst of Fashion Week hecticness.