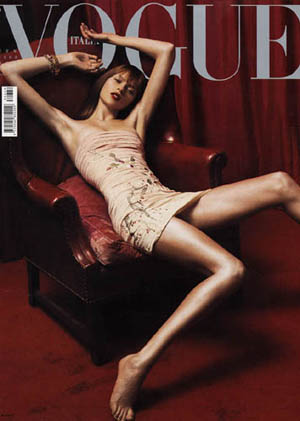 Elize Crombez/Next Italian Vogue. Ph. Meisel
Facts , figures and statistics. The MDC staff drowns in them, using these numbers to help decide who to shoot next and who to rank where. For the record, here are the top runway walkers for the S/S 03 show season, based on the number of shows booked. We could publish each girl's show charts, as well as their subsequent editorial and campaign bookings, but that would require an entire site onto itself wouldn't it. Hmmmmmmm.
ESTABLISHED
1.Eugenia/DNA
2.Maria Carla/DNA
3.Liya Kebede/IMG
4.Karolina Kurkova/DNA
5.Natalia Vodionova/DNA*
6.Dewi Dregen/Elite
7.Jacquetta Wheeler/IMG
8.Caroline Ribiero/Marilyn
9.Erin Wasson/IMG
10.Delphine/Ford
NEW GIRLS
1.Louise Pederson/Women
2.Elize Crombez/Next
3.Kamilla S/Next
4.Ksenia/Take 2
5.Letitia/NY Models
6.Jamie Bouchet/1 Mgmt
7.Sara Ziff/Next
8.Yasmin/Next
9.Nadine/Elite
10.Linda V/Elite
SPECIAL MENTION:
*Carmen/Women: Milan exclusive to Gucci
*Madeleine/IMG: Milan exclusive to Prada/Miu-Miu
*Natalia/DNA: most show openings
*Gisele/IMG: 8 highly selective bookings between NY/Milan/Paris.