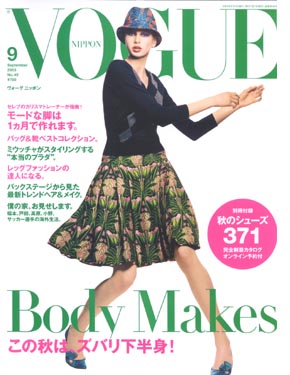 Hana/DNA. One of Milan's Most Wanted S/S 04 bookings. PH.David Sims for Japanese Vogue.
Meanwhile in Milan, right this minute its murder and screaming as all the powerhouses are fighting tooth and nail to stock their lineups with the freshest of the fresh faces. Will Prada maintain its leverage as the house that breaks the newest girls or will Gucci prolong its formidable track record for finding tommorow's stars today. Is Jil Sander going to regain her crown as supreme tastemaster in what might be the most emotionally significant show of them all. And that said, don't discount Dolce and Versace as being key platforms for all the new beauties that came flooding out of NY. Having tipped in code the 5 Milan shows to watch,for the record here are the Top Five NY Fashion Shows MDC uses to track the hottest new emerging faces.
1. Marc Jacobs : Broke Rianne Ten Haken/Elite
2. Calvin Klein: Broke Iselin/Supreme, Polina/City(Paris), Bruna/Marilyn
3. Marc by Marc Jacobs:Broke Valentine/1 Mgmt, Christiane/Marilyn,Heather Marks/Supreme, Gerren/NY Models
4. Luella Bartley:Broke Maya Mazur/IMG, Ericka/IMG, Oskar/Elite.
5. Anna Sui:Broke Lily
see (more) for details
PS: Speaking of sneaking, which fashion bible pre-empted the competition by shooting a certain young designer's line for its December and January issues, a week before it even showed in NY. Lets just say a new Marc Jacobs is being made before our very eyes.

And the details thereof
1. Marc Jacobs
Breakout Star (in fact of the entire NY season is ): Rianne Ten Haken/Elite .
Because the Marc Jacobs is the one NY show so cool, its beyond cool.This designer's quality control and taste point has proven to be the definition of directional. Though the MJ fashion formula will always love the 60's -80's period, the casting is never entirely predictable. One season Jacobs may cancel all the supermodels in favor a new cabine full of "debutantes', the next it might be nothing but major, major supermodels. This is the one show Milan watches competitively for significant trend signals for the new season. Not to mention the fact that every major fashion player in NY feels the need to be front and center at this event, making it a vital early showcase for power editors looking to scoop up the best girls first.
2.Calvin Klein
Breakout Star: Iselin/Supreme, Polina/City(Paris), Bruna/Marilyn
Now had Calvin still been at Calvin, this is the show that would be every inch as coveted as the Marc. Since it was Francisco Costa's first bow as womenswear designer, the suspense was building as to how much of a hold he will have on the house's identity, with model selection being part of the puzzle. That said, this show boasted the most coveted opening slot of any NY show. (This season, the face of the house Natalia, did opening honors). Despite the rough reception accorded Costa?s work (and the heavy fallout bound to follow), this is the only major design house in NY that flooded its catwalk with upwards of 7 completely new faces. That was fresh of casting directrix Maida!
3.Marc by Marc Jacobs
Breakout Stars:Valentine/1 Mgmt, Christiane/Marilyn,Heather Marks/Supreme,Gerren/NY Models
Its a big show (casting wise) with 56 models, at one look each, stalking the runway. Consequently, one of the first questions most models pose to their to bookers is "Did I confirm the Marc by Marc yet?" In many ways this show's cabine is like a seasonal "Black and White Ball" of fashion. If you were not invited it makes you wonder…
4.Luella Bartley
Breakout Stars:Maya Mazur/IMG, Ericka/IMG, Oskar/Elite,
The influence of power casting director Russell March and power stylist Katie Grand, both constituents of the House Of Prada, throws off early sparks as what to expect in Milan. For instance, the Luella was the first domino that triggered the explosive path of F/W 03's big star Daria/IMG . Did Sunday's show indeed preview the next Daria? In six weeks we'll know!
5.Anna Sui
Breakout Star: Lily
Its one of fashion's worst kept secrets that a certain power photographer is the prime mover behind the model selections of this show.For that reason, no one's going to say "not available" when it comes to this booking and thus Sui's cabine is always note perfect.