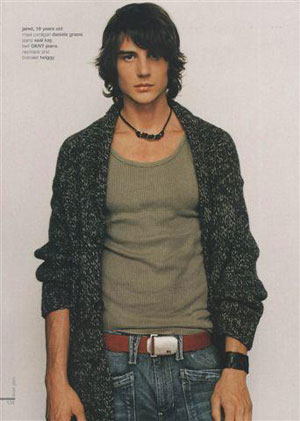 Jared Jones/Major. Image courtesy of Major NY
OTM's New Faces Preview has been admittedly skewed towards the girls in the past month and so its high time we swung the spotlight back onto a boy. Looking extremely sharp this minute is Major's Milan S/S 05 breakout , Jared. He was new Gucci menswear designer, John Ray's model of choice to open and close the Gucci S/S 05 presentation as well as a breakout face for the Calvin Klein's show.
With every single significant men's fashion bible putting their options on this quiet Canadian, we suspect he's going to be one to watch for the S/S 05 season….And starting Weds. Sept 8, OTM unleashes its Fashion Week Special featuring the inside scoop on the best new designers, nightspots,books, DVD's, records, kicks, bags and T-shirt for the upcoming sesaon. And yes, there'll be our up-close and intimate backstage coverage as well as updates on the bi-annual Girl Of The Season sweepstakes. Stay tuned!