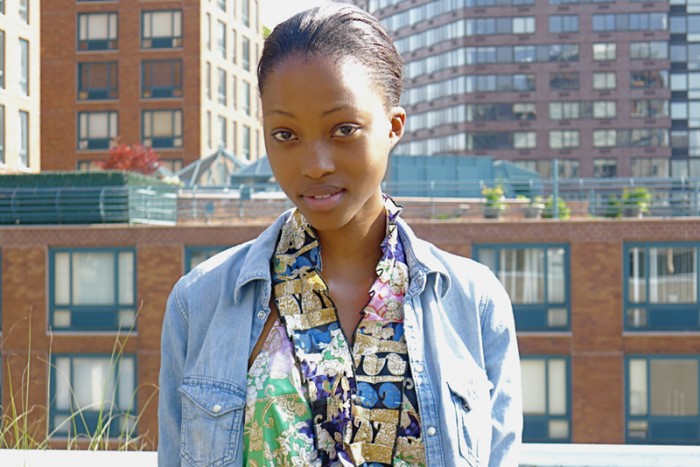 At 16, most people are busy thinking about prom or studying for the SATs, but model Nyasha Matonhodze is moving to the top of the modeling heap with one impressive booking after another. The Zimbabwe born beauty splits her time between her hometown of Northhampton and NYC and can be seen in this season's Meisel helmed Vuitton campaign, as well as the latest cover of Love Magazine. MDC caught up with the budding supermodel to talk fashion, her big break and what it is like to work with industry legends.
MDC: Now when did you start modeling?
Nyasha: When I was fourteen, I went with my mom and my stepdad to Elite to ask if I could do modeling and I think a week later they entered me for a competition. So that was the beginning of it all. When you're that young you can't really model full time: you're still in school, you need to study. Besides, you still need to learn how to model, you work with different photographers to teach and develop you. At first I didn't really believe I could do it.
MDC: Really?
Nyasha: It was a shock. You go in there expecting a maybe, but not really, oh a future model. Then people started to compare me to Naomi Campbell and that was so flattering.

MDC: Now you worked on that beautiful LV campaign, what was it like working with Steven Meisel?
Nyasha: Steven is amazing. Him and Marc and Pat. As a person he's very down to earth, I was scared at first, but when you meet him and you're on set with him he makes you feel very beautiful.

MDC: What's the best part of the job for you? What's the thing that you enjoy most?
Nyasha: I enjoy every part of it but I'd say hair and makeup. The transformation is fun, because you tend to be different characters. Every show has a different look and it is just nice seeing your face in different forms. Of course it is the same face but sometimes less makeup makes you look nice, sometimes more makeup makes you look nice. Sometimes they make you look so different, that when you look in the mirror you can't believe that is you. That is my favorite part: seeing the different ways the artists transform me.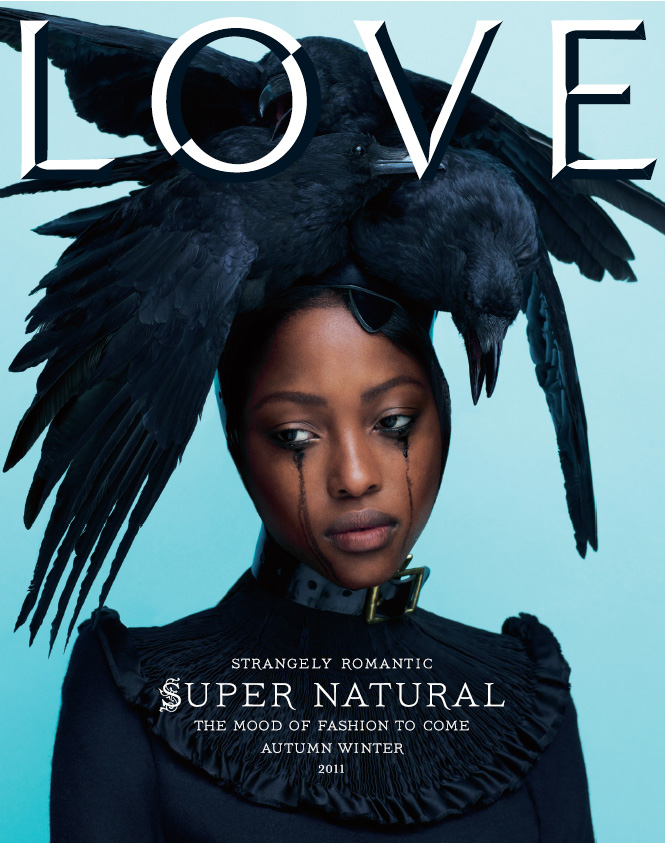 Her gorgeous LOVE cover by Mert Alas and Marcus Piggott
MDC: Who are some of the designers you like to wear off duty?

Nyasha: That is a very hard question because I always think whatever looks good on me is what I'd wear and being a model you're exposed to so many different designs. You get to learn which one works best with you, but I think the designers tend to give you such great looks it is difficult to pick favorites. I find myself thinking 'Do I really have a specific look I want? Is there something that I really enjoy wearing?' Because all of them are so beautiful. So I can't really say because I enjoy all of the looks that I'm given and I love the different styles that are put for me. It's different shapes and understanding what kind of shape or color goes with me. I found out this season purple is very good with black skin. I'm trying to wear a lot of purple. So yes I don't really have a specific designer I really like, I'm swept up with all the designs I see.
MDC: What would you say is something you're looking forward to in your career? For the future?
Nyasha: Well right now I'm at a level where I'm actually understanding that I have potential. I'm getting the chance to work with people who are legends to me. People that I never thought I'd work with. Not only designers, not only stylists, photographers as well and models. I look forward to work, each and every day because for me is a blessing. I'm always happy with what I get.
What I hope for is a long lasting career – like Alana Zimmer and all the different models and girls that have been in the industry and are still cast as the best models. That is what I want and that is what I hope to get, to be seen on the runway at 24 or 30. Much like Naomi Campbell. 40 and still hot! She is beautiful. I mean, I just hope to run along the same tracks and inspire models to do better and be more comfortable in themselves.