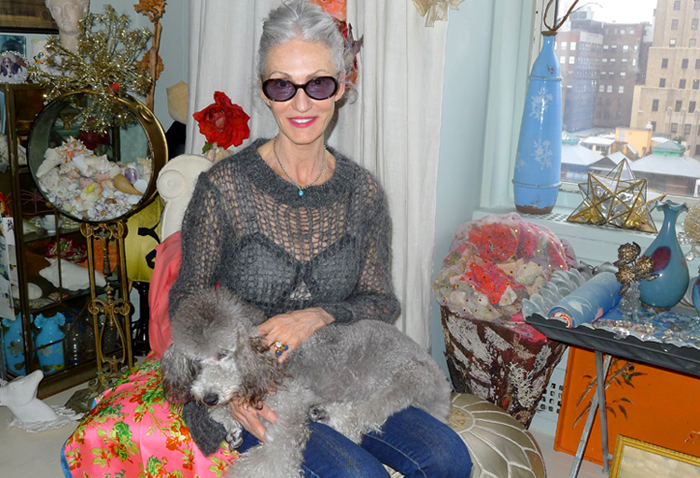 As a true industry insider, stylist and entrepreneur Linda Rodin has experienced almost every part of the fashion business during her 40 year career. Beginning as a model and then transitioning into styling for stores like Henri Bendel, owning a trendsetting SoHo boutique and working as a fashion editor for Harper's Bazaar, has given her a unique perspective on fashion's ever-changing standards. With her newest role as beauty impresario Linda is once again setting trends with her line Rodin Olio Lusso, a line of luxurious oils for hair and skin that have become a cult favorite. MDC sits down with the enterprising Ms. Rodin to find out more about her accomplished past and learn just how her latest project came to fruition.
MDC: When did you get your start in fashion?
Linda: When I was young I went to Italy and started to model there, the modeling thing was an afterthought and personally I didn't think I was very good at it. I came back and did a million things. I thought maybe I wanted to be a photographer, but my sister said 'you choose great clothes, why don't you try that'. One thing led to another and I got a job with a fashion photographer doing everything. I had a friend at an ad agency and she asked if I would style an ad for them – there was no plan. Nowadays you start out, as a styling assistant or work at a magazine, but back then the styling industry, as we know it today didn't exist.
MDC: How did the styling industry get started?
Linda: There were people who did it but it wasn't always called a stylist. My friend worked with Pete Rogers – that was a huge advertising agency at that time and he had all these fashion accounts and was like 'hey can you help us'. It was something you did, but it wasn't a career path the way it is now. In the old days, there wasn't even a hair and make-up team most of the time; models did their own makeup. Now you have a fashion stylist, a celebrity stylist, and a full team on every set.
MDC: I also know that you had one of the first designer boutiques downtown?
Linda: I did! It was called Linda Hopp. It's a nickname someone gave me; a wonderful fashion photographer I used to work with named Gus Peterson. He would call me Linda Hop and because he was Swedish he spelled it with two P's. I had a store and started designing clothes for a time, and then I wound up at Harper's Bazaar.
MDC: What was that like, working at Bazaar?

Linda: It was just a limbo time for them and it wasn't as exciting; before Liz Tilberis came and really changed the magazine. I got to work with everybody; every model, every actress, but creatively the magazine wasn't at its peak. The experience was good training and after I left I started freelancing.
MDC: Tell me about the clients you worked with as a stylist.
Linda: I get to work with so many people now, but mostly I work with the team at Victoria's Secret. As a freelancer it is really whoever calls you. All the Victoria's Secret girls are great to work with. There's not one non-lovely thing to say about every girl. They're all lovely. All of them.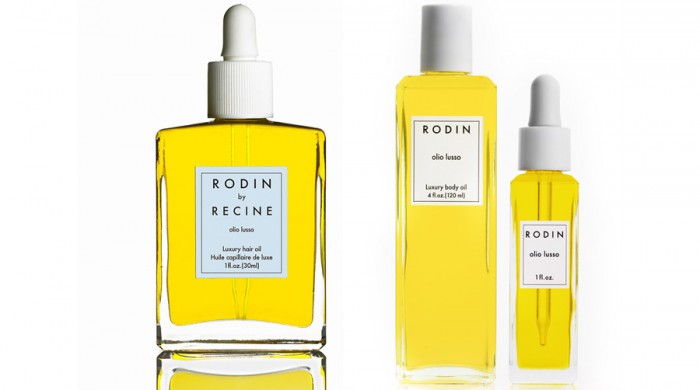 The Rodin Range Luxury Hair Oil, a collaboration with famed hairstylist Recine, the luxury body oil & the pioneering face oil

MDC: How did you get the idea for the oils?

Linda: Workings with top make up artist and hairdressers I would go from a shoot to the nearest store and say, I  have to buy that lip balm they used, it's got to be the greatest. I would write down a list of everything. They were great and gave me the best tips, but one day I thought, instead of buying every new thing maybe I can make something better. I started mixing stuff with a friend in Rome, at first it didn't work, but when I got back to New York and said 'oh I'm just going to go to the health food store and buy all the oils I like' and here we are. It was trial and error – testing companies and manufactures and where to get the oils and how the packaging came and all that. I knew exactly what I wanted but I couldn't find the best. For months. It was a riot here because I did it all at home.
MDC: Really? Right here?
Linda: Right here, that little work table right there. I would go experiment, then go into the bathroom so I wouldn't spill a lot of stuff, pour it into a coffee cup, make it and it was perfect. Then my nephew came into town and saw all this stuff and says what the hell are you doing? I say oh I'm making this oil for my friends, it's really nice, and it's good facial oil. And he says how much do you charge and what's the formula? And I say I don't charge anything, I give it away and the formula is simple. I don't know I just make it myself. And he said well that's crazy. So he went online and bought these little beakers that had measuring lines and little liters. And I made it in front of him 5 times in the cup and poured it in. You know if you're a good cook and making the same yummy sauce every time. It was by instinct. And the 6th time, for each oil I put it in a separate beaker before I put it in a coffee cup and it was the same.
MDC: Sounds like it happened very organically.
Linda: Yes, totally organic. The whole thing. I mean it's (the product) not 100% Organic. It's natural essential oils but it happened organically! Then I started bringing it into photo shoots; all the models and make-up artists loved it and that is how it really got its leg.
MDC: So tell me a little about the packaging because it's so beautiful.
Linda: Yes, when I had my store in 1979/1980, my friend with whom I grew up became a very famous graphic designer. She worked for everybody. So when I did my store, she did all the graphics and these award winning incredible shopping bags. I have it all, it's fantastic. 30 years later I said 'Marge I want to make this oil, can you help me with the packaging?' I never thought about anything or anybody else. Then I found a few fonts that I liked and then a few bottles but Marge put it all together; because she knows me. And the irony of the whole thing is the packaging is so simple and I live in this Alice and Wonderland filled in a rabbit hole place.
MDC: What is that mysterious new product?
Linda: We're also going to have a perfume. I got an email this morning from somebody who said 'the oil is intoxicating, I love it so much, who don't you make a perfume? Because I need to wear this all day long.' Easier said than done. Perfumery is very difficult. To get it from a oil smell to a perfume. It has to be a little lighter. It's so difficult, we thought of an all-natural perfume but I think that will be way too heady in a way. I don't want to smell like, in the 60's we were wearing oils and walking down the street and everybody kind of dropped dead when I walked by. I don't want it to be like that. I want it to be a whiff. We are going to use natural alcohol not 100% natural products but use certain things to keep it a little lighter.
MDC: Who are you working with on the project?

Linda: I'm working a great guy David who has D.S. & Durga. They're a young line and he did it the way I did it. Everything at home, he's got his oils lined up on a wall in this funky fabulous place and he's going to do it for me by hand. The production of my oil is done in New Jersey and the perfume will be done in Brooklyn. We're doing it all local – we're not going anywhere. California is even too far from me.