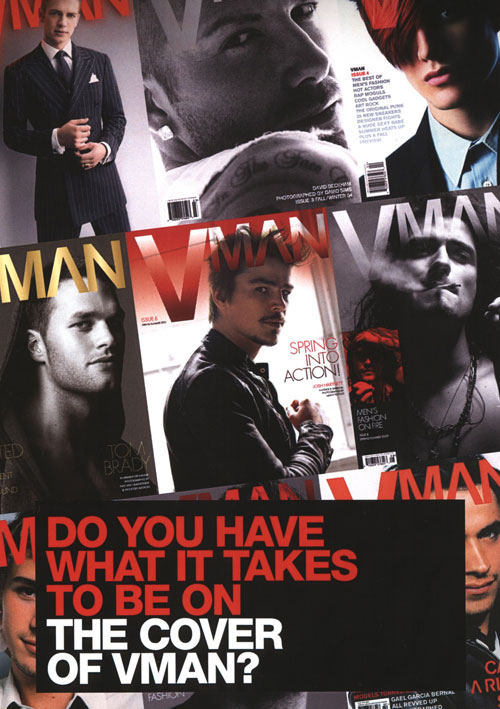 VMan pic courtesy of Ford Models.
Attention NYC area aspiring male models: Ford kicks off the VMan/Ford Models nationwide model search with their first search at Union Square's Diesel store Wednesday and Thursday April 30, May 1st. OTM touched base last week with the team at Ford for their thoughts on this exciting event. See you there tomorrow!
1 – What is exciting to the Ford Men's board about being part of the VMan model search? This contest is so exciting for us because VMan is such an amazing high end fashion magazine, and to have a few of the entrants and winner shot for the magazine and by Hedi Slimane, one of the most recognizable names in both design and photography is an unparalleled opportunity for both FORD Men and the eventual winner.
2. – The Ford network is already extensive. What is the target audience you hope to reach with the model search?
This search is most representative of our high fashion/image side of our business. It will be a valuable resource for potential editorial and image directed new faces. We are specifically looking for men between the ages of 16-25 years old. These new faces will potentially be the next "it" face(s) walking the runways of Milan, Paris, and New York in the coming seasons!
3. – There are so many great men's agencies in NY. What do you think is unique about Ford from every other agency with regards to this model search?
Ford Models, Inc. is the most recognizable name in the fashion industry, and VMan is one of the best Men's fashion magazines out today. It seems to make perfect sense that we would team up together! We are the innovators of the modeling industry and VMan has changed the face of men's fashion since they began.
4. – What would the first week be like for the winner?
The winner will be shooting with Hedi Slimane, for the cover of VMan. The FORD men's division will then decide the best move, which could mean many things. When we take a model on, we focus on his look and who the best and most appropriate clients will be for him to launch a great career. Until we know the winner, we cannot sculpt our plan of action, you will have to wait!
5. – So it's right here in print on MODELS.COM, what do you want to see from the entries to the model search?
We want to see as many boys as possible; through our events with Diesel, for which dates and locations are posted below, between the ages of 16-25yrs old, between 5'11" and 6'3", all ethnicities. We are always looking for great personalities!!! It is important that every contestant properly upload their images and fill out all the fields of information. If we cannot see you or find you, your chance for the cover and contract will simply not happen!!