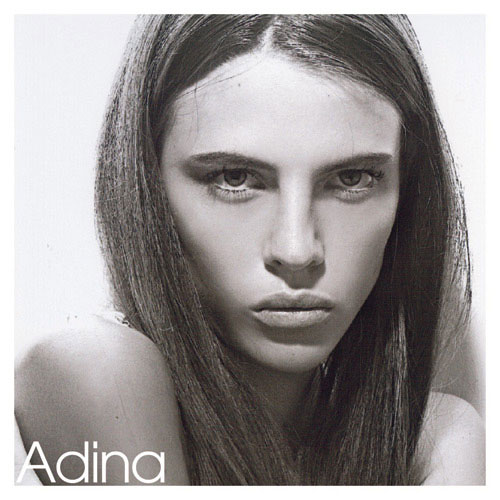 Adina Forizs/ IMG Comp card courtesy of IMG
Adina Forizs was a very bright and hardworking student at BME ( Budapest University Of Technology and Economics) when the fates of fashion called and summoned her to the SS08 Prada show where she nabbed the opening slot. Since then, model watchers have been eagerly waiting for her follow-up moment in NY as a new season kicks off. Adina touched down in NY last night and is making her first round for those very exclusive clients today. We had caught up with Adina in Paris last season, the morning after her Miu-Miu exclusive to nab her for a Spur It-Girl column. Apart from being obviously smart and ambitious, one of the most compelling things about Adina was the sweetness and kindness of her smile. Here is Adina describing her career rise in her own words.
WS: Dear Adina, Could you tell our readers a little bit about yourself.
AF: So my name is Adina. I'm from Hungary. My mother agency is Icon in Hungary. I'm twenty year old I started modeling a year before but I have been at university studying so I wasn't full time. Now I have a break.
WS: What was your field of study ?
AF:If I finish I will be a civil engineer.
WS: You must be brilliant at Mathematics.
AF:I should be but I failed my exams. (laughs)
WS: What does a civil engineer construct? Is it more like buildings as in architecture…or structual things like bridges?
AF: There are two types . The first one is the people who think about the buildings … how the buildings should look and I am really more the other type who actually makes the building.
WS: How did the idea of modeling enter your life in the first place?
AF: A lot of times when I was walking on the street people would ask me if I am a model and I told them no…no…no. But then I was very curious as to why everybody was saying that I should be a model. So I decided to give it a try.
WS:Tell us about your going to Milan for the Prada.
AF:I was in Milan for three weeks and every day I went to Prada to do the looks. Then somebody told me that I was going to get the show and I was very happy about this but I didn't know I will open. They told me five minutes before the show "You will open".
WS: Now that was a well kept secret. Since it was so last minute, did the news make you more nervous about walking your first show?
AF: I was nervous but it was really fun. After I opened, I came back from the runway very happy.
WS:I imagined you learned a lot about the behind-the-scenes of how a show is put together
AF: Yes it was very interesting because I could see how the designer works. It was really interesting. They were working a lot when I first went there . When I went back they really put a lot of effort into everything that they were doing. They were so energetic you never saw that they were tired.
WS: I guess there was a lot of passion at Prada. Coming from such a scientific background, did this world of high fashion surprise you or overwhelm you?
AF: I don' t know exactly what I expected really of it but I thought that this way is the normal way . I spoke to a lot of people …other girls. This was my first season but I spoke to those girls who were doing this for a longer time. It was another girl for instance who told me the Prada was very very good to do.
WS; Ah, so you did your research going in! Are you looking forward to photographing campaigns and editorials now?
AF: I hope so
WS: Oh we fully suspect you'll be doing every major editorial in sight. Have you shot any editorials before ?
AF: No, only the test things in my book.
WS: Which makes it an even more amazing start then. Is there a particular kind of music you listen to ?
AF: No. I listen to everything depending on how I feel. I don't have a special choice. I like the music when I go onto the runway . The music at the shows I did in Milan and in Paris was amazing. It really was like party music
WS: How about your current reading. Which authors do you like?
AF: I like the books of Paulo Coelho. I think he is my favorite author . I like books which provoke thinking
WS:Like philosophical works?
AF: Not exactly philosophy but I don't like books with just stories… where people just act. I've been reading "The Fifth Mountain" and recently I read "The Alchemist" in English
WS: How many languages do you speak ?
AF: I speak Hungarian, English and German
WS: Is that because in Hungary you speak both the native tongue and German?
AF:No I studied in school, German for the past 8 years.
WS:And now I imagine you're learning some French?
AF:No. Its a very beautiful language but the pronunciation is so difficult for me . I think its easier in German because there are rules and you just follow them
WS: I'm really impressed by your academic prowess. Do you see yourself going back to school soon to get that engineering degree?
AH:Now I would like to focus on this, the modeling though I never know what will happen now . I have a good start so I'm going to try to let it go for as long as possible
WS: Fantastic answer Adina. We know you're going to be a great model and a very smart and inspiring one at that. Thank you so much for spending time with us!
AH: Thank you!