Emily Weiss, creator of Into the Gloss
With the breakneck pace of the fashion blogosphere and the fact that everyone and their mother seems to be blogging, sifting through the mire to find quality can be easier said than done. Luckily, there are a few sites out there that offer insider access, intelligent commentary and a unique point of view; beauty site Into The Gloss boasts all three. With its unique shots of models wearing makeup the way real girls do and insightful look at all the best products the site is a gem. MDC catches up with creator Emily Weiss, to talk makeup, inspiration and how she got her start in the biz.
MDC: How did you start your blog?
Emily: I started the blog in early September. I noticed that there was a wealth of 'personal style' information out there, but nothing about beauty, which I've always thought is just as (if not more) important. I have an editorial background and a fashion background, and am constantly asking the editors, models, makeup and hair stylists what they find to be the 'best' and newest beauty products and trends. The same 'insider' know-how definitely applies to beauty–these are the people who see and try it all, and curate their own routines and ideas down to a tee. These are the people I look to for beauty; not celebrities on the red carpet.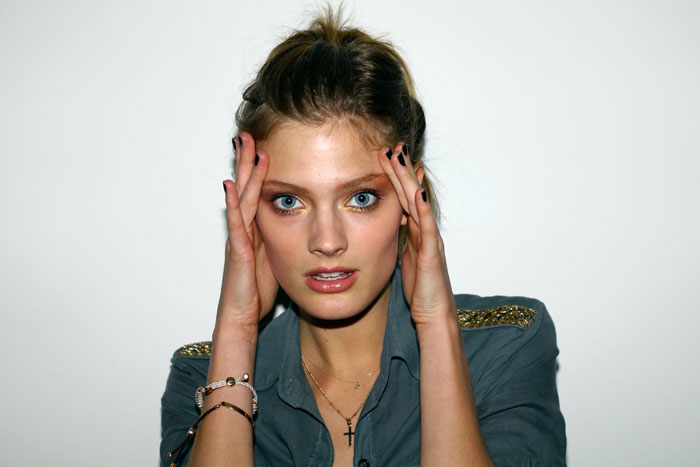 Constance Jablonski by Into the Gloss
So I designed several story angles, like 'The Face' which are snapshots and could be of anyone I find interesting looking, from Marie-Amélie Sauvé to a teenager on her lunch break, 'The Top Shelf' which looks into a tastemaker's products and routine, and 'The Makeup'. 'The Makeup' are maybe the most fun to do…I take all the photos on ITG myself (except some product shots) but in this case, I take a really great model–could be an up and comer or could be Karlie Kloss–and do a casual 'mini-editorial'/casting snapshot of her wearing a new lipstick, or an eyeshadow or something. So it becomes a sort of profile on the girl, and you get to see how a product actually looks on, not just in the compact, and not with a full face like in a magazine. It's how a cool girl might really wear makeup…she puts it on in a few minutes and doesn't fuss too much. I'm by no means a technically trained makeup artist (or photographer), and I don't wear much makeup day to day, but I have a certain idea of how makeup should look.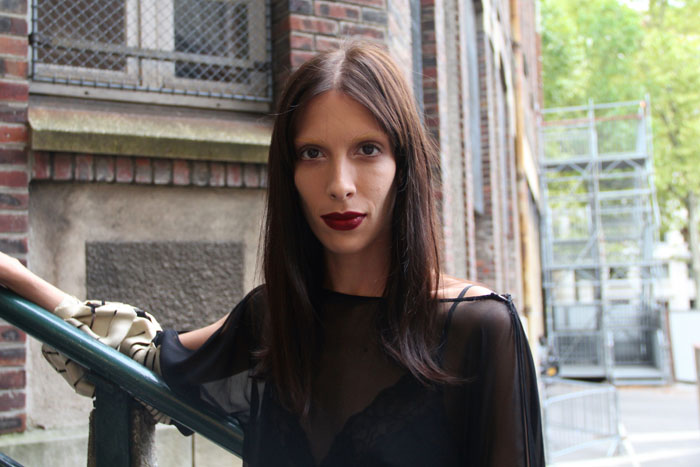 Jamie Bochert by Into the Gloss
MDC: When did you get started in the industry?
Emily: I got my start when I was 15 actually, and I'm 25 now, so I can really say I've been in fashion for 10 years! I started interning at Ralph Lauren on the women's design team. I'm from Connecticut so for two summers I'd commute every day on the train, then come back in for a week before each runway show to help. Then I went to NYU and interned for Teen VOGUE for three years, which was really my training ground. I did some styling and writing–I wrote 'Model Scout', on Vlada, Kasia–and they made me a Contributor on the masthead. That was awesome. I graduated and worked at W, then I wanted to transition into styling, so I began assisting Elissa Santisi which is what I still do now.
MDC: What do you think Into the Gloss brings to the table that is different?
Emily: Well, it certainly covers beauty in a unique way, I think. I read several fashion blogs but only one or two beauty blogs, and they're part of larger websites or magazines. I really wanted to create a chic beauty blog about fashion influencers and from a fashion person's perspective. Also, I wanted to include portraits and pictures but also a lot of information and a lot of dialogue from the subjects, which I think is sort of unique. I always wonder if certain entries are too long but I stick with my gut and then I get comments that people love reading them!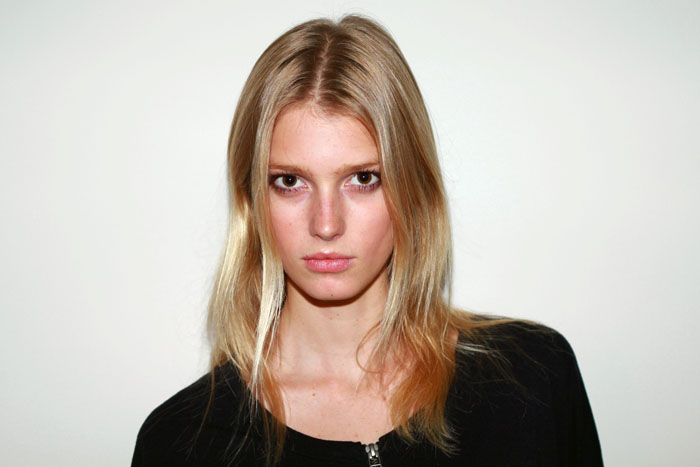 Sigrid Agren by Into the Gloss
MDC: Which models would you like to work with in the future?
Emily: I love the way Melissa Tammerijn looks–those cheekbones! Arizona Muse, who everyone loves right now. Jac's face is perfect for beauty. And I'd love to do something with Lara Stone – that would be a great day for Into the Gloss.