Fashion month just finished up, but it is never too early to look back on the moments we loved. From collections to individual items, there was a great deal to take in this season and like everyone else we have a few personal favorites. Here is a peak at some of the shows and events we loved this season from NYC and London.
NEW YORK
THE FASHION'S NIGHT OUT SHOW
The unquestioned highlight of NYFW, combining the best of every designer and every model into one unforgettable event; fingers crossed that this event becomes a New York tradition!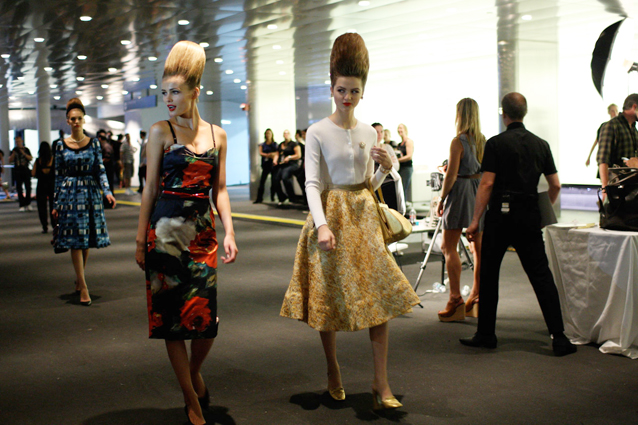 3.1 PHILIP LIM
Many designers create beautiful pieces that look great on the runway, but Philip Lim makes the kind of clothes we actually want in our closets. His spring line was chock full of dresses, bags and separates that are sure to look phenomenal in real life and that makes us happy.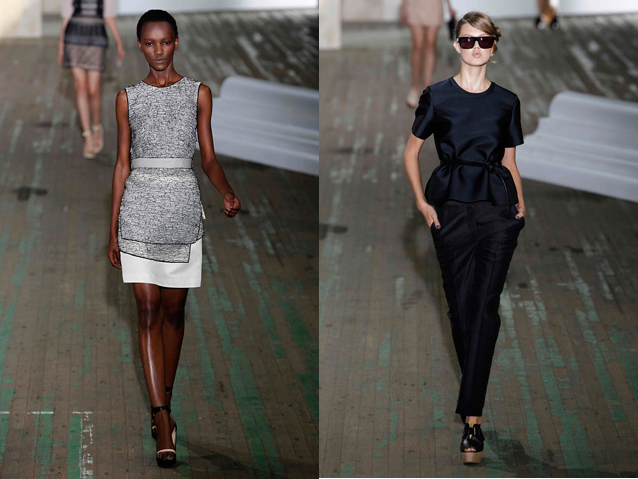 ALEXANDER WANG
Wang's dramatic change for spring was met with mixed feelings, but we loved the striking new direction he took for his line.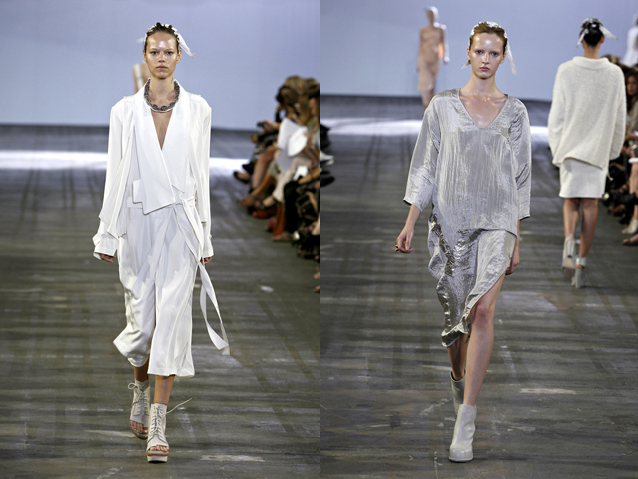 JASON WU
We're probably not going to see Michelle Obama wearing the completely sheer tops Wu presented for spring, but his beautiful collection seemed ready for the red carpet.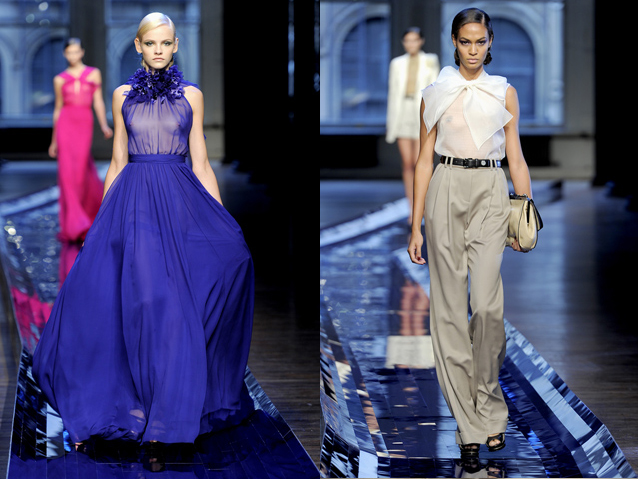 DEREK LAM BEAUTY
Simple, striking and easy to duplicate, the copper eye-makeup look created by Estee Lauder's Tom Pecheux was just perfect. Would you believe that he used mixed two lipcolors and used them as eyeshadows for this look?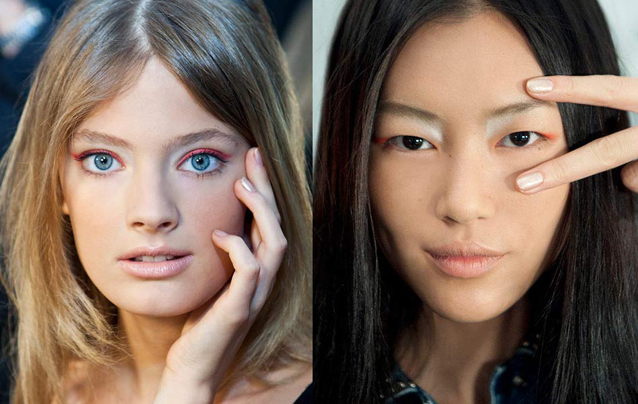 LONDON

ACNE
Clean lines and strong shapes for the stylish biker in all of us, Jonny Johansson's line never fails to impress us; the studded jacket on Mirte is a must have.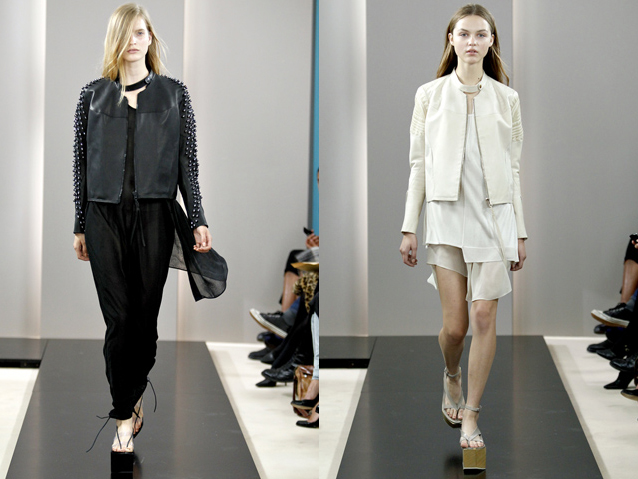 MARY KATRANTZOU
Ingenious use of interior prints on dresses; the way Katranzou plays with pattern each season is inspirational. View each of the dresses up close to see the incredible detailing.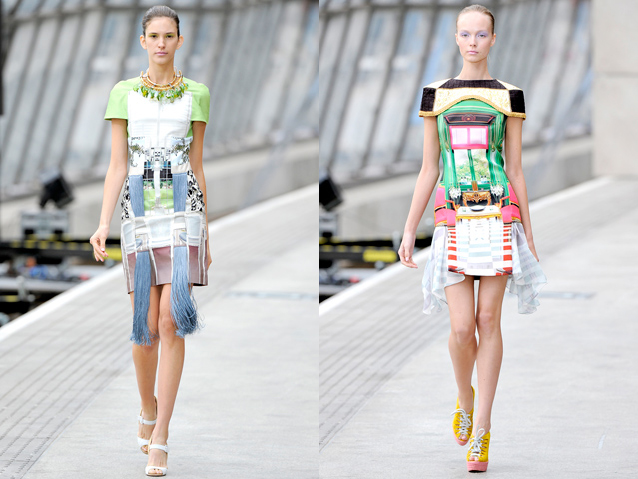 PETER PILOTTO
A smart and youthful take on feminine dressing that proved you can combine girly and graphic into something sensational.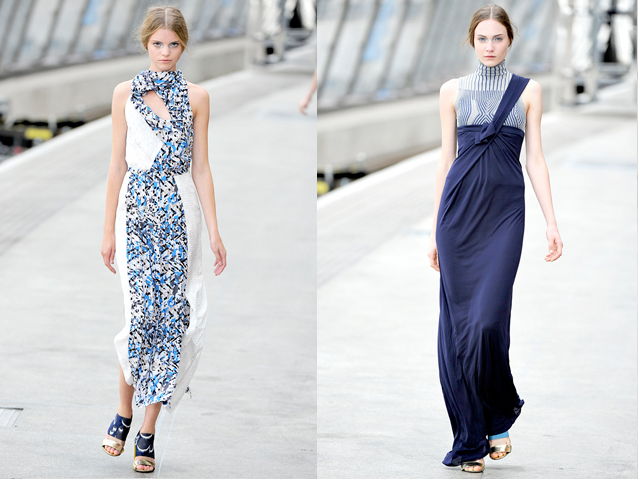 FASHION FRINGE
Exciting showing from fresh talent, winner Corrie Neilsen's Victorian inspired dresses are especially attention getting, but each competitor brought something fresh to the table.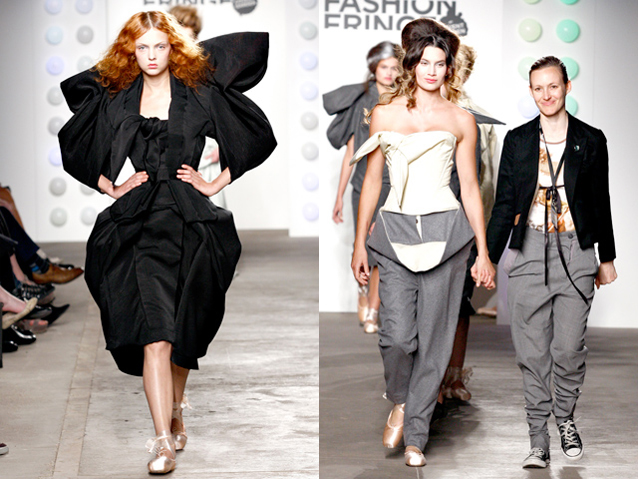 Stay tuned tomorrow for our favorites from Milan and Paris, in the meantime though – What were your favorite moments from New York and London?Let us know in the comments!
Image Credits | Runway shots from Style.com, Beauty Images courtesy of Estee Lauder, Fashion's Night Out image, Betty Sze for Models.com