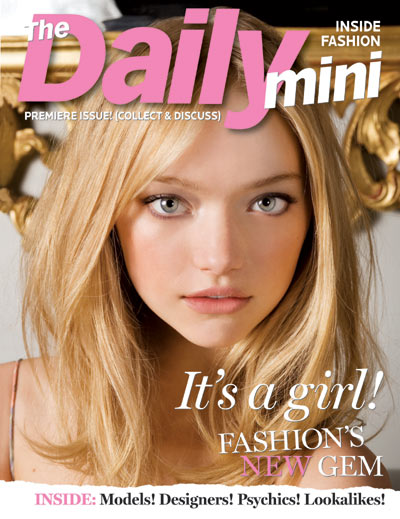 Gemma Ward/IMG The Daily Mini cover (launch issue)
Fashion and gossip rags are my literature of choice. Who has time to read a book these days when it's so much more enjoyable to flip through the latest US Weekly or Vogue? And when fashion and gossip merge and come together, it's a marriage made in Seventh Avenue Heaven. Having said that, I was so excited to learn that the creators of the fashion week insider bibles, The Daily and The Daily Front Row EXTRA, have just churned out their protégé, The Daily Mini. Packed with the best of its sister journals' juicy content, the mini will come out six times a year and carries a greater punch with its miniature status! It's great to grab on the go and fits so nicely into my hobo.
Yet another subscription to add to the growing roster! By the looks of the star wattage who came out the other night for their launch party held outside at the Garden of Ono – cover model Gemma Ward, Maggie Rizer, Damon Dash, Shoshanna Lonstein Gruss, Stephen Dorff and Allure's editrix, Linda Wells – there are a lot of well wishers rooting for the mini's success.