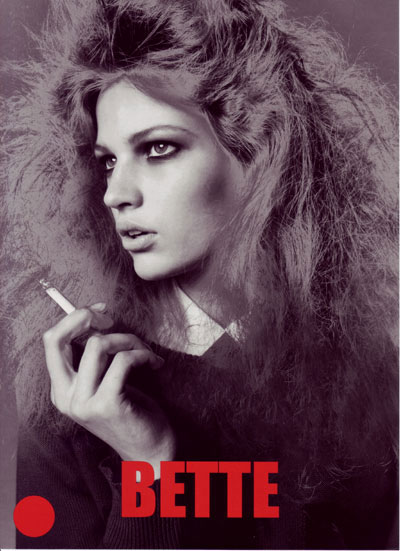 Bette/DNA Ph Steven Meisel for Vogue Italia
New York is no longer the critical city for breaking new faces on the global modeling market. It is still the financial nexus of the modeling world but it no longer cares to gamble on untested new faces on its catwalks. That honor is now being contested by Milan (via Prada,/Miu Miu/Jil Sander) and Paris (Balenciaga).
It is then, even more of a breakthrough when DNA's fastest rising star Bette, manages to stage a massive NY break through, making her a front runner going into the Milan sweepstakes. In fact the moodily beautiful Dutch teenager first flickered on the radar via a S/S 06 Jil Sander exclusive, and since then has had a career rendered with judicious selectivity. Her book to date only features tears from Demarchelier for French Vogue and Meisel for Italian Vogue. Which is not to say there will be a want of work for this newcomer. Now that an insane NY show season is reaching its peak, this girl's inevitable rise through the business is a near guarantee. With the client buzz on this new beauty hitting the "sensational" pitch, OTM will be tracking Bette on her trek of Wednesday shows for our bi-annual "Day In The Life" video feature. Stay tuned for the evidence !