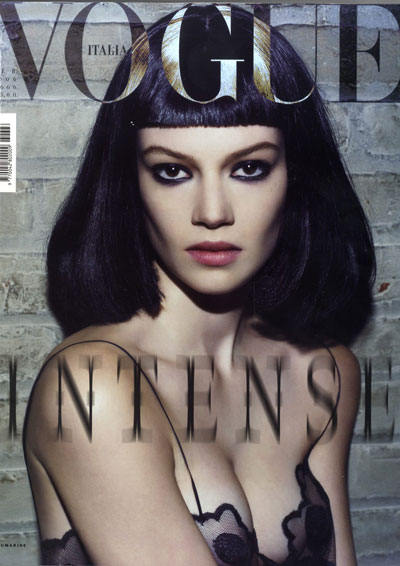 Heather Bratton /Supreme. Ph. Steven Meisel for Vogue Italia Feb. 06
From the moment we saw her first Polaroids at the Supreme offices, MDC was convinced a new star had hit the scene. It was those haunting eyes and those cheekbones, the way they cut and jut and aligned to form planes and angles not seen since early 90's Kate Moss. And though Heather booked nary a blue chip show in the S/S 06 NY show sweepstakes the 18 year old Orlando, Florida model easily made OTM's Top Ten Newcomers list for that season. It took Milan to get it, with Heather being the only first season girl on the S/S 06 market to walk the Prada, Miu Miu, Gucci, Burberry and Jil Sander shows in Milan before heading to Paris for Chanel, Lanvin and Chloe.
Since then Heather shot four times consecutively for Italian Vogue w. Meisel and the soft-spoken American was heading into the Fall/Winter shows with maximum velocity. It is however, this February cover of Italian Vogue, beautifully timed to overlap into the NY, Milan and Paris shows, that will now sky-rocket Miss Bratton to a place of enviable visibility, the kind that will have clients clamouring.
In December of last year, when OTM caught up with Heather she divulged that the first thing she plans to buy with her first big check is a Dodge Charger, testifying that innocence still lives in America. And it was Heather who caught the irony that she was the girl "in high school that nobody wanted to talk to." Well wait until they see this cover!