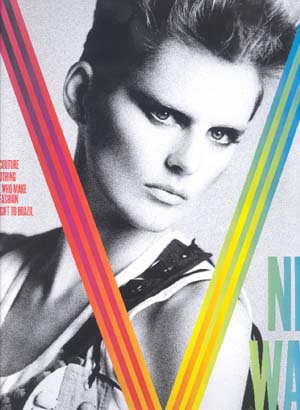 Stella/DNA Ph.Inez Lamsweerde and Vinooth Matadin
In the first installation of our new feature, On The Stands, highlighting the best of the magazines currently on sale, MDC takes quick stock of the hot book V.
Launched in September 1999, after a mere 23 issues, V looms as the must-read fashion publication of the moment. Generous in scale, gloss and content the magazine has shrewdly traded on mother publication Visionaire's flawless reputation for fashion perfect packaging.
V with its fast forward mix of music, architecture, art, film and fashion is now without a doubt, the breakthrough high style youth book that has long been promised but never before been delivered on the American market.
Tune in as the magazine?s Editor-In-Chief Alix Browne fills in the blanks on what makes V?so very? V.

The inspiration behind the creation of V was?.?
TO CREATE A YOUNGER, SIBLING PUBLICATION TO VISIONAIRE.
Your ideal reader is?..?
ANYONE ANYWHERE WHO IS INTERESTED IN FASHION AND ALL THE MYRIAD THING THAT FASHION TOUCHES.
How do you decide if an artist or filmmaker or novelist is very "V"?
MOST OF THE TIME WE JUST GO ON INSTINCT… WE HAVE A PRETTY BROAD RANGE OF INTERESTS. IF SOMETHING IS INTERESTING TO US, HOPEFULLY IT WILL BE INTERESTING TO OUR READERS, TOO.
Do you have a deliberate policy of exposing a new generation of fashion fans to seminal influences like Antonio Lopez or Emile de Antonio?
WELL, IN THIS DAY AND AGE, THERE'S A LOT OF "REFERENCING" GOING ON. I THINK IT'S IMPORTANT FOR PEOPLE TO KNOW THEIR FASHION HISTORY
What is it do you think that the magazine brings to the US scene that is unique?
EUROPE IS CHOCKABLOCK WITH "INDEPENDENT" FASHION-BASED MAGAZINES. IN AMERICA, THERE ARE ONLY A HANDFUL, V BEING ONE OF THE FEW.
Is the fashion for the editorials "market driven" or are the clothes used a more freestyle expression by individual photographers and stylists ?
IT'S A COMBINATION OF BOTH. WE TRY TO GIVE PEOPLE AS MUCH EDITORIAL FREEDOM AS POSSIBLE–AND I HOPE THIS COMES THROUGH IN THE WORK. AT THE SAME TIME, WE HAVE TO BEHAVE RESPONSIBLY, AND THIS MEANS SUPPORTING THE DESIGNERS WHO SUPPORT US.
Do you envision the magazine becoming a more mass market publication in the future?
WE DEFINITELY WANT TO EXPAND THE V READERSHIP BUT WITHOUT COMPROMISING THE EDITORIAL CONTENT. I DON'T KNOW IF WE WILL EVER BE SUPERMARKET CHECK OUT STAND MATERIAL–I DON'T THINK ANY OF US ARE INTERESTED IN DOING THAT KIND OF MAGAZINE–BUT I DO THINK WE HAVE THE POTENTIAL TO REACH A LOT MORE READERS…