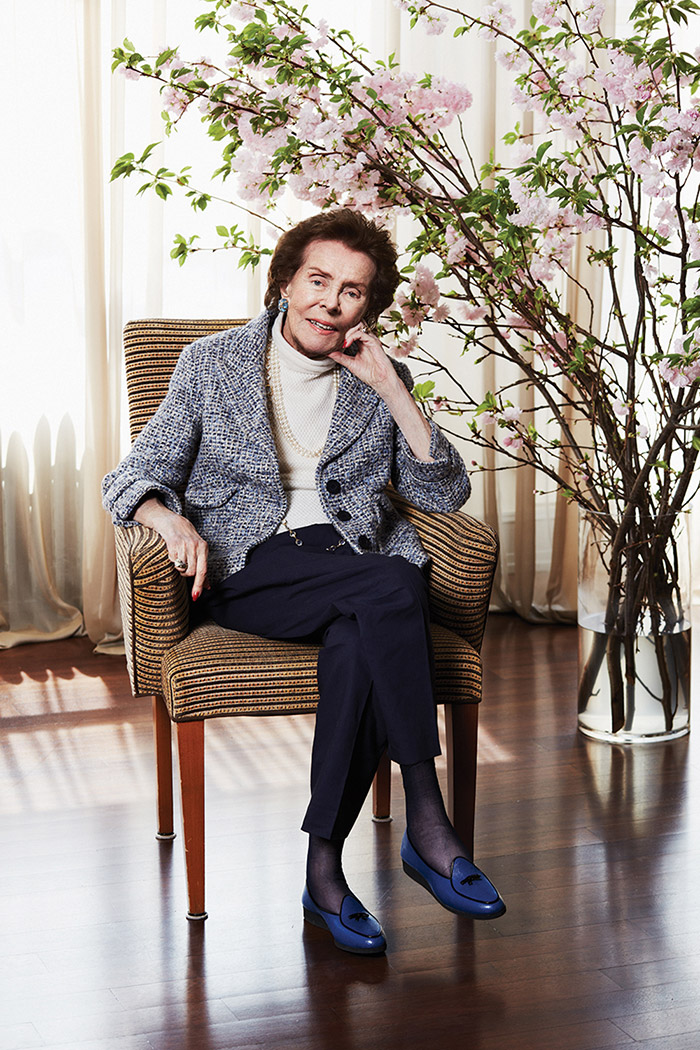 Photo by Michael Schwartz
This week the modeling industry lost one of its true legends, Eileen Ford passed away at the age of 92, but her legacy continues to shape every aspect of the industry. As the founder of Ford Models Eileen along with husband Jerry defined the face of beauty for generations, launching the careers of everyone from modeling phenoms Christie Brinkley and Lauren Hutton, to actress Jane Fonda and mogul Martha Stewart. With an eye for beauty and a head for business Ford took the business of beauty into the 21st century and transformed her handpicked girls into world class stars. We here at MODELS.com also express our deepest sympathies to the Ford family and friends.
---
Eileen herself takes us through her stellar career and whirlwind life in this commemorative video in honor of her Fashion Houston Lifetime Achievement Award in 2010.
Video by Vision Production Group for Fashion Houston
---
Many of those working in modeling today got their start because of Eileen Ford and for those who worked alongside the visionary Ms. Ford her passing marks the end of an era. Friend and fellow agent, Neal Hamil shares his Eileen memories below.
---
The "Mother of Modeling"; Eileen was a giver. Utterly generous of her spirit, knowledge, time, money, love. She was the ultimate teacher. She elevated everyone and all those who had the benefit of whatever largess Eileen bestowed upon them were left better. She was tough and exacting but she was almost always right.

Eileen Ford was brilliant. A true visionary in the way her contemporaries Estée Lauder, Helen Gurley Brown back then and, perhaps, Sir Richard Branson and Steve Jobs in the modern age were brilliant. She was a natural businesswoman and branding expert. She knew it when she saw it, seized the moment and worked the moment like few can.

Eileen Ford was devoted. First to her beloved husband and co-pilot, Jerry and then to her children and family and to her extended family. Of the gifts she gave those around her, her "being" was the greatest of all. She deeply altered every life she touched. She made you think. She made you better.

Eileen was the greatest champion women could have. Not just her models but for every woman everywhere. She was an activist who would have never accepted such a label. She just simply cared. She wanted good for people. She wanted you to succeed and to thrive.

As an agent she reigned supreme. She stood up, fought and almost always won. Everyone respected Eileen. She commanded that respect and she demanded it and most importantly, she deserved it.

As a friend, you simply could do no better. Eileen "saw" you and she was there for you; no matter what. She enjoyed such loyalty from those who knew her; again, something she richly deserved.

Of the thousands of "Eileen Stories" I can share, I hope everyone reading this will post and share their "Eileen Stories" but one story has always stood out in my memory. One horribly messy, snowy and bitterly cold winter morning, Eileen was arriving at our offices at 344 East 59th Street and took notice of the delivery man from The Sutton Diner, just around the corner. This lovely man, who spent his entire day delivering orders of coffee and food to FORD (no unions allowed!) was freezing with his tennis shoes, socks and pants practically frozen solid. Without a word to him, Eileen reached her office and told her secretary to call The Sutton and ask his shoe size and then to call LL Bean and get him a pair of properly insulated snow boots as tall as they made them. There was only one stipulation; that the identity of the giver of this gift not be revealed. THAT was Eileen Ford. The giver, the nurturer, the protector, the spreader of good.

Eileen Ford leaves behind a legacy in which she defined the idea of beauty for more than six decades. Her impact on a entire industry will be felt forever. She changed the world and she changed it for the better. I recently asked Eileen how she wanted to be remembered and she said "Happy. I was an extremely happy woman"

What a life! What a legacy. I bow my head in eternal gratitude and my love for her is without end. I am sure tens of thousands of you will join me in simply saying; "Thank You, Eileen. Well done! Godspeed. Rest well"!