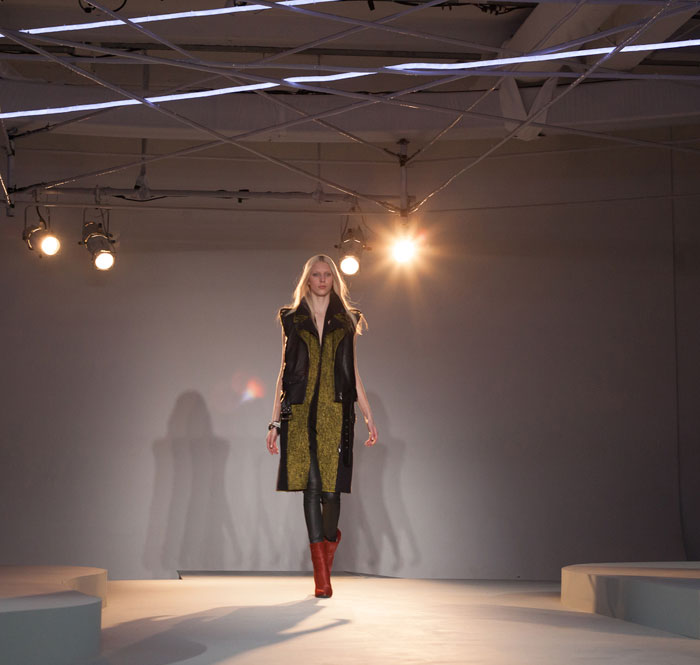 As long as there are streetwise teens and twenty-somethings putting together one of a kind outfits, youth culture is going to be a fashion force to be reckoned with. Let's be honest, fashion wouldn't be the same without the style efforts of grunge and punk obsessed kids who start trends without even trying. For fall/winter inspiration EDUN's Sharon Wauchob looked to exactly those sorts of young, sartorial rebels and the pieces showcased on her runway reflected, the kind of customized cool that comes when wearers seek to individualize their ensembles.
Unique details like pierced blazers accentuated with dangling metal chains for girls, leather jackets with quilted patches for guys and skinny jeans with corduroy paneling for added interest, gave the collection an relaxed feel that wasn't tied to any particular era, yet resonated timeless cool. The models strutting EDUN's circular runway looked put together and sleek, but there was still that air of effortlessness, courtesy of stylist Melanie Ward's inventive combinations. The Julias, Nobis, Shurig and Frauche kicked the show off looking like rockstars in silk and leather layered combos worn with waxed denim and crimson boots.
The juxtaposition of hard and soft was another recurring element within Wauchob's collection; black leather with yellow tweed, shimmering lamé jumpsuits contrasted by black motorcycle jackets. By merging traditional materials like tweed, wool and tartan, with updated ideas and opposing elements Wauchob made the familiar feel fresh. Judging by the pleased reaction of attendees like Anna Wintour, Carine Roitfeld and Bono, EDUN has definitely struck a positive chord this season.
Text by Janelle Okwodu
Photos by Alex Covo for Models.com