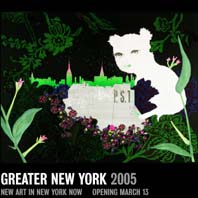 Saunter through the corridors and gaze at the walls.
P.S.1 reopens on Sunday, March 13 with its highly anticipated show Greater New York 2005, showcasing the work of 150 of the best emerging artists working in New York City (as selected by the curators at P.S.1 and MoMA).
Greater New York 2005 is the second incarnation of Greater New York (2000) and its opening will coincide with a new P.S. 1 website. The exhibition will run through September 26th, so if you can't make it out to LIC anytime soon, you can always pay a visit during Warm-Up Sessions this summer.
Opening: Sunday, March 13, 12 to 6 p.m. Exhibition runs March 13 to September 26, 2005 at P.S.1, 22-25 Jackson Ave, LIC
More info at www.ps1.org