Esteban Cortazar for Net-A-Porter from models.com on Vimeo.
The designer comeback is an oft repeated fashion industry trope, but rarely does a designer's reemergence on the scene bring with it an entirely new business model. S/S 13 brings with it the return of Esteban Cortazar, an affable young talent whose unique perspective has been sorely missed. Cortazar teamed up with web retail giant Net-A-Porter for his brand's relaunch and starting tomorrow, pieces from his spring collection will be available exclusively on the web's premier e-tailer. Forget fast fashion, this is luxury at the speed of light; a fresh collection available for sale the moment it debuts during fashion week.
The collection will be launching tomorrow Sept 12 exclusively on Net-A-Porter.
Speed isn't the only selling point for Cortazar's new venture, the clothes themselves speak volumes. Working with a palette of whites and creams, Cortazar creates a series of ensembles that are modern and minimalist, while maintaining their femininity. MDC caught up with Esteban on the eve of the Net-a-Porter launch to find out more about his exciting new endeavor.
MDC: What has inspired you this season? 
Esteban Cortazar: The starting point for this collection was the thought of a new beginning and a white canvas to build on. I wanted to have a sense of purity through sensual and sculptural yet fragile lines, evoking movement, sharpness and light that caresses the female form. Together with my image director Jaime Rubiano, we looked at the flesh oil strokes of Nicola Samori's painting, the eclectic post-modern architecture of Ricardo Bofill, the "Mysterious Sphinx" sculpture by Charles Van Der Stappen, and the dystopian, Tech-noir, minimal aesthetic and play of light in the Solar Panel scene of Andrew Niccol's "Gattaca".
MDC: Who is the Esteban Cortazar woman? 
Esteban Cortazar: I actually feel that I am searching and reconnecting with her through this collection. I almost wanted to look for her soul through the pieces and let her find me. What I love about this project is how universal it is and how I can connect with all types of different woman from so many parts in the world. But I would say that I am inspired by woman that have a hardened femininity quality about them, always sensual and always very strong.
MDC: What made you want to partner with Net-A-Porter?
Esteban Cortazar: When I thought about the possibility of re-launching my line, I wanted to find a new approach on how to do it, that felt exciting and modern. Then through a very spontaneous conversation on the streets of Paris, with Natalie Massenet almost 2 years ago, the idea of one capsule collection for them, led to a bigger idea of them helping me re-launch my brand exclusively on NET-A-PORTER. This is a true collaboration between designer and retailer and they have been involved from the very beginning following the process starting with the sketches, fabrics and mood boards all the way to prototypes and finished samples. I could not have asked for a better partner to do this with.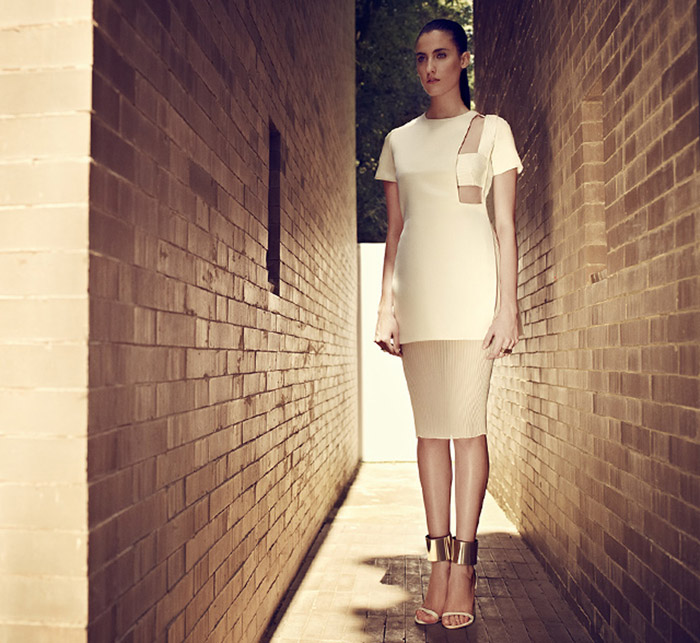 A glimpse at Cortazar's elegant new collection | Photographer: Xevi Muntane (De Facto), Model: Amanda Moreno,
Creative Director: Jaime Rubiano, Jo Baldwin, Styling: Esteban Cortazar

MDC: Can you tell us a bit about the corresponding jewelry collection 
Esteban Cortazar: I collaborated with my friend and talented jewelry designer Alican Icoz to create pieces inspired by all the sculptural lines, cutouts, and architectural shapes in the collection. We wanted to have pieces that felt very structural and graphic but at the same time very delicate and pure.
MDC: What is the must have piece for Spring? 
Esteban Cortazar: What's great about the collection is that its trans-seasonal and there are pieces that can work all year around. From heavier coats and jackets to extremely light blouses and dresses. I would say that my ivory tuxedo jacket is one of the must haves of the collection.
MDC: What's next? 
Esteban Cortazar: There is lots happening next. I am already thinking and carefully working on the next collection as well as the development of my company and brand. This is only the beginning of a new and very exciting journey for me!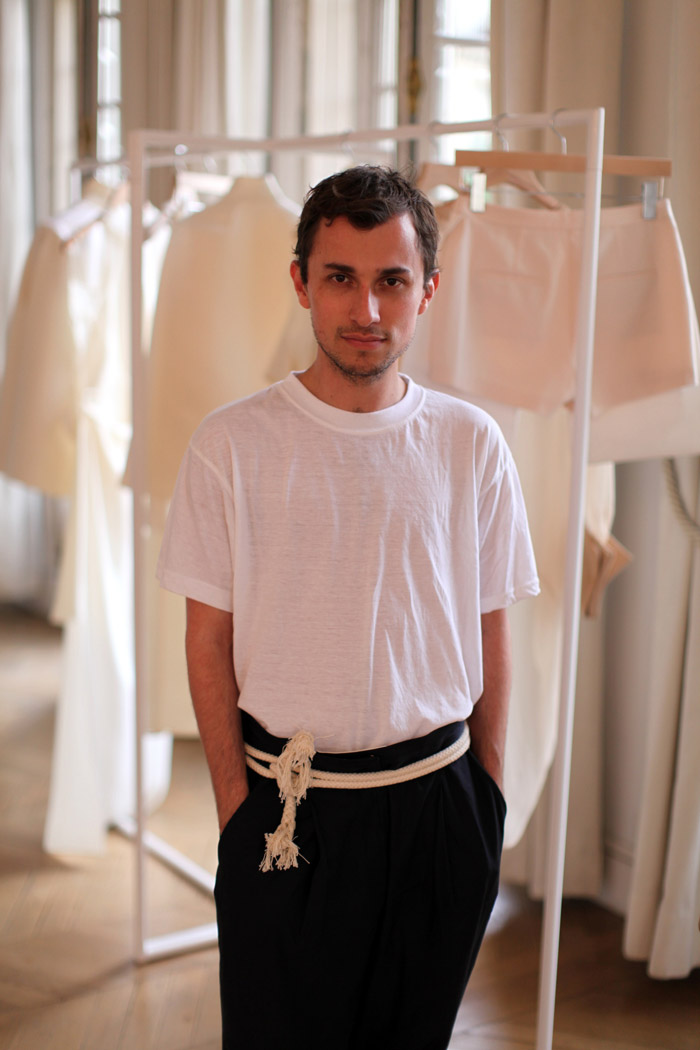 Esteban at the Paris presentation for the collection