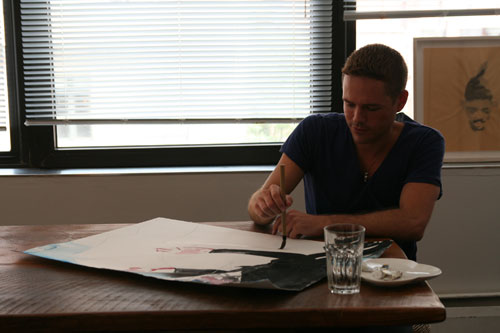 Daniel Peddle working on one of his watercolors. Interview by Janelle Okwodu. Ph: Emma Van Outray
With his artistic background and idiosyncratic eye for beauty Daniel Peddle has become one of the industry's foremost casting talents. His distinctive perspective has enabled him to explore not only the world of fashion but also the realms of film and painting. As a veritable man for all seasons Daniel brings something truly unique to the table – MODELS.com sits down with the North Carolina transplant to talk models, watercolors and the future of the runways. See interview and Daniel's watercolors below.
–How did you get your start in casting?
DP: I went to graduate film school at NYU and when working on my student films I cast people off the street. One of my best friends Calvin Wilson, at Elite said I should do this for the fashion industry and at that time there weren't many – or any – people scouting the streets. I struck up a deal with Next when I first started -I would go in every Friday, give them a stack of Polaroids and they would give me $300. I was a student so that was great. Over the years I started getting friends that were stylists or photographers who knew what I was up to and I just started to build a client base. Eventually I had enough of a clientele that I could justify becoming incorporated and going out on my own.
– You began in film but you also do artwork and photography – how do you balance working in so many different mediums?

To me it's all related and a lot of my projects feed into one another. My first feature length documentary, The Aggressives was about a subculture of inner city African American and Latina lesbians that don't want to be men but look like men. The first one that met I thought was a guy who was good-looking enough to be a model and I approached him and it turned out that he was a girl. She still was gorgeous and I was able to help her become a model. She introduced me to the whole aggressive scene and I started filming them right away. It was a 5-year project and through casting I came to that subject matter.
– Has art always played a part in your life? How does your position as an artist inform your casting?
Art is something I've done my whole life. I've never gone to art school but I've been a painter since I was a kid. I grew up in a rural environment and for me painting was a way of expressing myself. I've always been obsessed with faces – my work is mainly portraits so it's not such a stretch for me. In terms of casting I try to maintain my artist's eye and look for people who are interesting to look at in a variety of mediums. Whether its film or runway or print jobs the same type of person is intriguing. If you look strictly through a fashion eye you tend to fall prey to whatever the look of the moment is. That's really not what I'm interested in – I try to find people – whether they're models or off the street – that spark something creatively in me. It has nothing to do with the industry per se.
– Fashion week is right around the corner – how long have you guys been preparing?
We keep an eye towards the shows all year long. For the past month we've been working on a project for 10 magazine. They asked us to give them our favorite ten new girls and during the casting for that we've been able to accumulate a lot of great new show girls. We're working on it all the time though it will get much more intense in the next few weeks.
–When you're casting what do you look for in a girl?

I like girls who have amazing personalities – who are well read, articulate and fun. Magdalena is a favorite of ours. I always enjoy working with her. I love Arlenis, we've cast her in a lot of things recently. I even like girls that are may not necessarily in the top 50 but are still incredibly cool. A girl like Shelly Zander who is with Rocket Garage – we've worked with her for years. She's a quintessentially New York/Williamsburg type girl who has managed to maintain her career on the down low for a long time now and we like working with girls like that too.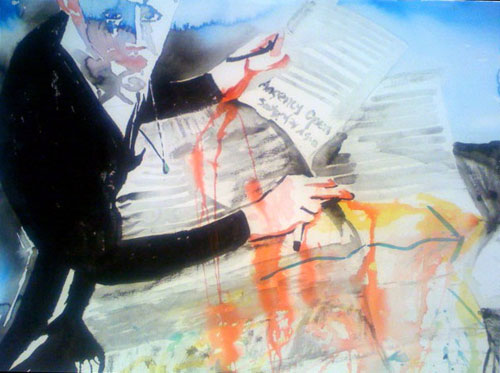 Luke Worrall with his Milan map and go see schedule
-Have you noticed a predominant look this season?
There have been two looks that we've been drawn to and that we're sort of editing our casting towards. We really like the tomboy look – not necessarily masculine in their face but they have sort of hardness to them while maintaining their elegance.
Another thing this season is trying to discern from all the girls out there the ones that are ethnically ambiguous. Girls and boys that have faces that you can't just put in a certain place or race or geography. I think it's very helpful to see those types of faces in our conflicted world because you can see that we're still evolving as humans and they are the results of people willing to go beyond the socially constructed notions around race. I think that's really important and were going to see even more of those as the population changes.
With the Internet and the way that everyone is so connected now it's not something you can overlook anymore. I don't think its possible to do a modern show and have it be all blondes. I understand that sometimes a designer has an aesthetic that dictates something like that and of course we're going to work with them to achieve their goals but personally I don't find that to be a very modern statement.
– How much of the process is the client's vision and how much revolves around your personal input?
It's collaboration – obviously the client's goals are our goals but we work with a lot of companies that have a similar approach to casting. It's never a battle to make our opinions known. It is a collaborative effort with everyone. Everyone's opinions matter and as a casting director it's my role to facilitate a consensus without that watering down of the designer's intent.
– Tell us a bit about your artwork.
A series I've been working on is called Nature Morte – and basically that means dead animals. That's a series I've been working on and it's at the Rook Gallery in the Hamptons.
As a personal project I've been doing a series of backstage portraits – the paintings right now are all of boys. I think that's a very interesting thing for me to see boys put through the process women are used to – a designer's vision defining a person's new look. It's interesting to see how a guy deals with that. The other thing I found very poetic is even though there's this crazy mayhem going on backstage, if you're there from beginning to end you find these moments of solace. The guys might lie down and have a nap or daydream while they're having their makeup done. Those were kind of the moments that I tried to capture in this series. They were perfect for watercolors– for that medium they were ideal. I'm a watercolorist so I look for moods that will work well in watercolor. Backstage is perfect for that because it's a really fluid environment – there's a lot of motion and that translates well. Watercolor is a very tricky medium– it's an indelible mark. You can't correct it– once it's there it's there and I really like the challenge of that. It's similar in a lot of ways to what happens on the runway. Once the show gets started you can't correct things – whatever happens on that runway you have to come to peace with. You can't go back.
For Daniel's website click here. To read his interview by Costume National where many of the watercolors were done, click here.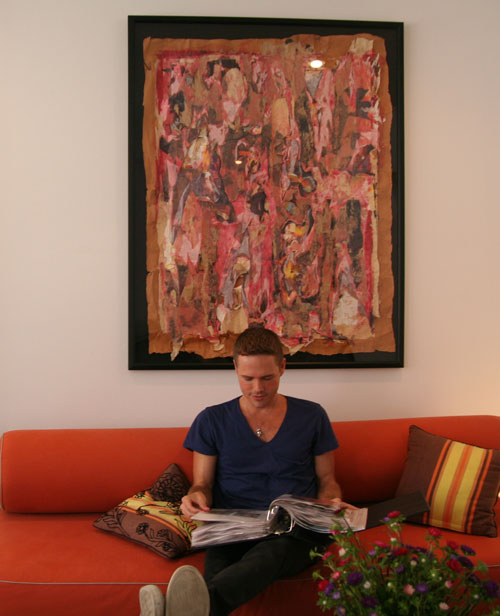 Daniel looks through his polaroid book.