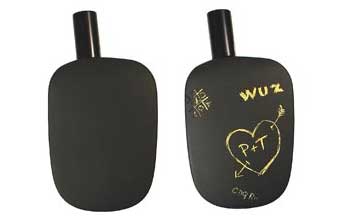 Always open to adventurous co-branding ideas, Parisian boutique Colette and Comme des Garcons have since the summer been collaborating on various ambitious shows in a temporary art space owned by the Japanese label in Tokyo, Aoyama.
Artists and designers such as Genevieve Gauckler, Tobias Wong, Ruri, Maarten Wetsema, Kuntzel+Deygas developed not only exhibitions for the space, but also limited edition products such as motorbike helmets, cutomized sneakers, bags and many other goodies sold exclusively at "Colette meets Comme des Garcons". Among the limited edition product galore, the sophisticated Dimitri from Paris ST Dupont DJ box certainly grabbed my attention. Just right to set fire on the dance floors of Shibuya.
This coming week is your last chance to check out the space before it closes in 2005 to be replaced by a new and unveiled Comme des Garcons project. See it fast!