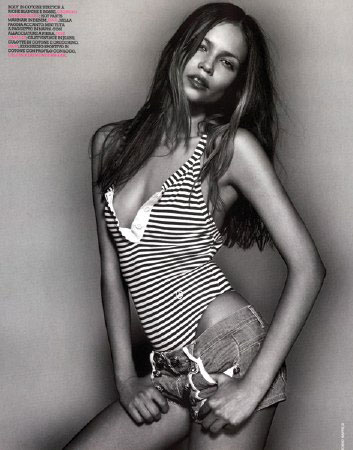 Natasha Pola/Women. Ph. courtesy of Models 1(London)
Last week MDC gauged the Top 10 2nd season girls, this week we turn our attention to that pool of newcomers who logged the most runway impact in tandem with the best editorial options of the moment. Interestingly enough, there are certain designers who are casting for totally fresh new faces for their given campaigns. That means "never been seen on anyone's runways or covers or editorials". Looks like FW04's spots will be awash with the shock of the new.
1* Dasha Tchernova/Marilyn
1. Natasha/Women
2. Lisa Cant/Trump
3. Lily Donaldson/Select (London)
4. Anna J/Next
5. Anne Marie/NY Models
6. Valentina/Marilyn
7. Lauren Serge/IMG
8. Aline/Karin
9. Yana/1 Mgmt
10. Cintia Decker/Marilyn
*Dasha is currently in school and has been unavailable for bookings.