Marianne/Silent Image courtesy of Silent New York
For clients hungry for innovation and freshness in a stagnant landscape, one of the most eagerly anticipated aspects of this NEW YORK SS11 Spring show season is the exciting possibilities being offered by Silent New York. If Silent presents even one/tenth of the taste, rigor and chic it convened in Paris via the beautifully managed  breakthrough of Anna S then editors, designers, stylists, casting directors and model watchers in general should brace themselves for what could be a serious booking tilt.  Expect  a lot of blue chip traffic flooding through this agency's freshly opened offices as the new fall season seems to be calling for a rethink of what a value model should represent . OTM caught up with Eric Dubois, Creative Director and Co-Founder of Silent New York and Silent Paris and Vincent Peter, President and Co-Founder of Silent New York and Silent Paris.
As Silent's Creative Director, Eric manages the agency's worldwide relationships with the industry's fashion editors, fashion houses, casting agents, advertising agents and photographers. Prior to founding Silent, Eric was the Founder and Director of Women Model Management's Paris office, which he operated between 2003 and 2006. While at Women, Eric developed and directed the careers of Carmen Kass (whom he has now represented for 12 years), Isabeli Fontana, Natasha Poly, Frankie Rayder and many others. From 1992 to 2003, Eric was an agent with City Models in Paris, where he was a senior booker focused on developing new faces and managing the agency's most established talent, including Carolyn Murphy, Chandra North, Eve Salvail, Nina Brosh and Kiara Kabukuru.
As President of Silent New York and Silent Paris, Vincent manages all business and legal matters of the company including negotiating large advertising contracts. Vincent also oversees Silent Paris' relationships with key scouting networks. Vincent co-founded Silent Paris in 2006 with Eric Dubois. Before founding Silent Paris, Vincent operated Madison Models between 1988-2003. During that time, he represented Eva Herzigova, Daniela Pestova, Laetitia Casta, Olga Kurylenko and Julie Ordon.
These were the thoughts Silent's powerhouses had to share with OTM.
OTM: After several years of a carefully cultivated image of being "silent" what made you decide to open in New York?
S: Our vision hasn't changed.  After four years of hard work, which involved building up a strong image board in Paris, it was time to expand, find the right partner and continue to grow our American relationships.
OTM. What do you plan to introduce to the New York market that is new for clients here?
S: Our vision.  By taking only a select number of models, we can then focus our energies on planning their careers and choosing the best work for them.  There are many large agencies out there where even extraordinary girls can get lost.  Once we make a decision about a model, we put all of our creative energy and resources behind her.
Beyond being simply another "boutique" agency, we view ourselves as curators.  To earn and maintain our clients' respect, we realize the importance of being selective and careful about the models we introduce to our clients.  We think very hard about matching our clients' needs with our models and the work that they have done. We are never afraid to tell a client when a model isn't ready to be seen or if we don't have a model that is right for their campaign.  This has helped us to earn our clients' trust and respect. As our name implies, we like to remain quiet about our work, allowing the success of our models to speak on our behalf.  Our models have rewarded us with great loyalty over the years.  This comes from the intense focus we apply to each model we represent and the discipline we bring in balancing editorial work with advertising campaigns and money jobs.
OTM.  That said… What elements of the creative fashion life in New York do you find most inspiring?
S: Here in New York, style is not only found on the catwalk but mainly in the streets of the city.  With all of its cultural influences and energy, New York is obviously the most inspiring city in the world today.
OTM: . Do you feel that the market is flooded with too many new girls? How do you plan to address this issue at Silent?
S: Yes, we think there are too many girls.  At Silent, we care less about the number of new girls we represent than about how far we can take the careers of each of the models we manage.
OTM: What represents an ideal career path in your mind for a model at Silent?
S: When a model makes money yet continues to take quality steps each year in advancing her career.
OTM:. How do you plan to keep your image of discretion and taste in the super-hyped and high drama world of the New York model scene?
S: Discretion is the essence of Silent. The way we have been communicating is through the quality of our work.
OTM. Do you think the age of the super-star model can ever return?
S: Absolutely and this is why we focus on developing a small number of girls and their careers very carefully.  In recent years, we have seen celebrities taking some market share away from the modeling world. A supermodel, at the end of the day, is a very unique person and obviously such models are very rare and hard to find… they're the "special ones." We think that as "moving images" and video become more integrated into advertising, that having chosen the right models from the very start will help us position them to become the next class of "super-models."  Of course, as you know, we also represent prominent actresses Lea Seydoux (Robin Hood with Russell Crowe) and Emmanuelle Seigner (Frantic, Bitter Moon and La Vie en Rose) for image management, fashion and beauty campaigns.
OTM. What would be the perfect achievement for Silent, say a year from now?
S: The best achievement for us would be for us to have every model we represent be successful, happy and proud!
OTM:  Well said. Thank you for your insight into the Silent ideal. We can't wait to see all your new girls when they get to town.
S: It would be our pleasure. Thanks so much.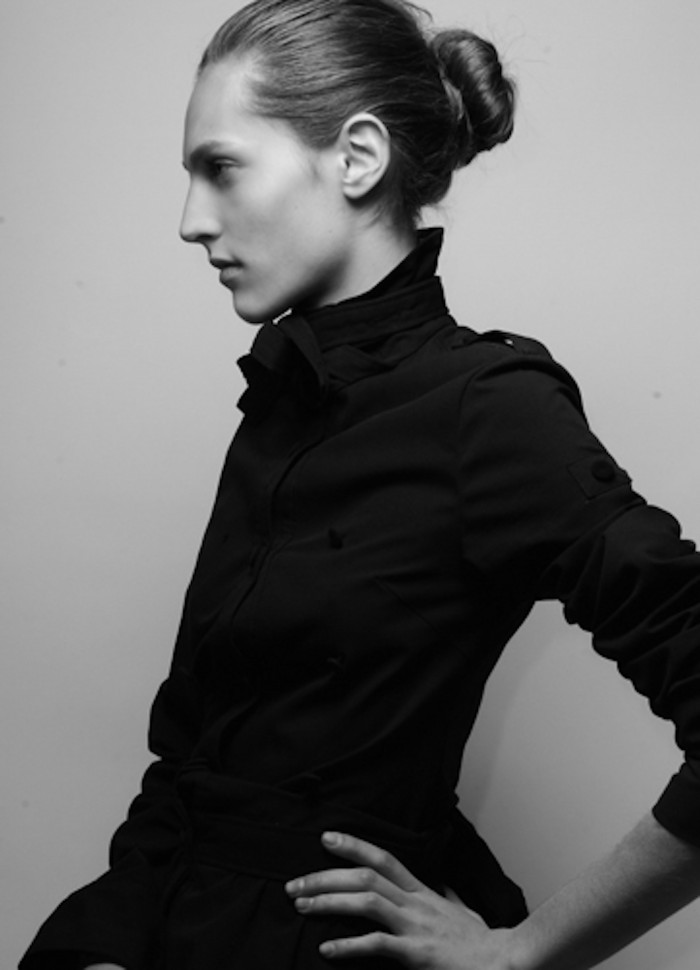 Othelia/Silent Image courtesy of Silent New York