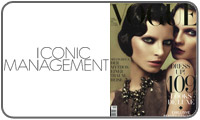 NY is bracing itself for another Fashion Week, but there's still some intriguing action going down in the global management business. On the top of of our breaking news list is the launch of a new venture with offices in NY and Berlin dubbed Iconic Management.
Headed by Ingo Nolden, a former manager at IMG (NY) and Viva (Paris) the new company represents such headline talent as Angela Lindvall, Caroline Ribiero and Rie Rasmussen in Berlin .
As Nolden expressed to MDC "I decided to go back to Germany and build my venture from there. Depending on my clients and the grade of my representation I operate in European countries like Germany, Austria, Switzerland but also in global markets like Turkey, Korea and China. The idea of Iconic Management, Berlin, is to offer icons "a new home" and a better management in conjunction with a global career plan."
Given the killer fees swimming around in those latter three markets, one suspects Nolden's Iconic might very well have a lucrative future ahead. Here's to the icons!