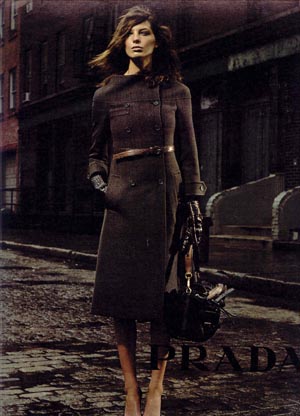 Daria/IMG. Ph. Steven Meisel for Prada FW 03
MDC's new Top 10 NY Agencies is all primed and ready to go, but in crunching the bulk of information concerning breaking faces (Runway time logged, editorial mileage and campaign visibility) some interesting stats emerged.
Among the pool of 1st season models, here for instance is MDC's Top 10 New Faces for the FW 03 season.
1. Daria/IMG
2. Julia/Supreme
3. Adina/Next
4. Liliane/Ford
5. Nadine/Supreme
6. Hana/DNA
7. Caroline Winberg/Supreme
8. Tiuu/Major
9. Leigh Yaeger/Marilyn
10. Ben/DNA