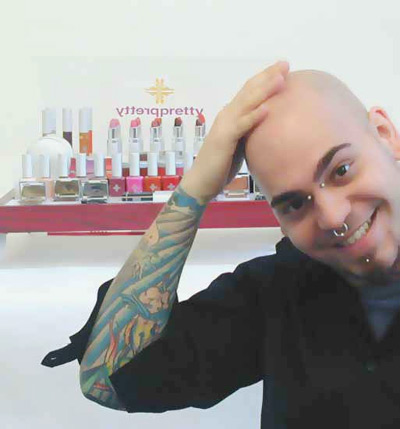 With the upcoming New York debut of The Makeup Show coming to town this weekend, there's a lot of buzz going around. The industry's biggest two day makeup convention and workshop will feature some of the top talents in the beauty and fashion world who will all converge under the same roof to bestow their knowledge through lectures and hands on one-on-one tutorials to all the eager participants in attendance.
I took a moment to talk to one of the industry's celebrated talents, New York based makeup artist and owner of cosmetic line Pretty Pretty, James Vincent to get his view on what look is hot now, some insider tips and what draws him to The Makeup Show.
What is your expertise? How long have you been in the industry?
I am a makeup artist specializing in fashion and beauty. I work with fashion magazines that tend to be more downtown, like Paper Magazine, Nylon, i-D, etc. I also do celebrity, personality, and television makeup and own a makeup line called Pretty Pretty Cosmetics. I have been doing makeup for 10 years now.
Do you do specialize in anything else other than makeup?
I do consultation and trend forecasting for cosmetic boutiques and fashion clients as well as present workshops for The Powder Group. I also do styling and art direction. I am the Artist in residence for the UK and Ireland based beauty destination Nue Blue Eriu and I work to develop their education and artistry systems as well as their looks and retail concept.
As the owner of a successful cosmetic line, are you still just as much hands on as a makeup artist or are you more on the business end? Which do you prefer?
I wear all hats but I love to do makeup.
What's the best part of your job?
I love the one on one. I love meeting someone and connecting with them and developing a look that is unique and tailored to meet their needs and wants.
» [continued on pg.2]