Posted by wayne | June 16th, 2008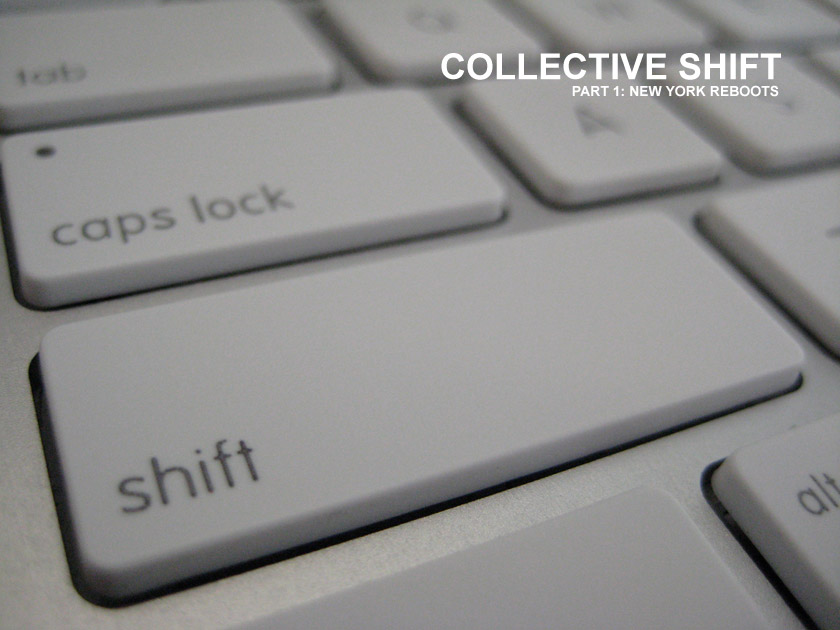 Almost a month ago to the day, a huge shift in the dynamic of the New York modeling agency scene began to activate. Word had surfaced that Louie Chaban, the power manager who forged models stretching from Karen Elson to his most recent star Agyness Deyn, had departed DNA under less than civil terms.
The fact that Mr Chaban was now on the open market immediately meant that wherever he landed was almost certain to create a kind of displacement.  An agent with his experience, connections and reputation couldn't negotiate down, but had to trade up in his position. A week later when the verdict arrived that the new destination was Women Model Management, the implications of this was sure to have shock effects lasting for months in New York. The first wave of that shock effect has already had clients, mother agencies and models buzzing in speculation as to what this change in management could mean.

With the aim of getting the story straight from the main players, MDX met with Paul Rowland, the founder of Women Model Management and Louie Chaban within days of Mr Chaban's installment as the new Director of the Women board.  The immediate question that came to mind was whether Chaban's appointment meant a change in direction for Women. Chris Gay, the former Director of Women, rather than remain at Women without holding that title (as well as his position as President) chose to depart the agency.  Three bookers on that board, Michael Schwartz, Helena Suric and Greg Christensen also opted to follow him.  Mr Gay had done a stellar job in pulling in contract dollars and increased profits in the almost three years of his stewardship of Women. Did the new philosophy of Women mean it was going to shy away from any perception of being a "money agency" now?   Louie's response was succinct but sure: "We want to keep the best elements of what Chris did and then build on that. I'm really excited about the scouting possibilities. I had dinner last night with some of the new girls we are going to develop here in the next few months and I have to say I was really happy with the quality of the girls. That's what's new and exciting for me."

Louie Chaban | Photo: Alasdair McLellan for iD Magazine
The next burning question had everything to do with that unlikely pairing of Paul Rowland and Louie Chaban, two very driven, talented and powerful forces who had always commanded their own autonomous sphere of influence. Could these two egos exist in one space?  I expressed surprise at this new union which Paul Rowland in his typically straight forward fashion explained by saying, "Actually, I welcome it. I met with Louie and I got what he was about. Basically we are about the same thing, which is to create something in fashion that is new and strong and interesting. This is about us working together and it's about continuing the legacy of this agency which was always about making unique girls."  For the record, Rowland continues to commandere the Supreme board with Chaban having authority of the Women board which has now been reinforced with Christiana Tran (from DNA) and Ali Kavoussi (from One) moving in to replace the departing agents. But in the course of the conversation there was the strong but coded sentiment that there was to be a sustained element of "working together", a sentiment that felt very sincere during this meeting.
The greatest wisdom of this collaboration is that it pairs the two most innovative and creative model managers in the modeling industry at one shop. Over the years Women has invested very heavily in its global scouting system designed to effectively compete with industry powerhouse IMG. Chaban and Rowland together does promise to offer a mother agency a dreamworld of blue chip client relationships, as well as decades of management experience in taking complete unknowns to the highest heights of the industry. They are also the managers who have survived the industry through several waves of changes and shifts. That survival skill is a talent in itself and one that is fascinating to watch. This is where they form a formidable team and we at MDC expect to see a SS 09 season stocked with a new legacy of stars from Women/ Supreme.
"The people who survive in fashion are the ones with the ability to accept and adapt to change and then harness change to their advantage."
The irony is that the magnitude of Chaban's power, as well as responsibilities in managing the Women board has greatly increased. The Chaban MDX spoke with that morning in New York was still in transition from the sudden turn of events at DNA while bolstering himself for a new frontier at an agency riddled with contract girls for VS, Ralph Lauren and Maybelline. The editorial legacy no one should bet against. It is how he transitions that money board back towards an editorial legacy while maintaining profits that will be the great challenge at hand. In our hour long talk, Chaban said something that I found very poignant which was "I became an agent at age 40 so by that time I was a complete human being. It's not like I needed the spotlight to feel complete". But now he is very much in that spotlight and fate has handed Mr Chaban, an incredible prize and a huge opportunity for forging an independent vision, on every front: creatively, financially and emotionally as to what an agency in NY can be.
In the meantime, model watchers are tracking the door to see which brand name girls will arrive, or alternatively depart but the fact of the matter is virtually every model of note has contractual obligations that makes agency switching less easy than a first glance would suggest. It is important to note, a month later, there has been no radical action on any board. Yet.
DNA's owner David Bounnovier offered a "No comment" regarding Chaban's departure while assuring MDX that his primary objective was to keep the agency moving forward, while following its own particular path.  That path promises to be stable given the presence of Bonnouvier's team of power managers like Trudi Tapscott and Didier Fernandez as well as the roster of girls like Natalia Vodianova, Doutzen, Karolina Kurkova, Adriana Lima, Raquel Zimmerman and Linda Evangelista who continue to fly full speed through the industry.
Though the management changes that have ensued  in these recent weeks have come about with a lot of drama and turmoil, the interesting thing is it proves that the modeling industry is still a sub-set of the fashion industry, an industry that thrives on sudden, brutal, illogical change. The people who survive in fashion are the ones with the ability to accept and adapt to change and then harness change to their advantage. It also proves that no matter how structured, corporate and regimented you try to make a modeling agency, there is nothing to prevent it from behaving with as much emotion, passion and ego as any of the creative individuals who drive this industry.
On a final note, the question of displacement and fate leads us to the question of what Chris Gay will do next. Speculation is high and MDX assumes his non-compete is what compelled him to issue a diplomatic but unconditional  "No comment" when we called him for a quote on his future plans. What is clear though is that a very talented, very ambitious young manager with a remarkably fast velocity through the modeling business is now in play. There are only so many power clients yielding six and seven figure contracts left in this business and there are only a handful of managers with those client relationships and the business dexterity to navigate those contracts. You start thinking about issues of market share. If IMG, DNA and Women ate the lion's share of those big bonanza bookings for VS, L'Oreal and Ralph and one of the best players in that field now goes free agent, who will become cannibalized when Mr. Gay re-enters the fray? Ultimately this turn of events might well serve Gay as much as it has served Chaban. Namely it means Mr. Gay has also been given an opportunity to prove his ultimate worth in this high stakes business. One senses that this might only be the first chapter in what very well be the industry re-setting itself.